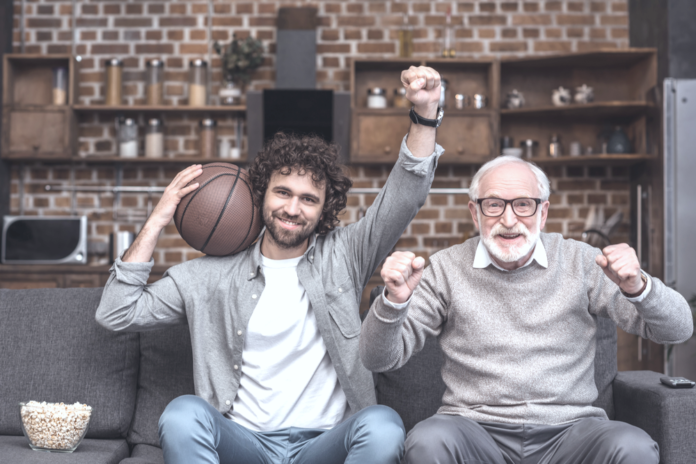 Finding healthy game day snacks for a NCAA tournament party can sometimes put the mad in March Madness. The following healthy menu features sports bar alternatives that are sure to wow the crowd. Family, friends, and fans alike will find these foods to be a slam dunk.
Read on for the ultimate March Madness menu, full of healthy game day recipes!
Main Dish Meals
Game day main meals should support the madness, but not be part of it. Think comfort food meets finger food, but with a twist.
Three-Point Pizza
Pizza is a concession classic. Homemade pizza can add an elevated touch to any menu. Making the crust and toppings from fresh foods also enhances the nutritional value.
Traditional Florentine Pizzas, customizable in 3 different ways, are the perfect tournament party main plate. Ingredients like olive oil, eggs, and cauliflower make pizza both delicious and nutritious.
Cheer-Worthy Fried Chicken
Healthier alternatives to fried chicken and chicken wings that do not sacrifice on flavor are the real MVP. Makeover this classic comfort food by baking instead of frying the chicken. Hot sauce brings the heat while spices like garlic and paprika team up to deliver an excellent entree.
Baller Burgers
Celebrate without worrying about the calories. In the battle of traditional diner dishes versus homemade, healthy burger alternatives, one bite will prove who is the winner.
Vitamins and minerals give healthier burgers an extra edge on their competitors. Plus unique flavors recruited from star ingredients such as chickpeas, black beans, and beyond merge more exotic flavors with home team classics.
Healthy Game Day Snacks
Snacks such as popcorn are reminiscent of concession stands, but can be made with more nutritious ingredients.
Fortified with protein, fiber, and other vitamins and minerals, these snacks will not be sitting on the sidelines for long. They assist in fueling a feeling of fullness and guard against the risk of overeating. Talk about a dream team!
Power Popcorn
Popcorn can be a protein-packed and fiber-fueled snack. Not to mention it remains low calorie when made with healthy additions such as the following: 
Coconut oil
Protein powder
Dried fruits
Sea salt
Nuts & nut butters
Cinnamon or other seasonings/spices
Sriracha
Spice it up with a low-calorie, flavorful spicy popcorn option. Satisfy a sweet tooth with caramel corn. There are so many ways to win with this snack!
March Madness Mix
Defend against overeating by having a truly satisfying party snack mix. Homemade mixes are often healthier. Made with healthy fats, whole grains, and nutritious nuts and seasonings, this snack is sure to be a crowd-pleaser.
Energy Balls
These are not the type of balls that dribble, unless of course they cause drooling, and they can. Store-bought snacks often are packed with unnecessary amounts of sugars, syrups, and oils.
Homemade energy balls often require no baking and are extremely high in protein for their bite-sized appearance. These basketball-shaped snacks will have adults and kids alike feeling the contagious energy of the event.
All-Star Cookies
Cookies are an all-around classic dessert option. Oatmeal cookies especially can provide flavor, fiber, and extra nutrients while still curbing the cravings. Explore all the available game plans, and consider switching it up with the following twists to a classic oatmeal cookie recipe:
No-bake methods (no egg necessary)
Raisins
Fruit (i.e. apple, banana)
Nuts
Chocolate or cacao
Pretzels
Cinnamon
Peaches n' Cream (1/2 cup peaches added in, plus frosting at the end)
Fruit flavored fillings for an oatmeal sandwich cookie
Lemon or another citrus
S'more (1/4 cup crushed graham crackers and ¼ cup chocolate chips)
Carrot Cake (1/2 shredded carrots, 1 tsp cinnamon, ¼ cup chopped walnuts)
Chai Spice (1/2 tsp each of cinnamon, cloves, and cardamom, and 1/4 tsp each of nutmeg and ginger)
Slam-Dunk Fruit Snacks
Store-bought fruit snacks are often full of added sugars. Honey-sweetened homemade fruit snacks offer an advantage when it comes to healthy snacks. Made with real fruit and flavors, fruit snacks are sure to be a winner especially with younger crowds.
These snacks can also be made with customizable basketball molds to add to the fun! Try experimenting with different fruits to represent a basketball-orange hue. Or, try and recreate the colors of a favorite team.
March Madness Drinks
From cocktails to mocktails, cold brews to shakes, the following drinks bring all the right moves from the court to the kitchen. Orange drinks and classic game day favorites will leave everybody cheering.
March Madness Mint Mocktail
A cantaloupe mint mocktail spritzer is non-boozy but brings its A-game. Honey adds a hint of sweetness while fresh fruit gives off an orange hue.
Cold Brew without the "Boo's"
A coffee cocktail made with coconut milk and soda water may be absent alcohol but can still bring the energy. Do not miss a minute of the action. This cold brew cocktail belongs closeby and not on the sideline.
Protein-Packed Shake
Leftover canned pumpkin from the fall? A March Madness party can be the perfect time to make use of it.
While pumpkin has its moment of fame in the fall-time, the orange hue it exudes is also apt for a basketball themed event. A protein-packed pumpkin shake brings a team of ingredients together to create satisfying synergy.
Flavor Forward Water
Bring water front and center to the courtside celebration. Satisfying fruit flavors can take water up a notch. Customize the fruit-flavored water to match team colors, or add lots of orange slices and blackberries for a basketball-inspired look.
Want another inspired and infused water option? Orange ginger brings the party, plus adds energy and assistance to the immune and digestive system. If the game is causing stress levels to rise, lavender lemonade can loosen things up.
Team Turmeric
Bring the seasonings to college basketball season with a turmeric and lemon drink. As a classic spice-infused beverage, it is known for its ability to bring energy. Turmeric milk is another option with a similar nutrient profile.
Basketball, Brews, and BeersIt almost would not be a sports event without beer. Booze can pack on the calories, but low-calorie beers make the game more enjoyable. Opt for the best low-calorie beers for a healthy selection that can also aid efforts to stay in shape.