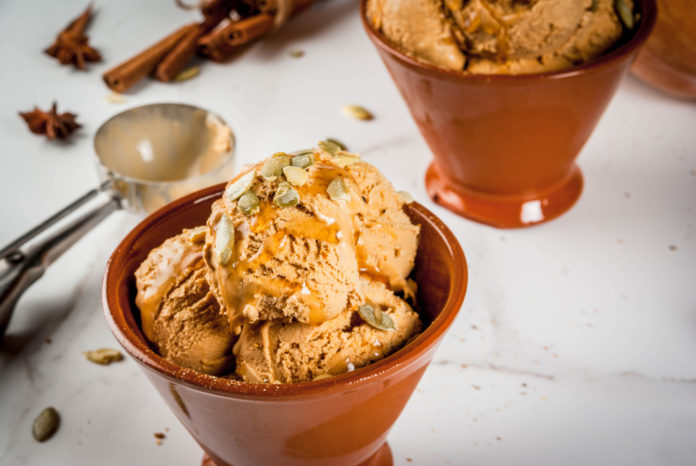 10 Simple and Delicious Pumpkin Recipes
1. Pumpkin Overnight Oats (Vegan-Friendly and Easy!)
Want a delightfully spiced, single-serve, on-the-go breakfast to wake up to? Make this  pumpkin oatmeal overnight!
Ingredients:
½ cup rolled oats
1 cup milk
¼ cup pumpkin puree
½ tablespoon maple syrup
1 teaspoon pumpkin pie spice
½ teaspoon vanilla extract
A pinch of salt
Instructions:
Before heading to bed, combine the all ingredients in a mason jar or other tight-sealed container.
Set in the fridge and let chill overnight.
When ready to enjoy in the morning, feel free to top with crushed pecans, drizzle of maple syrup, sprinkle of cinnamon, and other fall-spiration ingredients!
2. Pumpkin Pie Protein Shake
Blend up all of your favorite fall flavors into a delicious protein shake with this simple, 1-step easy recipe with pumpkin! And with hints of banana, cinnamon, and pumpkin, what's not to fall in love with?
While the pumpkin pie protein shake makes a handy breakfast and post-workout recovery option, also feel free to sit down and enjoy as a smoothie bowl. Simply pour out the blended smoothie in a bowl and add favorite toppings, including chopped apples, walnuts, a dollop of nut butter, and dash of cinnamon. 
3. Pumpkin Pie Breakfast Popsicles
Who says pumpkin pie can't be enjoyed first thing in the morning? And who popsicles can't make a balanced breakfast? This pumpkin pie breakfast popsicle recipe challenges such opponents! Prep and freeze ahead or the night before for a quick, grab-n-go breakfast.
4. Crockpot Pumpkin Chili
A crockpot is the ticket to simple, chili is paradoxically the word of warmth, and pumpkin is the flavor of fall. And this crockpot pumpkin chili recipe leads the way to a simple, warm, and fall-inspired cozy night in!
Ingredients:
1 tablespoon canola oil
1 medium yellow bell pepper, chopped
1 medium green bell pepper, chopped
1 medium onion, chopped
2 tablespoons minced garlic
1 pound ground turkey
1, 14.5-ounce can diced tomatoes
1, 6-ounce can tomato paste
1, 15-ounce can pumpkin puree
1, 15-ounce can chili beans
1, 15-ounce can black or kidney beans
1 ½ cups

chicken bone broth

2 tablespoons chili powder
1 ½ teaspoons ground cinnamon
1 teaspoon ground cumin
½ teaspoon onion powder
Salt and pepper to taste
 Instructions:
Heat oil in large pan over medium heat. Add peppers, onion, and garlic and sauté until tender.
Add ground turkey, crumble in pan, and cook until the meat is no longer pink.
Transfer turkey mixture into a large crockpot and mix in the remaining ingredients.
Cover and cook on low for 6 to 8 hours.
Scoop into a bowl and add favorite chili toppings, including sour cream, cheddar cheese, avocado, jalapenos, hot sauce, and the list goes on…
5. Pumpkin Shrimp Curry
The PSC (pumpkin shrimp curry) is packed with a robust, yet slightly sweet flavor and is the recipe you have unknowingly been awaiting this fall season! It is also completely customizable, including swapping shrimp for chicken, making it vegetarian-friendly with chickpeas or tofu, and packing with favorite veggies. 
6. Pumpkin Pie Tartlets
Love pumpkin pie not the time it takes to prepare and bake it? Enjoy mini pumpkin pie tartlets using simple ingredients and requiring a quick 15 minutes in the oven! 
And producing approximately 15 tartlets (and for only 150 calories, might we add…), it will satisfy your next crowd of guests this fall! 
7. Slow Cooker Pumpkin Apple Crisp
When the crisp air falls, you know that time is approaching. And no we are not just talking about those Granny Smiths, though this easy recipe with pumpkin does not fall too far from the tree…
Harvest those two Autumn favorites into a pumpkin apple crisp with the assistance of your slow cooker! Top with fresh whipped cream or the pumpkin pie ice cream recipe provided below…
8. Pumpkin Pie Ice Cream
Though the crisp is in the air (and in your dessert bowl), is there really ever an unwelcomed time for ice cream? We think no and welcome this pumpkin pie ice cream with open arms! 
Ingredients for Pumpkin Pie Ice Cream:
16 ounces cups heavy whipping cream, cold
1, 14-ounce can sweetened condensed milk
1, 15-ounce can of pumpkin puree
1 teaspoon vanilla extract
½ teaspoon ground cinnamon
1/4 teaspoon allspice
1/8 teaspoon ground nutmeg
1/8 teaspoon ground ginger
2 sleeves graham crackers*
½ cup crushed pecans*
Instructions:
Line a loaf pan with waxed paper and set in the freezer.
Pour heavy whipping cream and whip to stiff peaks (https://bestrecipebox.com/whipped-cream-soft-peaks-stiff-peaks/).
In a separate mixing bowl, whisk together the condensed milk, pumpkin, vanilla, cinnamon, allspice, nutmeg, and ginger until smooth. Mix in graham crackers and pecans.
Gently fold about ½ of the whipped cream into the pumpkin mixture, to lighten, then add the remaining whipped cream until smooth.
Pour the mixture into the prepared loaf pan. Lightly top with an additional piece of waxed paper to prevent the formation of ice crystals.
Freeze for 3 to 5 hours or until solid and scoopable.
Scoop onto the pumpkin apple crisp, into a cake or waffle cone, or right into your favorite ice cream bowl!
*You can also modify mix-ins to your liking, including swapping out graham crackers to ginger snap cookies and pecans for walnuts.
9. Pumpkin Spice Chocolate Chip Protein Balls
Pumpkin for breakfast, lunch, dinner, and dessert… What about those cravings in between mealtimes? Keep hunger in bounds with these pumpkin spice chocolate chip protein balls!
10. Pumpkin Spice Latte (PSL)
And last but certainly not least…
With hunger and cravings in check, we cannot neglect our thirst! Luckily, this ultimate healthy PSL can be made at home for a fraction of the cost and calories!