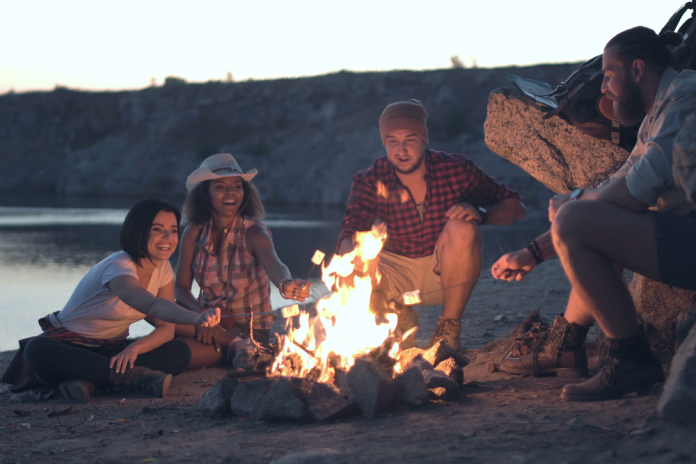 Easy campfire desserts and healthy campfire treats are the best of both worlds. It's a place where eating on the road and campfire desserts in foil can coexist. Desserts in the wild and on the road should be both delicious and nutritious.
Read on about 10 of the best campfire desserts on a stick, wrapped in foil packets, and more!
How To Eat Healthy While Camping
Eating healthy while camping can be easy. It requires a bit of planning beforehand, but with a bit of preparation, outdoor outings can be diet-friendly. Don't forget to plan for hydration, too!
A few key things to keep in mind while camping include:
The length of the trip
What will be packed or carried
Methods of cooking or preparing (i.e. tools needed)
If a cooler will be available
Some of the best camping foods are portable, nourishing, and simple to make. But what about dessert? Say no more…
Best Healthy Camping Desserts
On the road, it can be easy to feel out of routine. Try the following desserts, which have more balanced levels of sweets and treats.
Focusing on protein-packed ingredients and fresh fruit can ensure energy needs are met.
Treat Trail Mix
Beef a trail mix up with the miniature-sized versions of favorite treats. For example, using mini chocolate chips can add a factor of fun without overriding the mix altogether.
Peanut M&Ms can provide a bit more protein than other varieties of candy and help the body feel a little fuller on the hiking path. Or, make a s'mores trail mix with all the classic flavors!
Campfire Apple Crisp
Foil-packed apple crisp is made with just five simple ingredients. With sliced apples, coconut sugar (which has a lower glycemic index), and cinnamon adding some sweetness, this pick is also great for those eating grain and dairy-free.
Banana S'mores
Add some fruity goodness to the typical s'more. Campfire banana s'mores cut some of the carbs and add natural sugars instead!
Also, it's easy to make this dish gluten-free by ditching the graham crackers altogether.
Campfire Cones
This easy-to-customize idea is great for camping with kids! Campfire cones use an ice cream cone. Then, campers can select from ingredients like halved strawberries, sliced bananas, mini marshmallows, and chocolate chips before the whole thing is wrapped in aluminum foil and tossed on the fire for a few minutes.
Other ideas for ingredients? Try the following:
Butterscotch chips
Crumbled cooked bacon bits
Peanut butter or almond butter
Chopped pretzel pieces
Chopped nuts
Caramel cubes
Leftover holiday candy
Gluten-Free Mousse
Increase the protein levels of a delectable fireside dessert with gluten-free campfire mousse. A block of tofu and lots of high-quality ingredients bring a luxury life to the campsite.
This recipe also keeps the sugar minimal so one can stick to their health goals while on the road.
Caramelized Peaches in Foil
There's nothing like fresh peaches cooked and caramelized. The best part about caramelized peaches is that the butter-sugar glaze can be prepared before the trip! 
This easy, foil-wrapped recipe is perfect for a fresh yet fruity bite.
PB & J Overnight Oats
Bring dessert to breakfast! Yummy, protein-packed overnight oats get a bit of sweetness from the jelly. They also contain great ingredients like almond milk, chia seeds, and peanut butter to make sure campers stay full.
Luckily, this dish can also be customized by switching ingredients out for:
Dairy-free milk of choice (i.e. oat milk, cashew milk)
Yogurt or Greek yogurt
Maple syrup or honey
To really kick it up a notch, top with leftover baked apples or caramelized peaches (if there are any)!
Lemonade Scones
With minimal time and just a few ingredients, turn a favorite, refreshing drink into lovely lemonade scones! They contain quite a bit of cream, so it's best just to have one and then enjoy other campfire foods.
The lemonade helps add some vitamins and minerals to the dish, especially if it's homemade.
Campfire Strawberries
Campfire strawberries could not be more simple. They require two ingredients strawberries and marshmallow fluff.
Simply place the berry on a skewer, dip it in fluff, and then roast it on a flame and enjoy!
Pound Cake & Berry Campfire Skillet
Typical pound cakes are incredibly heavy and contain lots of extra sugar. Instead, this lighter pound cake uses lots of fresh berries and a few simple ingredients.
Berry campfire skillet helps campers get a few servings of fruit in with their dessert.
In Summary On Enjoying S'more Desserts
Camping can throw off one's routine. Instead of being out of sorts, grab a delicious campfire dessert to help keep energy levels up.
Try adding extra servings of protein or fresh fruit when possible, and prep ingredients beforehand to save even more time!
References:
Newgent J. 5 Food Tips for Camping and Hiking. EatRight. Published February 25, 2020. https://www.eatright.org/food/planning-and-prep/snack-and-meal-ideas/food-tips-for-camping-and-hiking.