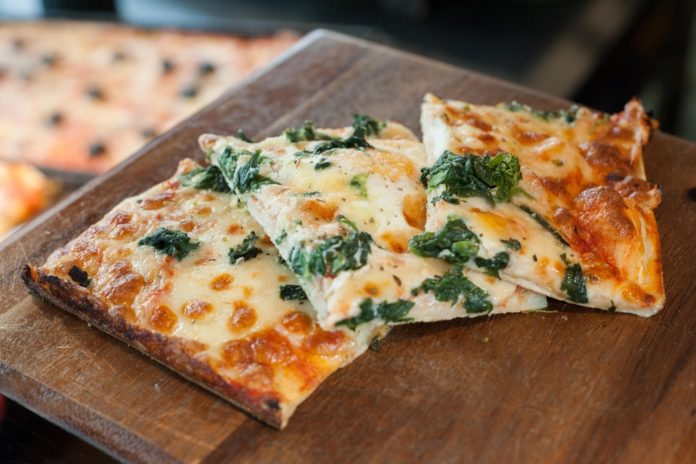 Traditional Spinach Florentine Pizza
Ingredients
A prepackaged or

homemade pizza dough

2 tablespoons olive oil
1 tablespoon fresh minced garlic
1 lb. fresh spinach
¼ teaspoon salt
1 cup ricotta cheese
¼ cup grated parmesan cheese
1 teaspoon Italian seasoning
½ cup mozzarella cheese
Instructions
Preheat oven to 425°F.
Shape prepackaged or homemade pizza dough onto a lightly greased pizza pan.
Heat the olive oil over medium heat and sauté the garlic for approximately one minute, making sure the garlic does not brown. Add the spinach and salt with the oil and garlic and toss until the spinach has wilted. Allow to cool for approximately five minutes.
Combine cooked spinach with ricotta, parmesan, and Italian seasoning and spread evenly onto pizza dough.
Sprinkle mozzarella atop and bake for approximately 20 minutes, or until cheese is melted and golden in color.
Garnish with extra parmesan and crushed red pepper flakes as desired.
Keto-Friendly Florentine Pizza
Ingredients
Crust:
1 head cauliflower with stalks removed
½ cup shredded mozzarella cheese
1/3 cup grated parmesan cheese
1 teaspoon Italian seasoning
½ teaspoon salt
2 eggs, lightly beaten
Toppings:
Same as the traditional Florentine pizza recipe
Instructions
Preheat oven to 400°F and line a baking sheet with parchment paper.
Break cauliflower into florets, pulse in a food processor until fine, then steam in a steamer basket. Drain extremely well and make sure moisture is completely out. Also let cauliflower cool and dry on a towel. *Adequate draining is key in preventing a soggy pizza crust*
Combine cooled cauliflower with mozzarella, parmesan, Italian seasoning, salt, and eggs in a bowl until well combined.
Transfer cauliflower mixture onto the center of lined baking sheet and spread as a typical pizza crust.
Bake for 20 minutes, add the Florentine toppings, and bake for an additional 10-ish minutes, or until the cheese is golden in color.
Slice up and serve!
Egg Florentine Pizza
Start by preparing the traditional or keto Florentine pizza recipe. Bake as the directions call for, but take the pizza out five to seven minutes up until completion. With the back of a spoon, hollow out four cavities then gently crack an egg into each pocket. Lightly sprinkle with salt and pepper to taste then place in the oven for an additional five to seven minutes, or just until the egg whites are set and cooked and the yolk is slightly runny (cook longer for a firmer yolk). The egg Florentine pizza also makes an egg-cellent breakfast option to kick off your day! (Add or pair with bacon for good measure…)
Slicing Up More Ideas
For added protein, top with sliced grilled chicken breasts or Italian sausage
Add sliced mushrooms, sundried tomatoes, and red bell pepper slices for a mega vegetarian option
Feel free to use fresh or dried herbs, including oregano, parsley, and basil
For a single, personalized pan pizza, swap out a traditional crust for an individual pita
Use pesto sauce for added flavor depth and healthy fats