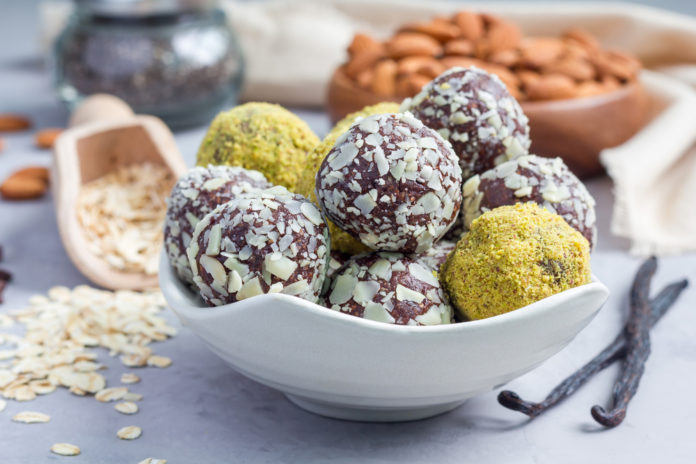 No-Bake Protein Energy Balls Recipe
Nutritional Breakdown (per serving)
Yield: Approximately 13, 1-inch balls
Calories: 187 calories
Protein: 8 grams
NET Carbohydrate: 24 grams
Ingredients
2 cups rolled oats
½ cup vanilla whey protein powder (about 2 scoops)
½ cup natural peanut butter
½ cup honey or agave
¼ cup flax seeds
1 tablespoon chia seeds
1 teaspoon cinnamon
1 teaspoon vanilla extract
2 tablespoons mini dark chocolate chips
Directions
In a food processor, add rolled oats, vanilla protein powder, peanut butter, honey, flax and chia seeds, cinnamon, and vanilla extract.
Pulse until ingredients are well-incorporated.
Transfer mixture into a large bowl then fold in chocolate chips.
Roll mixture into 1-inch balls and place onto a baking sheet lined with parchment paper.
Place in the fridge for at least 30 minutes and enjoy!
Pro Tips
Add one tablespoon at a time of liquid, including milk or water, to assist in blending if mixture is too thick.
To reduce the risk of spoilage, use a non-dairy milk such as almond, cashew, soy, and rice varieties.
Though oats are naturally-gluten free (GF), they can be contaminated during manufacturing. To guarantee a gluten-free product, verify oats as GF by checking the product label, along with the other ingredients to ensure their safety.
Keep stored in the fridge and pop out when ready to eat. The energy bites can also be kept in the freezer, allowing them to thaw 20 to 30 minutes before consuming.
14 Protein Energy Ball Variations
The recipe described above is essentially a template for these flavor variations and ideas:
1. Oatmeal Raisin
More of an oatmeal raisin fan? Ixnay the chocolate chips and add in raisins! Add ¼ cup of chopped walnuts as desired.
2. Nutty Monkey
Add dried banana chunks and chopped peanuts, along with chocolate protein powder.
3. Cranberry Almond
Swap peanut butter for almond butter, along with 2 tablespoons each of slivered almonds and dried cranberries.
4. Tropical Breeze
Swap out peanut butter for cashew butter and add dried mango. After the mixture is formed into balls, roll into shredded coconut.
5. Double Chocolate
Swap out vanilla protein powder with chocolate or add two tablespoons of cocoa powder. (And don't forget the chocolate chips!)
6. Chocolate Coconut
Add extra texture and flavor by mixing coconut into the chocolate energy balls.
7. Chocolate Covered Strawberry
Finely dice ¼ cup of strawberries and add to the double chocolate mixture.
8. Pie, Oh My
To mimic the flavors of cherry pie, add ½ cup of chopped fresh cherries and swap peanut butter for almond. And for an apple pie variation, add finely diced apples and swap part of the honey for applesauce.
Below are additional protein energy ball recipes, sure to please everyone's flavor preferences!
9. Cranberry Orange
This cranberry and orange energy date ball recipe is sure to energize you and your taste buds for a quick pick-me-up!
10. Blueberry Muffin
While blueberry muffins are a breakfast favorite, they are often loaded with carbs and sugar and may leave the body less than satisfied. Relish on the anticipated flavor, without the guilt, with these all-natural, nutritious blueberry muffin bites.
11. Lemon Poppy Seed
But if more of a lemon poppy seed muffin fan… Look no further than this reinvigorating energy bite recipe to kick start your morning!
12. Strawberry Shortcake
Who says strawberry shortcake is only an after dinner dessert option? We don't think so! Nosh on these strawberry shortcake energy bites that are nothing short of nutritious and delicious!
13. Brownie Bites
These no-bake energy balls bring the fudgy and chocolaty goodness of brownies without the need of flour, eggs, and oil!
14. Cake Bites
The taste and texture of cake batter in a delicious, no-bake bite form are like a treat but packed full of nutrients! Ready in just five minutes, this recipe is also gluten-free, vegan, grain-free and completely paleo. Candles not included!