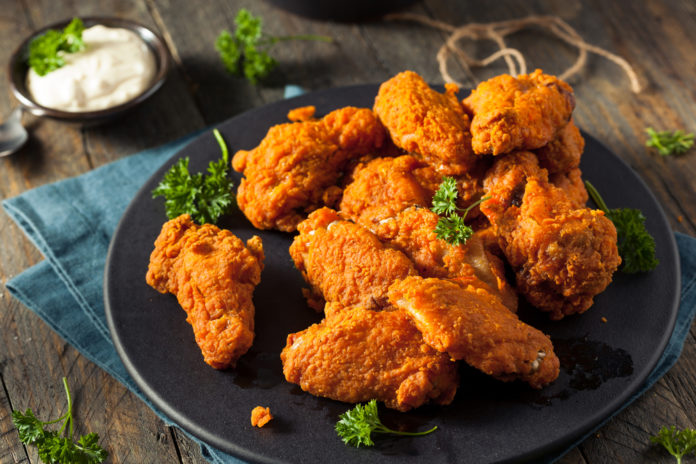 While it is well-known chicken is an excellent lean protein, it is also well-established anything fried can unwind any of the nutritional gains from a particular food. So when it comes to fried chicken, that lean protein source essentially becomes drenched in oil. But with a few tips and tricks, that comfort food can be transformed into a healthier alternative without sacrificing the crunchy and flavor characteristics you relish biting into!
Nutrition Per Serving
Yield: 8 servings
Calories: 256
Protein: 32 grams
NET Carbohydrate: 8 grams
Ingredients
1 cup low-fat buttermilk
2 tablespoons hot sauce
4-pounds bone-in chicken, skin removed and trimmed
1 cup wheat flour
1 cup Panko breadcrumbs
1 teaspoon garlic powder
½ teaspoon onion powder
1 teaspoon paprika
Salt and pepper to taste
Instructions
In a medium sized bowl, mix buttermilk and hot sauce. Coat chicken, cover the bowl, and allow to marinate in the fridge for at least 30 minutes or overnight.
When ready to prepare, preheat oven to 450°F. Line a baking sheet with foil, set a wire rack on the sheet, and coat wire with cooking spray.
In a separate bowl, combine flour, bread crumbs, garlic and onion powders, paprika, and salt and pepper.
Remove chicken from buttermilk mixture and shake off any excess. Individually dip chicken in flour mixture until lightly coated on all sides.
Arrange floured chicken on baking rack and bake for approximately 45 minutes, or until the internal temperature reaches 165°F.
Complete with healthier-for-you

Greek yogurt coleslaw

 and

glorious grilled potatoes

 for the ultimate comfort meal makeover!