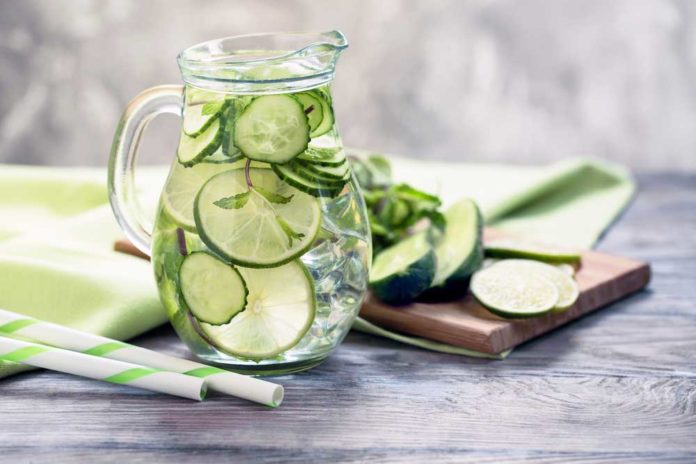 We all know we should be drinking more of it, but sometimes the temptation of sugary beverages surpasses the consumption of water. Unfortunately, too much of those sweetened drinks can result in weight gain along with varying chronic diseases, while not enough water can lead to dehydration and compromise health. But with these herb and fruit infused water recipes, obtain desired flavors, grant proper hydration, and reap the associated health benefits!
11 Water Infusion Recipes
1. Watermelon Mint
Having a large water content, watermelon is refreshing in itself. Paired with a few sprigs of mint, and the combo may improve digestion along with reducing uncomfortable symptoms of irritable bowel syndrome (IBS). Mint may also enhance memory and cognitive functions, making its addition a valuable alternative to sugary, caffeinated beverages.
2. Berry Minty
Add favorite berries, including blueberries, strawberries, blackberries, and raspberries, for an ample supply of antioxidants. Muddle or puree berries and a light drizzle of honey for enhanced flavor.
3. Orange Ginger
Citrusy orange offers much more than tang, but supplies immune-boosting vitamin C and can be reinvigorating. Adding fresh, thin slices of ginger to the mix may aid in digestion and offer anti-inflammatory effects.
4. Cinnamon Apple
In a large glass, add 2-ounces of unsweetened apple juice or cider, a light drizzle of honey, and a pinch of cinnamon. Stir mixture, add 6-ounces of water, and sip either from a chilled glass or heated up in a mug.
5. Lavender Lemonade
When life gives you lemons, you compliment the citrusy fruit with lavender! So rather than indulging on sugar-laden lemonade, sip on this guilt-free, lightly-sweetened lavender lemonade to energize the body and lessen feelings of stress and anxiety.
6. Peach Basil
For a refreshing summertime drink, simply add fresh peach slices and basil to filtered water, allow the flavors to merry for at least an hour, and enjoy! The contributing basil offers not only an earthy component, but supplies antioxidant properties to your naturally-sweetened glass of water.
7. Cherry Limeade
Rather than sipping on a traditional cherry limeade loaded with sugar, crush and mix pit-less cherries with fresh lime juice and tap or spritzer water. Pour into a glass and garnish with a cherry and lime wedge.
8. Mojito
Mimic the flavors of a refreshing mojito with this infused water recipe. Pour and enjoy with friends and family on a warm summers day!
9. Strawberry Jalapeno
For the lovers of all things spicy… Relish on this strawberry jalapeno water infusion recipe. Jalapeno may stimulate your metabolism while the strawberries offer potent antioxidant properties and sweetness to compliment the spice.
10. Turmeric and Lemon
Citrusy lemon is bright in color as is, so when paired with turmeric, the appeal is lively and energetic. In fact, this yellow-orangey spice has been touted not only as the star in Indian curries, but a protector against inflammation. Sip on a warm cup of lemon water with turmeric by squeezing half a lemon into a mug, adding ¼ teaspoon of turmeric, and mixing in a cup of heated water. Add honey to taste if desired and continue stirring while sipping, as the turmeric will naturally fall to the bottom of the cup.
11. Sippin' on Sunshine
This fruit infused water recipe features the sunshine's bounty… Yes, citrus fruit galore! Start by squeezing fresh lemon, lime, and orange juice and and/or oranges. Top with tap or spritzer water for a reinvigorating beverage sure to excite your senses!