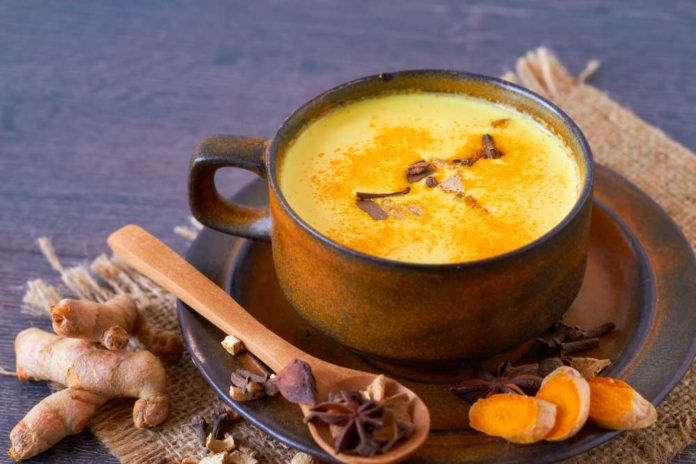 Turmeric Milk Recipe 
Nutritional Breakdown (per serving)
Yield: 1, 8-ounce serving
Calories: 80 calories
Protein: 2 grams
NET Carbohydrate: 2 grams
Ingredients
1 cup unsweetened almond milk
1 tsp coconut oil
½ teaspoon turmeric
¼ teaspoon cinnamon
pinch of pepper
Directions
Add all ingredients into a blender and mix on high until well-incorporated.
Transfer mixture into a small saucepan, warming on medium-heat until hot, or approximately four minutes.
Pour into your favorite mug and enjoy!
Tips and Pointers
Feel free to add sweetener, including honey, agave, or a non-nutritive alternative.
Add cardamom, nutmeg, ginger, cloves, and other favorite spices for added flavor depth.
But do no not discount the pepper… Its addition is valuable in the absorption of turmeric within the body.
Make golden milk in batches and store in fridge for up to one week, being sure to blend again prior to serving.
Turmeric Milk Benefits
The turmeric almond milk may be simple to make, but the benefits are far from modest! What the turmeric and almond milk drink can offer the body are golden, as it is packed with a number of nutrients, including calcium and curcumin, the chemical found within the spice and contributes to its significant health benefits. Turmeric almond milk is also low in calorie, less than 100 calories per cup, which makes it an appreciated option for managing and losing weight. Ultimately, the compilation of nutrients can help manage diabetes, stave off depression, protect against cancer, relieve arthritis pain, reduce dental calories, and several other benefits that are described in more depth and detail here.