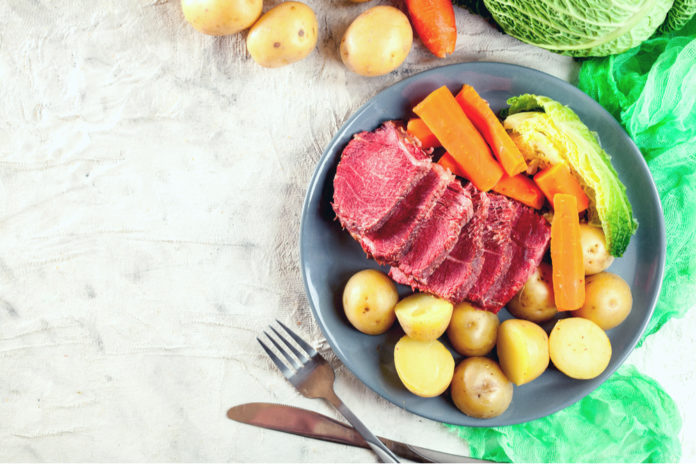 St. Patrick's Day, or simply St. Paddy's, pays tribute to Saint Patrick who is considered the patron saint of Ireland. Saint Patrick was born in Britain and sold as a slave in Ireland as a teenager, eventually escaping only to return to Ireland and bringing Christianity to many people.
St. Paddy's Day is now recognized around the world even beyond Irish culture. In fact, it is widely celebrated in the United States with a St. Patrick's Day parade and feast. Many associate the day with artificial green food, dress, and decorations, but you can deliciously celebrate with healthier, natural options.
Celebrate the holiday with these traditional Irish dishes and party food that will impress everyone for the ultimate Saint Patrick's Day menu.
When Is Saint Patrick's Day?
St. Patrick's Day is always observed on March 17th, the day Saint Patrick passed away. Scholars believe observation of St. Patrick's Day goes back to the ninth or tenth century in Ireland and was first observed in the US in the early 1600s. 
The influx of Irish immigrants to the US increased the popularity of celebrating St. Patrick's Day, often colored in green from clothes to foods!
Healthy St. Paddy's Food Options
Celebrate Saint Patrick's Day with delicious, healthy food sure to leave you feeling good!
Avocado Toast
Avocado toast is a growing popular breakfast choice, but it can also be served anytime simple or gourmet in celebration of St. Paddy's Day. The simplest avocado toast is just mashed avocado with an optional splash of lemon juice and sprinkle of sea salt on toast. 
Here are some healthy twists for St. Paddy's Day avocado toast:
Top with slices of cucumber, tomatoes, and fresh chopped parsley
Top with crumbled feta cheese and a slight drizzle of extra virgin olive oil with salt and pepper
Add crushed pistachios on top for an added crunch and another shade of green along with chopped mint leaves
Add hard-boiled egg slices on top
For any variation, try adding different spices like Everything but the Bagel seasoning, Italian seasoning, crushed red pepper, salt, pepper, or other spice blends on hand.
Green Smoothies
Ordering green milkshakes is a popular choice for celebrating St. Patrick's Day when eating out, but you can make your own delicious and nutritious green smoothie at home. Homemade green apple smoothie is naturally green from green apple and spinach ingredients. A refreshing cucumber mint smoothie of course has cucumbers and mint but also refreshing lime juice and watermelon.
Other smoothie options that have green veggies (but can't taste) include a green superfood smoothie, avocado, banana green smoothie, or a pear smoothie with spinach, celery, and ginger.
Green Nice Cream
Nice cream tastes just like ice cream but is made from blending frozen banana chunks with other optional ingredients. For a healthy sweet treat on St. Paddy's Day, opt for making a natural green nice cream for everyone to enjoy (even those with dairy allergies).
Make nice cream with about 3 (or more) frozen banana chunks, optional dairy (or dairy alternative), and add in festive ingredients such as a teaspoon of matcha green tea powder. Or, add in mint extract with fresh mint leaves and chocolate pieces.
Also try experimenting and adjusting ingredients to get desired sweetness. Add honey, agave nectar or other liquid sweetener if preferred.
Green Juice
Pack in green fruits and veggies like celery, spinach, green apples, and limes in a juicer to celebrate a healthy St. Patrick's Day with this green machine juice.
Easy to Make Party Snacks
These St. Patrick's Day party food recipes will please everyone involved and are easy to assemble.
Tuna Salad Celery Sticks
Celery can be used as a crunchy, green, edible vessel for many fillings. These tuna salad celery sticks can be made in just a few minutes and steps:
Drain a can of tuna or salmon and mix with half of a ripe avocado and ¼ cup of plain Greek yogurt.
Sprinkle with 1/2 teaspoon of onion and garlic powder and salt and pepper to taste. Squeeze on fresh lemon juice and mix.
Fill tuna or salmon salad mixture into long celery stick stalks.
Lettuce Wraps
Lettuce wraps can be a fun hand held appetizer that can hold a variety of fillings. Fillings like pulled pork or chicken can be made ahead of time in a slow cooker or Instant Pot.
Chicken salad made with diced, cooked chicken, Greek yogurt, diced celery, cut up grapes, salt and ground pepper can also easily be made to fill lettuce wraps.
Guacamole Dip
Guacamole is a crowd pleaser and can be made by simply mashing up ripe avocados, splash of lemon juice, optional minced garlic and sprinkle of salt. A variety of fresh vegetables, chips or crackers can be used for dippers.
More Traditional St. Patrick's Day Meals
If you are looking for a more traditional celebration of St. Patrick's Day, these traditional Irish staples should be a part of your menu.
Irish Soda Bread
According to The Culinary Institute of America, soda bread has a history of two centuries in Ireland. Around this time baking soda was introduced in Irish kitchens which provided a way to make bread that used minimal time and kitchen equipment.
Soda bread can be made with just flour, baking soda, salt and milk. It does not need time to rise or extra time kneading the dough.
Corned Beef & Cabbage
Corned beef actually is not a traditional Irish dish; it originated with Irish immigrants in the US. Irish immigrants in the US were too poor to celebrate St. Patrick's Day with bacon or expensive cuts of meat and used cheaper beef brisket instead. Now, in the US, corned beef is a staple food for celebrating St. Patrick's Day.  
But what's corned beef without cabbage? Cabbage was used as a side dish to corned beef with Irish immigrants celebrating St. Patrick's Day in the US. It is thought cabbage was used because, at the time, cabbage was one of the cheapest vegetables available. Corned beef and cabbage are often enjoyed as is or paired with other vegetables like mashed potatoes and carrots.
(Cheers with Irish cream or a green beer as desired!)
References:
History of St. Patrick's Day. History.com. https://www.history.com/topics/st-patricks-day/history-of-st-patricks-day. Published October 27, 2009.
Tannenbaum K. The History Behind All Your Favorite St. Patrick's Day Foods. Delish. https://www.delish.com/food/a38939/history-corned-beef-st-patricks-day-foods/. Published September 23, 2020.