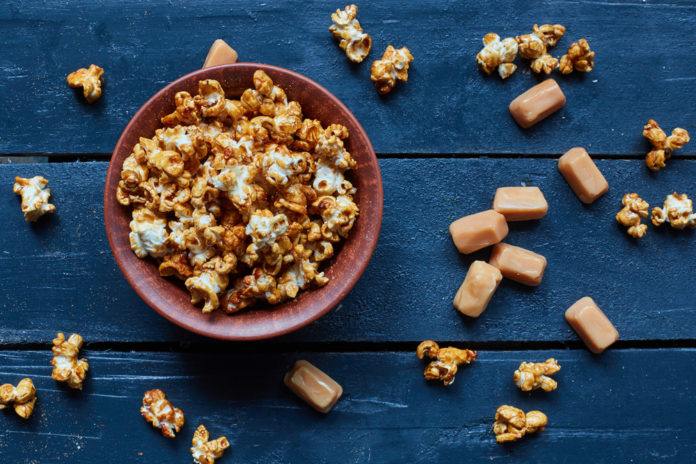 The sweet, decadent kernels of caramel corn are nothing short of desirable. Unfortunately, though, packaged popcorn is generally loaded with corn syrup and other refined sugars, making its nutritional value disadvantageous. Relish the sweetness, without the unwanted ingredients, with this homemade caramel corn recipe and 6 healthy popcorn recipe variations!
Homemade Caramel Corn
Ingredients:
2 tablespoons coconut or canola oil
¼ cup popcorn kernels
10 fresh Medjool dates, pitted
1 tablespoon pure maple syrup
2 teaspoons vanilla extract
¾ cup water
Directions:
Add oil and one kernel to sauce pan, place lid atop, turn heat to high, and wait for a kernel to pop.
Once the kernel has popped, add the rest, replace lid, and swirl to coat kernels with oil. Wait for kernels to pop.
When kernels start to pop quickly, crack the lid slightly to rid excess steam.
When popping slows to a couple of seconds between each kernel pop, turn off heat, wait a few extra seconds, then transfer onto a baking sheet.
For the caramel, mix dates, maple syrup, vanilla extract, and water in a food processer. Blend until the consistency resembles honey, adding a tablespoon of water as needed.
Lightly drizzle and evenly disperse the caramel on top of the popcorn, allow to dry, place in a large bowl for movie night, and enjoy!
If excess is caramel is left, store in an airtight container for later use, including as a topping for this avocado ice cream!
6 Healthy Caramel Corn Recipes
1. Chicago-Style Popcorn
Chicago-style popcorn features the unlikely pairing of cheese and caramel. To mimic the unique flavors, prepare this cheesy popcorn and mix with the homemade caramel corn recipe.
2. Choco Caramel Corn
Add a tablespoon of cocoa powder with the ingredients in the food processor for a choco caramel flavor! Feel free to add more or less cocoa based on personal preference.
3. Vanilla Cinnamon Popcorn
To the caramel recipe, mix in a teaspoon each of ground cinnamon and vanilla extract. Adding ground ginger, cardamom, cloves, and black peppercorns offers a chai tea flavor!
4. Salty Pretzel Caramel Corn
In a food processor, grind pretzels until they produce a course powder and add into the "caramel" mixture. Before the caramel starts to harden onto the popcorn, grind coarse sea salt atop!
5. Caramel Apple Corn
Substitute the water with ¾ cup apple juice or cider. Add into caramel mixture along with a few dashes of cinnamon for a healthy caramel apple variation!
6. Spicy Caramel Corn
To the caramel mixture, sprinkle and mix approximately ¼ teaspoon of chili powder or cayenne pepper, adjusting amount to spice tolerance. Add unsalted peanuts to the homemade caramel corn recipe as preferred.