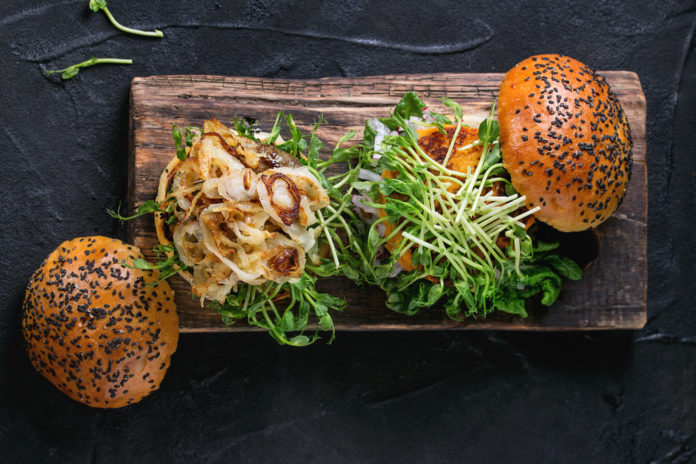 Healthy Hamburgers
1. Breakfast Burger
Whether for an exclusive morning meal or the notorious "brinner" (also known as breakfast for dinner), this breakfast burger is sure to awaken the taste buds! Layer on kale as described or top onto a toasted English muffin.
2. Traditional Burger
This better-for-you burger is based on traditional flavors without an ounce of guilt. Top with lettuce, tomato, onion slices, mustard, and other favorites!
3. Chickpea Burger
Also known as garbanzo beans, chickpeas are a plant-based protein source, making this chickpea burger a valuable meatless alternative for individuals reducing or eliminating meat. Serve chickpea patties on toasted wheat bread along fresh burger toppings, including fresh spinach, spicy mustard, and lemon juice.
4. Black Bean Burger
This black bean burger recipe is cost-friendly and ample in protein and fiber, leaving both your wallet and appetite full! Recommended optional toppings include ketchup, lettuce, and tomato.
5. White Bean Pesto Burger
Although black bean burgers tend to take precedency on restaurant menus, its relative deserves recognition. This white bean burger is filled with flavorful herbs within itself, and then topped with pesto… The fresh flavors are explosive! 
6. PB & J Burger
Nutty and lightly sweetened, that lunchbox classic takes a matchless spin by marrying the flavors of a PB & J with a burger! Top a lean beef burger with a light drizzle of peanut butter and smear of preferred jelly.
7. Lemon Basil Tofu Burger
Not only is tofu valuable for supplying plant-based protein, but is versatile and takes on the flavors of ingredients it encounters. So when it comes to this lemon basil tofu burger, the fresh, citrusy flavors of lemon and basil are robust!
8. Pizza Burger
You will definitely want a pizza this burger! The ingredients can be subject to change, including the addition of favorite pizza toppings such as mushrooms, bell peppers, and Italian sausage crumbles.
9. Jalapeno Turkey Burger
This easy, healthy hamburger recipe is a spicy, low-fat burger sure to please. Place burger into lettuce cups and garnish with sliced avocado, red onion, and tomato.
10. Fajita Burger Wrap
The flavors of Mexican tradition harmonize into cohesive fajita burger wraps! Follow ingredients based on recipe or adjust to preference, including the addition of jalapenos and tomatoes.
11. Sweet Potato Burger
Smoky, sweet, and garlicky, this sweet potato burger with avocado is not only bursting with nutrients, but flavor. Top with caramelized red onion or other favorite burger toppings.
12. Jerk Chicken Burger
Topped with mango salsa, this jerk chicken burger is fresh with a kick of heat! Feel free to adjust cayenne pepper and jalapeno amount based on spice tolerance or preference.
13. Mediterranean Veal Burger
Following a Mediterranean diet is not only touted for its hearty supply of nutrients, but the use of flavorful ingredients. This Mediterranean veal burger features distinctive garnishes, including eggplant and roasted red peppers.
14. Salmon Burger
Swapping out beef with salmon is a healthful way to increase omega-3 fatty acids within the diet. Touted as delicate, yet crunchy and crispy, this salmon burger recipe is sure to excite the senses!
15. Crab Burgers
Relish in the flavors of this fresh crab cake burger, filled with crabmeat and Greek yogurt for a protein-packed burger. Pair with a side salad for a light, well-balanced meal.
16. Portobello Mushroom Burger
Hyped as the "steak of veggie burgers," this easy, healthy hamburger recipe features the star itself… Portobello mushroom caps! Serve on bun of choice along with favored, healthy burger toppings.
17. Turkey Burger Sliders
Prepare these easy turkey burger sliders for a build your own burger night! Set out various healthy burger toppings, including tomato, onion, lettuce, peppers, jalapenos, spinach, pico de gallo, fresh lime juice, plain Greek yogurt, and any other favorite or unique selections!