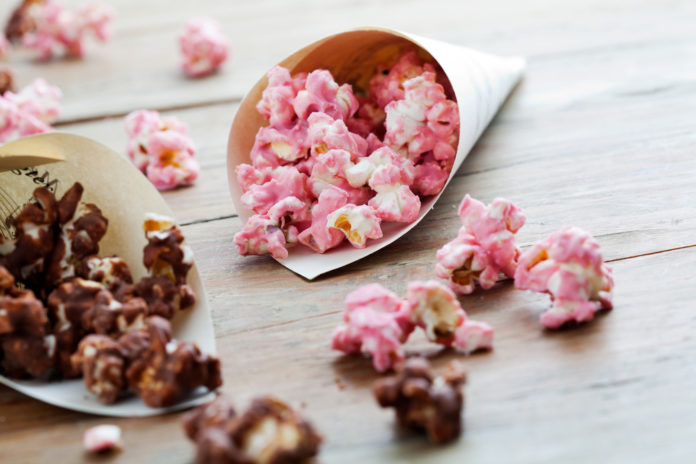 Though enjoying that movie favorite (yes, we saw you add the gobs of melted butter…) is just fine every now and then, filling the diet with nutritious snacks can start packing on the pounds.
But without the butter and salt, popcorn in its simplest form is a whole grain full of fiber and other nutrients.
6 Easy Protein Snack Recipes
To produce a single serving, start out with use an individual 100-calorie popcorn bag or make homemade popcorn with ½ teaspoon of coconut or canola oil and two tablespoons of yellow or white popping corn.
What about everything you need, you may wonder? Gather coconut oil, protein powder, dried fruits, sea salt, peanut butter, peanuts, cinnamon, Sriracha… Yep, we think that about covers it!
Enjoy six delicious protein popcorn recipes by dressing the bare kernels with these ideas and inspirations:
1. Peanut Butter Chocolate
For a rich, nutty, yet nutritious chocolate peanut butter popcorn, start by melting ½ tablespoon of coconut oil with 1 tablespoon of peanut butter in the microwave, or approximately 30 to 60 seconds. Stir in a half scoop of chocolate protein powder, coat mixture onto popcorn, and allow to harden.
2. Nutty Monkey
Start by making the peanut butter chocolate protein popcorn recipe above. In a blender, crush a tablespoon each peanuts and a few banana chips until it produces a coarse consistency. Dust the peanut-butter mixture atop before the kernels harden then enjoy an easy protein snack you will go nuts over!
3. Dark Chocolate Sea Salt
Love the duo of salty and sweet? Give this dark chocolate sea salt protein popcorn a go! On a baking sheet lined with parchment paper, lay out ready-prepared popcorn. Melt two tablespoons of dark chocolate chips then mix in a half scoop of chocolate protein powder and enough water to produce a sludgy mixture. Drizzle chocolate on top of popcorn then sprinkle with coarsely-ground sea salt to taste.
4. Chocolate Covered Strawberry
Indulging on chocolate covered strawberries solely on Valentine's Day is so last year… Prepare the dark chocolate sea salt popcorn recipe up until the addition of sea salt (unless desiring a saltier taste). Similar to the nutty monkey, crush 1/8 cup of freeze-dried strawberries, dust onto the chocolately kernels, and snack on!
5. Cinnamon Vanilla Popcorn
Cozy up to the warm flavors of this cinnamon vanilla low-fat popcorn recipe! Simply heat a tablespoon of peanut butter and teaspoon of vanilla extract, then mix in a half scoop of vanilla protein powder. Drizzle onto popcorn then sprinkle with a little (or a lot) of cinnamon.
6. Spicy Thai
While sweet treats are always desirable, spice is nice, too! This Thai peanut popcorn recipe is sure to ignite your taste buds! And for those who want to crank up the heat, increase the Sriracha or add red pepper flakes at your own discretion.