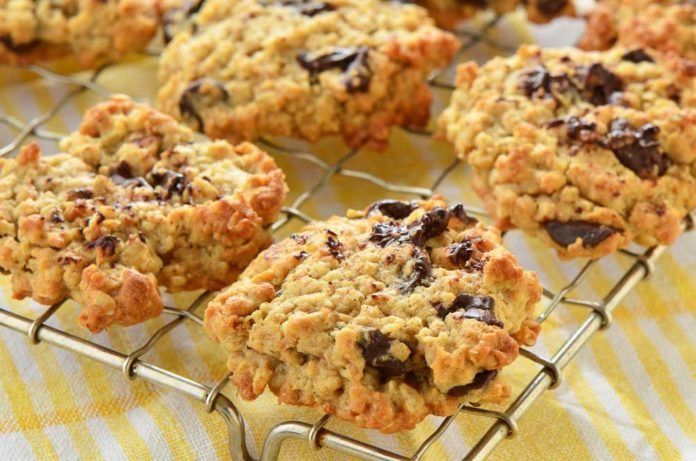 Best Oatmeal Cookie Recipe
Ingredients:
1 ½ cup old-fashioned or rolled oats
½ cup whole wheat flour
1 ½ teaspoon baking powder
¼ teaspoon salt
2 tablespoons coconut oil, softened
1 large egg at room temperature
1 teaspoon vanilla extract
2 tablespoons honey
Directions:
Mix together oats, flour, baking powder, and salt in a medium-sized bowl.
In a separate bowl, whisk together coconut oil, egg, and vanilla extract then stir in honey.
Lightly add in the flour mixture with the wet ingredients, stirring just until incorporated.
Chill dough for 20 minutes and preheat oven to 325-degrees Fahrenheit.
Roll dough into scoops and drop onto a lined baking sheet.
Bake for approximately 12 minutes or until they are both lightly browned and firmed to touch.
Allow cookies to cool for approximately 10 minutes then transfer to a wire rack.
Pour a class of milk and enjoy the oatstanding cookies!
Delicious Oatmeal Cookie Recipes
Use the oatmeal cookie recipe above as a template to harness various ingredients and flavors describe below.
1. No-Bake Oatmeal Cookies
Despite the warning of Salmonella risk following raw egg consumption, many still gravitate towards that uncooked cookie dough. But with these no-bake oatmeal cookies, you can enjoy without food borne illness concern!
2. Oatmeal Raisin Oatmeal Cookies
A traditional oatmeal raisin cookie recipe just got a healthful makeover! Using the recipe indicated above, add ½ cup of raisins and crushed pecans if desired. Craisins and other dried fruits can also be swapped for the raisins.
3. Banana Nut Oatmeal Cookies
Packed with fiber and healthy fats, this banana nut oatmeal cookie recipe is a nutritious treat. Replace egg with one mashed banana then follow the outlined recipe. Add a ½ cup of favorite nuts, including crushed peanuts or walnuts.
4. Chocolate Pretzel Oatmeal Cookies
To the mixture, add one tablespoon of cocoa powder along with ½ cup of crushed pretzel pieces. Drizzle warm cookies with peanut butter if preferred.
5. Cinnamon Apple Oatmeal Cookies
For a cookie lower in fat, look no further than a cinnamon apple oatmeal cookie! Swap out coconut oil with applesauce and add ¼ cup diced apples and a few dashes of cinnamon.
6. Peaches n' Cream Oatmeal Cookie Sandwiches
Fold in ½ cup of diced peaches into the oatmeal cookie recipe. While the cookies are baking, prepare this whipped cream frosting. Allow cookies to cool at least 15 minutes then top with frosting or sandwich the cream filling for an oatmeal cookie sandwich!
7. Lemon Oatmeal Cookies
Squeeze half a lemon, zest the yellow portion, and add to the oatmeal cookie batter. Create this healthier-for-you lemon crème frosting and top the cookies or make into lemon cookie sandwiches as described in the peaches n' cream recipe above!
8. S'more Oatmeal Cookies
Add ¼ cup of chocolate chips and ¼ cup crushed graham crackers to oatmeal cookie batter. After baking, top with a marshmallow, melt or broil, then garnish with a sprinkle of crushed graham cracker!
9. Carrot Cake Oatmeal Cookies
To the oatmeal cookie recipe, add ½ cup of shredded carrot, a teaspoon of cinnamon, and a ¼ cup coarsely chopped walnuts. Bake then top with with this light cream cheese frosting!
10. Chai Spiced Oatmeal Cookies
The sippable warmth of chai just got a chewy spin! To the oatmeal recipe, add ½ teaspoon of ground cinnamon, cloves, and cardamom and ¼ teaspoon of ground nutmeg and ginger.