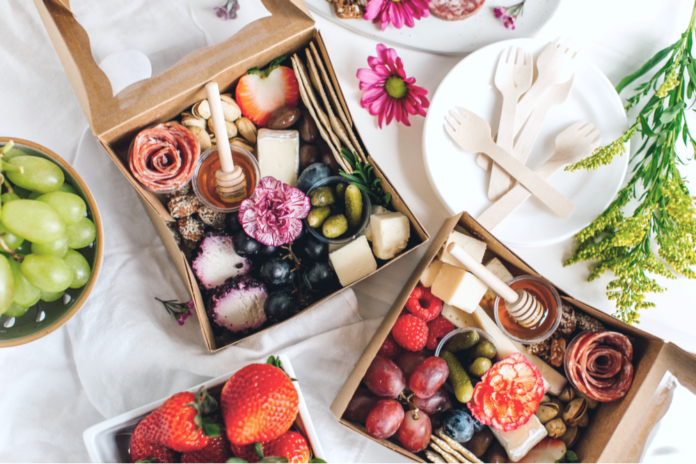 What is charcuterie? Often called a charcuterie board or charcuterie platter, this traditionally French favorite has evolved over the years.
From prepared meats to delicious spreads and breads, here is the ultimate guide for what to put on a charcuterie board. So, read on to learn how to make a charcuterie board, including how to construct the perfect charcuterie platter!
How to Make Charcuterie Board
Charcuterie platters make it possible to have a little bit of everything. From sweet to savory to salty, there is something for everyone to love. With a few minutes of preparation, an appetizing and healthy spread is possible.
Charcuterie Board Must Haves
Almost any appetizer can make a great addition to an already great plate. Cultivate a creative board by thinking of appetizing foods in each of these categories (more detailed ideas below!):
Meat
Cheese
Fruit
Vegetables
Grains
Beyond these staples, dips, desserts, and other snacks can be added. Color is a powerful tool to play around with. Adding at least three colors of fruits and vegetables, in addition to the meat and cheese, offers nutrition and color.
Charcuterie Board Themes
A charcuterie board can easily be customized to include a theme. For example, a Halloween charcuterie could include pumpkin spice protein balls, sweet and spooky Halloween treats, and fun healthy Halloween appetizers.
Charcuterie Board Utensils
A charcuterie board can be made from a multi-purpose cutting board. It can also be a board dedicated to charcuterie alone! Any platter or marble slab can work to add a natural, rustic touch.
Plenty of toothpicks and cheese knives can make for a clean, safe, and accessible experience. Make sure each delicious food has an appropriate utensil for accessing it.
Bowls can be used for dips and other hard-to-contain items (i.e. trail mix or popcorn). Be sure to lay items in bowls out first on the board since they tend to take up the most room. Using a variety of different-sized bowls can help add dimension.
Charcuterie Board Ingredients
Pantry staples, like whole-grain crackers, pair well with other ingredients on a charcuterie platter. While the cheeses and meats often take centerstage, healthy dips, desserts, and breads have their time in the spotlight, too.
Try adding hummus, nut butters, or homemade oil and herb-based dips to go with the other platter ingredients. Both sweet and savory flavors have a place! Add a salty element with the following nuts:
Almonds
Cashews
Macadamia nuts
Walnuts
Pistachios
There is really no "right" or "wrong" when it comes to charcuterie. Variety is often considered the most important component. Different types of foods mean different types of nutrients for the body to utilize.
Charcuterie Board Cheese Ideas
Cheese accents a charcuterie board by providing a complementary array of dry, smooth, and even spicy elements. Place cheese blocks and cheese knives in various places around the platter to pair with other ingredients.
Try the following hard and soft cheeses for an eclectic twist:
Parmesan
Smoked gouda
Chipotle Bella Vitano
Cheddar cheese
Goat cheese
Herbed Chèvre Cheese
Manchego
Blue cheese
Pepper jack
Colby jack
Havarti
Swiss
Babybel cheeses
Charcuterie Board Meats
Meat is a great mixture of salt and spicy flavors and can be enjoyed on its own or paired with vegetables, too. It is easy to go overboard with too much meat, so stick to three or four different options.
Popular prepared meats include:
Prosciutto-wrapped asparagus
Salami milano
Coppa
Turkey slices
Summer sausage
Pepperoni
However, meat is not the only protein allowed on the platter. Unique ideas for protein, such as the following, can help expand the possibilities:
Hard-boiled eggs
Beans
Legumes
Fish pate
Nuts
Seeds
Do not forget that cheese counts as a protein source, too!
Charcuterie Board Olives
Olives make a yummy addition to any platter. Olive oil mixed with herbs makes a great dip for breads or marinade for vegetables.
However, olives are not the only fruits or vegetables for charcuterie. Try mixing it up with the following options:
Berries
Artichokes
Salad skewers
Cherries
Starfruit
Citrus segments
Fresh fruit slices (i.e. apples, pairs, or peaches)
Cherry tomatoes
Sliced bell peppers
Cucumbers
Mini pickles
Charcuterie Board Ideas
The great thing about charcuterie is that it can be adapted to any budget. It can be customized as one desires and it usually does not dirty a single pan. Grab a cutting board, a couple cheese knives, some toothpicks, and a stack of napkins!
Charcuterie Board For Two
Spice up snack time with a date night charcuterie board. Add a bottle of wine and it is a romantic spread made just for two!
Out-of-the-box ideas to swap for conventional crackers and bread include:
Parmesan crisps
Fig and olive crisps
Rice crackers
Pretzel crisps
Pita chips
Bread cubes
Get creative as a couple! Foods can help emphasize the theme of an adventure. For example, adding trail mix could be fun for camping, or pumpkin butter could be appropriate for a fall picnic.
Charcuterie Board Lunchables
While kids might not know what charcuterie means, they will love the "lunchable" feel of a board. Include enticing snacks for a kid-friendly feast, such as homemade fruit snacks.
Mini bagels or herb and grain crackers can be a healthier addition to store-bought alternatives. Dried cranberries or dried apricot can also sneak some nutrition in. Dark chocolate and chocolate chips are always welcome treats, too.
Charcuterie Board Picnic
These "snackable" sides are great for adding to a picnic spread:
Whole-wheat baguette slices
Unsalted nuts
Olives
No-sugar-added preserves
Honey
Dried fruit
Hummus
Chilled roasted vegetables
Charcuterie Board Recipes
Popcorn, caramel popcorn, and other snacks can easily be thrown on a charcuterie, too! Do not limit charcuterie to "fancy" events either. Party platters and game day appetizers look impressive laid out charcuterie-style.
Energy balls make an intriguing addition. No-bake energy balls take little preparation but can add an element of excitement. Do not forget dips like simple and sweet strawberry salsa that can add a unique twist as a sidekick to chips.
Dessert Charcuterie Board
A delightful twist on the classic platter, a dessert charcuterie board makes it possible to have one of everything. For example, a chocolate charcuterie board could include pieces of chocolate caramel coconut flour brownies, sweet potato brownies, and chocolate-covered strawberries.
Candied nuts are also fun to add to charcuterie platters. Plus, the nuts provide a bit of protein and healthy fats.
In Conclusion on Charcuterie
One can feel clueless when first considering how to make a charcuterie board. With a few minutes of preparation and a bit of attention to variety, the perfect platter is possible.
Use these ideas to think outside the box (or board, in this case) and get creative!
References:
D'Ambrosio A. Lunch Charcuterie Board. Dietetic Directions. https://dieteticdirections.com/lunch-charcuterie-board/.
Heineman L. How to Make the Best Appetizer Charcuterie Board. Laura the Dietitian. Published September 23, 2020. https://laurathedietitian.com/easy-appetizer-charcuterie-board/.
Jochum A. How to Build a Charcuterie Plate on a Budget. Food & Nutrition. Published July 13, 2016. https://foodandnutrition.org/blogs/stone-soup/build-charcuterie-plate-budget/.
McDowell B. DIY Charcuterie Board from Trader Joe's Ingredients. The Domestic Dietitian. https://foodandnutrition.org/blogs/stone-soup/build-charcuterie-plate-budget/.
The Oregon Dietitian. How to Build a Simple Charcuterie Board Under $30. The Oregon Dietitian. Published May 3, 2021. https://theoregondietitian.com/how-to-build-a-simple-charcuterie-board/#.
Weeks A. How to Assemble a Charcuterie Board. Anni Weeks. Published December 29, 2020. https://www.anniweeks.com/post/how-to-assemble-a-charcuterie-board.