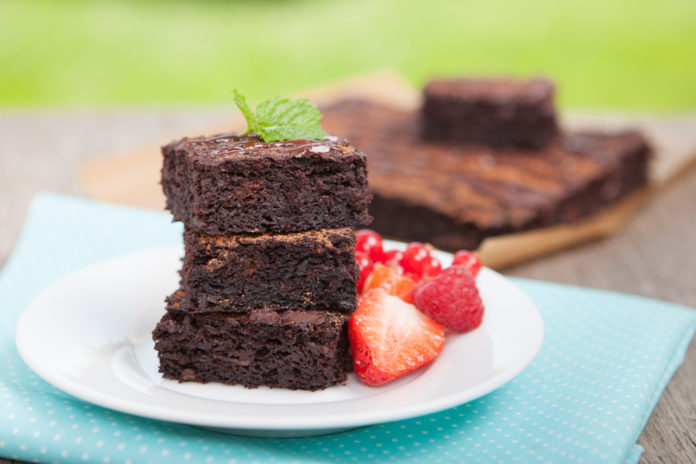 Why Prepare These Sweet Potato Brownies?
These sweet potato brownies are bursting with nutrients! Sweet potatoes are rich suppliers of vitamin A and fiber, which promote heart, digestive, skin, and eye health.
Swapping cooking oil with applesauce not only saves on calories from fat, but still offers the desirable, moist brownies you desire!
Well, because they are delicious and a guilt-free dessert option for any occasion!
Easy Sweet Potato Brownies
Ingredients
Wet Ingredients:
1 large sweet potato, peeled and pureed
½ cup almond or peanut butter
½ cup unsweetened applesauce
2 tablespoons honey
1 tsp vanilla extract
1 large egg
Dry Ingredients:
½ cup oat or whole wheat flour
½ cup unsweetened cocoa powder
1 teaspoon baking soda
1/8 teaspoon salt
Instructions
Preheat oven 375°F. Line a 9" X 9" pan with parchment paper and grease well with a nonstick cooking spray.
In a food processer, mix sweet potato, almond or peanut butter, applesauce, honey, vanilla extract, and egg until completely smooth.
Add all of the dry ingredients into the food processor and mix until fully incorporated into a batter.
Pour and spread brownie batter evenly into pan and bake for approximately 25 minutes, or until the center is completely cooked through, or until an inserted toothpick comes out clean.
Allow brownies to cool for 15 minutes in pan, then transfer to wire rack and allow to cool completely.
Cut into squares and enjoy the sweet (potato) goodness!
Additional Tips and Ideas
For a certified gluten-free alternative, verify the oat flour is in fact gluten-free, along with experimenting with coconut and almond flour.
In addition to preparing healthy brownies with applesauce, mix up this four-ingredient applesauce chocolate frosting! Coat the brownies with the frosting and garnish with chopped nuts as desired.
Make the ultimate nutritious brownie a la mode by pairing with this

avocado ice cream

 and topping with chopped peanuts, sprinkles, cherries, and whipped cream as desired.