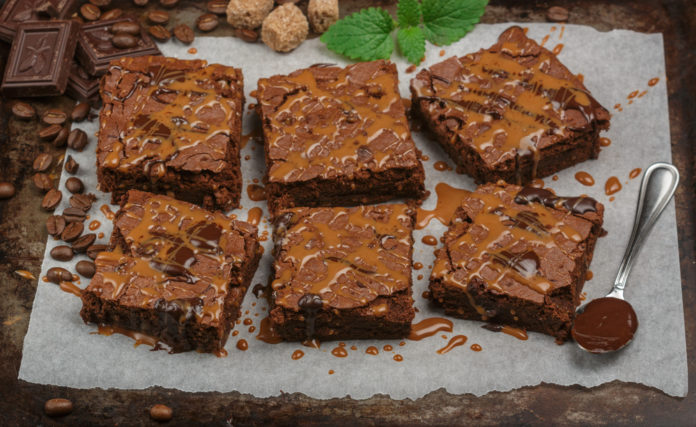 Chocolate Caramel Coconut Flour Brownies Recipe
Coconut Flour Brownies Ingredients
Dry Ingredients:
½ cup coconut flour
½ cup unsweetened cocoa powder
1 teaspoon baking soda
1/8 teaspoon sea salt
Wet Ingredients:
½ cup unsweetened applesauce
¼ cup honey
1 tsp vanilla extract
3 large eggs at room temperature
Caramel Sauce Ingredients:
½ cup coconut cream
¼ cup coconut sugar
¼ cup maple syrup
1/8 teaspoon salt
1 tablespoon coconut oil
1 teaspoon vanilla extract
Instructions
Preheat oven to 350°F. Line a 9" X 9" pan with parchment paper and grease well with a nonstick cooking spray.
In a medium bowl, combine all dry ingredients and set aside.
Add and mix all of the wet ingredients in a separate bowl then gently stir in dry ingredients until incorporated into a batter.
Pour and spread brownie batter evenly into pan and bake for approximately 20 minutes, until the center is completely moist and cooked through, or when an inserted toothpick comes out clean.
While brownies are baking, combine the coconut cream, coconut sugar, maple syrup, and salt in a small sauce pan.
Heat over medium heat just until boiling, turn to low, and let simmer for 10 minutes. Stir continuously to prevent burning.
Remove saucepan from heat, add coconut oil and vanilla, and whisk until combined.
Remove brownies from oven and drizzle with caramel sauce (and top with chopped pecans if desired). Allow to cool for approximately 30 minutes and enjoy!
(If there are any leftovers…) Store in fridge in airtight container up to a few days.