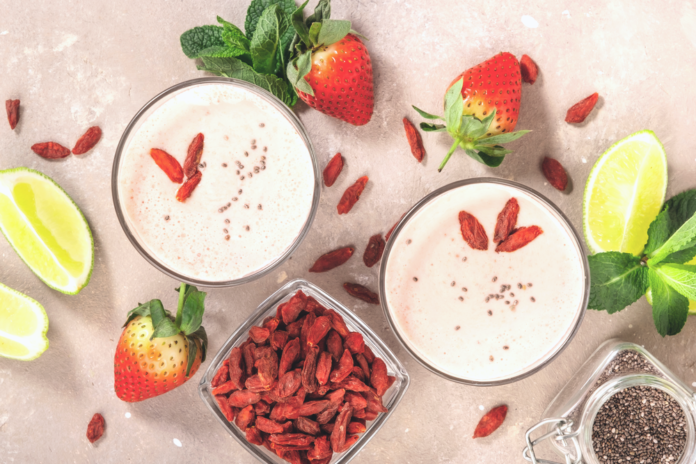 Snacks are a comforting and habitual source of energy for most Americans throughout the day. In fact, Millennials are known for eating snacks in place of meals. Unfortunately, popular "snacks" – like potato chips, milk chocolate chip cookies, gummy bears, candy bars – are high in calories and are low in nutrients. 
With this in mind, many Americans are looking for healthier snack options that taste good but also benefit health. If health snack ideas seem boring or limited, turn your gaze to snacks from different countries for inspiration.
Looking for fresh, healthy, and new snack ideas? Get globally inspired with these top healthy snacks from around the world.
10 Healthy Snacks from Around the World
These globally inspired snacks not only can offer a refreshing change-up to usual go-to snacks. They are also packed with fiber, protein, vitamins, minerals, and antioxidants making them some of the best snacks in the world.
1. Denmark: Smorrebrod
A smorrebrod is simply a Danish snack which basically means an open face sandwich. While a full sandwich is too much for a snack, this open-face sandwich with traditionally one slice of thin rye bread is just right for a healthy snack.
Smorrebrod is made with rye bread and layered with a variety of cheese, fish, vegetables, and/or cold cuts. Fun fact about smorrebrod – they are eaten with a knife and fork, not handheld!
The key to making a smorrebrod snack is using thin rye bread, not regular sandwich bread common in the US. Use dense, dark, whole grain bread as a base for this snack. More ideas and ways to eat smorrebrod found here.
2. Iran: Kuku
Kuku is similar to a vegetarian omelet and a common healthy snack from Iran. The type of vegetarian kuku can vary from fresh herbs to potatoes or any other vegetables on hand. Kuku is a versatile snack, as it can be eaten cold, hot, or even as an appetizer.
The combination of eggs and veggies makes this a filling, nutrient-dense snack choice – kuku sabzi can be made with fresh herbs, eggs, spices, optional walnuts, and dried cranberries for topping. Keep in the refrigerator and warm up a slice with an optional dollop of plain yogurt on top for a delicious snack.
3. Iceland: Skyr Yogurt
Similar to Greek yogurt, Icelandic Skyr yogurt is a good snack source of protein, probiotics, and calcium. Skyr yogurt tends to be creamier than Greek yogurt and usually has more protein. As this Icelandic yogurt has gained popularity worldwide, it is now commonly found in larger supermarkets.
Pair it with some fresh or dried fruit (like dried mulberries or goji berries listed below) for a nutrient-dense and filling snack.
4. Japan: Edamame
Edamame is often associated with an appetizer choice at sushi restaurants. However, edamame can be easily incorporated at home as a filling snack choice. In fact, edamame can be found in most grocery stores in the freezer section.
Edamame is a good source of fiber, protein, vitamin C, iron, and magnesium making it one of the top healthy snacks from around the world. The best part is it can be kept in the freezer and only takes a few minutes to make.
5. Turkey: Dried Mulberries
Dried fruit is a common international snack choice, but munching on dried mulberries is a unique favorite snack originating in Turkey.
Why should you try to hunt down this new dried fruit? Dried mulberries have a chewy texture and are a good source of vitamin C and iron. Dried mulberries from Turkey are slowly dried in the sun making them nice and juicy.
Dried mulberries can be added to Skyr yogurt or paired with a handful of nuts for an even more filling snack.
6. Malaysia: Kuih Cara Berlauk
This healthy snack from Malaysia may look and sound intimidating, but these little, bite-sized savory cakes are a delicious and healthy snack. While traditionally made in special, small molds, they can also be made easily in a mini muffin pan.
The main components of kuih cara berlauk include flour, eggs, coconut milk, turmeric, peppers, onions, and parsley. Because of the turmeric, these protein-packed bites provide a source of antioxidants and are naturally yellowish in color.
7. Spain: Pan Con Tomate
This simple, yet delicious, Spanish-inspired snack may fast become your new favorite, quick salty snack. It only entails toasted bread, garlic, grated tomato, olive oil, and salt.
Simply rub a half garlic clove on warm, toasted bread, top with grated tomato, drizzle with olive oil, and lightly finish with a sprinkle of salt.
8. Crispbread: Sweden
Similar to smorrebrod, crispbread – or knackebrod in Swedish – can be used as a template for innumerable toppings. It is also rye-based and simply made from rye flour, yeast, water, and salt.
Crispbreads are known to be very high in fiber and low in calories, making them ideal for building a healthy snack. Use them to serve as a base for cream cheese, fruit, sliced veggies, herbs, hummus, peanut butter, or another nut butter, etc. They can also be crushed up and sprinkled into yogurt.
Crispbreads may be found in the cracker or international aisles in grocery or health stores.
9. Mexico: Pepitas
Pepitas, or pumpkin seeds, can be a nutritious snack on the go. Popular in Mexico, these seeds are considered a healthy snack because they are full of fiber, protein, and minerals.
Pepitas can be eaten raw or roasted, similar to other nuts and seeds. They can also be paired with dried fruit for a balanced snack.
10. China: Dried Goji Berries
While claims that the goji berry is the fountain of youth may be misleading, nonetheless, goji berries are a healthy snack choice native to China. Like other berries, they are a good source of antioxidants and fiber and their flavor is delicious.
Dried goji berries can readily be found at large grocery stores and health stores. Enjoy as a snack on their own or paired with nuts as a trail mix or yogurt for a more filling option.
Best Snacks in the World Recap
Unfortunately, popular snacks in the US are notorious for being high in calories, added sugar, and processed ingredients. Additionally, it may be easy to get stuck in rut with choosing the same healthy snacks like fruits, vegetables, or nuts.
These top healthy snacks from around the world take international flavors and thinking outside the box to shake up usual snack choices. No empty calories here – all these snack choices are full of nutrients and taste. In fact, many of them can be paired together for a more filling snack when desired!
References:
10 smart snacks around the globe. Aetna International. https://www.aetnainternational.com/en/about-us/explore/health-care/lifestyle-better-health/10-smart-snacks-around-globe.html. 
Foster LB. 50 snack foods from around the world. Stacker. Published November 30, 2020. https://stacker.com/stories/5185/50-snack-foods-around-world.