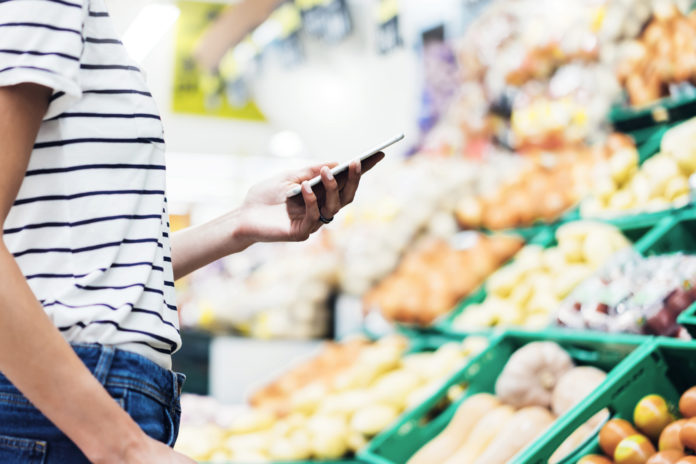 During a pandemic, does envisioning short supplied store aisles get the heart racing? Does a panic-driven pantry stock quickly follow?
If this hits too close to home, know the response is normal and that you are not alone. When it can feel like there is chaos happening in the world, let us help keep the kitchen a place of calm.
Read on for three tips when creating a pandemic shopping list, along with the best grocery list to take to the store!
3 Tips for Creating a Pandemic Shopping List
When preparing a pandemic shopping list, keep these three things in mind:
1. Versatility
The item should pair well with others. Broccoli is a good example since it can be thrown in anything from stir-frys to soups to cold salads.
2. Shelf-Stability
Foods like canned items have a longer shelf life, as opposed to an avocado that for best quality must be used at peak ripeness, which can be easy to miss.
Think of foods that are nutritious but can sit on the shelf for a while before using them.
3. Nutrition
Healthy eating is especially important during times of pandemic. For instance, fruits and vegetables offer many vitamins and minerals that aid in immunity and overall health. Lean meats and whole grains can also provide needed nutrients.
Remember, though, fresh is not the only option and it may not be as affordable or practical in periods of pandemic. Frozen and canned items can be equally nutritious options, and tips have been included on what to look for in the grocery shopping list below.
Overall, look for versatile, shelf-stable, and nutritious options with low to no sugars, salts, syrups, or other added ingredients. Also pick and choose options that might work based on personal needs.
Your Grocery Store List
Everyone is different, but this list is so versatile that it can meet just about anyone's needs.
So head to the store with confidence with this pandemic grocery store list to guide shopping efforts. (Or, order online to practice social distancing!)
For added convenience, the list is broken down into many nutrient-dense food groups such as:
Grains: whole grains and associated products such as whole wheat crackers, pastas, breads, and cereals
Proteins: canned meats (tuna and chicken), freezer meats (fish fillets and ground meats), eggs, nuts, dried or canned beans and lentils
Dairy products: cheese, yogurt, unsalted butter
Fruits: bananas, frozen fruits, dried or canned varieties (applesauce, raisins, and fruit cocktail)
Vegetables: easy-to-prepare and pre-cut (baby carrots and diced tomatoes), canned (green beans, split peas, and corn), and frozen veggies (broccoli, cauliflower, and diced squash)
Oils: vegetable oils (avocado and olive oil), coconut oil
Spices and sauces: low-sodium soy sauce/coconut aminos, dried herbs and spices (basil, cilantro, onion and garlic powders), vanilla and cinnamon
Grains
Grains are edible dry seeds with or without an attached hull or fruit layer. There are two common types of grains, including refined grains and whole grains.
Refined grains and carbs are essentially grains stripped down and processed. Undergoing such processing causes the grain to lose beneficial nutrients.
Whole grains contain the whole portion of the grain and supply dietary fiber, B vitamins, iron, and other valuable nutrients. Aim to include more whole grains and whole grain products on the pandemic shopping list.
Whole Grains
Whole grains can be hearty and heart healthy options when in a pinch, including brown rice, quinoa, oats, millet, whole-wheat pasta. Plain popcorn is also a whole grain. It is high in fiber, and is generally a crowd pleaser for all!
Other quick-cooking healthy whole grains include quinoa, brown rice, and whole-wheat couscous. All take just a quick 15 minutes to cook from start to finish!
Crackers
Crackers made of whole-wheat or whole-grains pair well with just about anything. Hummus and guacamole make a flavorful side-dish, and pair crackers with cheese for a snack that packs some protein.
A medley of crackers can turn a mish-mash of ingredients into a tasteful charcuterie board. Such a combo of ingredients can turn an otherwise boring plate into a playful one during quarantine routines.
Whole Grain or Whole-Wheat Bread & Tortillas
Having whole grain bread and tortillas on hand means having a healthy base for sandwiches, wraps, and last minute dishes at your disposal. Not to mention, most tortillas and bread loafs freeze relatively well.
Take PB&J's, for example, which are a basic lunchtime meal for good reason! The sandwich covers all three macronutrient groups, including carb, protein, and fat.
Whole-Grain Cereal
Nutritious cereals are crowd pleasers, and can make a great last minute snack. It can be thrown into snack mixes and eaten plain or with milk poured in.
While whole-grain cereals are an excellent option to have on hand, check the labels. A high-quality cereal should be reduced in or free of added sugars and artificial flavors. Also try finding a cereal that packs at least 5 grams of fiber per serving.
Alternative Flours
It is extra important for those who have allergies or sensitivities to certain foods to plan ahead while shopping for the duration of a pandemic.
Nut flours and other gluten-free options are often a necessity for people with sensitivities. Be sure to have these items accessible to you during the pandemic.
Proteins
Protein is an essential macronutrient that supports muscle mass, healthy metabolism, weight management, amongst the many.
Protein comes from a wide variety of animal meats and products, as well as plant-based sources.
Canned Meats
Canned foods can be both convenient and nutritious. Look for tuna fish or lean animal meats canned in water and without added sodium and other additives.
Likewise avoid cans with damage, such as dents, bulges, cracks, or leaks. This can allow for bacteria to enter into the food and increase the risk of sickness in a time when immunity is extremely important.
Freezer Meats
Fish fillets, chicken breasts, and ground meats are versatile options to have in the freezer. However, not all frozen options are created equal when it comes to frozen foods.
Avoid animal proteins high in saturated fat or added salt such as breaded meats. The best way to do this is to look at the label for nutrition facts, ingredients, and added ingredients such as sauces or marinades where nutrient-poor additives can lurk.
Eggs
Eggs are healthy, affordable, and take merely minutes to prepare. They include a plethora of vitamins essential for growth and energy, making them a great addition to any meal.
Eggs can be hard-boiled, scrambled, fried, and cooked in many different ways. Add them to a breakfast burrito, hard-boil them for a lunchtime salad, or scramble into fried rice for dinner.
Nuts & Nut Butters
Nuts are great sources of healthy fat and protein, as well as nut butters. Family favorites include peanut, almond, cashew, and sunflower butters.
Add nuts and nut butters to trail mix, no-bake protein energy balls, breakfast oats, sandwiches for lunch, and many more. Also pair with fruits and vegetables for a quick, healthy snack option.
Dried or Canned Beans & Lentils
Products such as black beans, garbanzo beans, kidney beans, white and pinto beans, and lentils are shelf-stable products. They make for healthier choices in a hurry!
Pair beans and lentils with vegetables or meat for a nutritious burrito, soup, stew, or stir-fry. They also make an excellent addition to homemade chili.
To lower the sodium of canned beans, rinse and drain before adding to any dish.
Dairy
Dairy products are great sources of protein, calcium, B vitamins, and other essential nutrients. When shopping for these dairy products, choose ones lower in fat without added sugars.
Shredded Cheese
A low-fat shredded cheese can make almost any meal more exciting. For instance, melt broccoli with shredded cheese and convince everyone (or almost everyone) to eat those veggies!
Also keep an extra bag in the freezer to pull out and thaw overnight whenever it might be needed.
Yogurt
Yogurt, Greek yogurt especially, is packed with protein and probiotics are proven to support gut and overall health. It is also a great source of calcium, iodine, potassium, and other essential nutrients.
Fat-free, low-fat, and frozen options are great ingredients that play well with others (which is evident in these irresistible homemade yogurt popsicles). Yogurt is also often the surprising secret ingredient that makes baked goods so yummy, including this delicious zucchini bread protein muffin recipe!
Unsalted Butter
Eating foods with butter, in moderation, can add healthy fats and nutrients to the diet.
Be sure to grab the unsalted butter when taking a trip to the grocery store. This allows for you to control the salt content of your meal.
Fruits
Fruit is naturally low in fat, sodium, and calories while being ample in phytochemicals. They are also rich in fiber, which tend to be more filling than non-fiber foods.
Useful and nutritious fruits to keep on hand include bananas, frozen berries, and dried and canned varieties.
Bananas
Bananas can be used at almost any stage once ripe, making them one especially useful fruit.
Have a bunch in the freezer to throw in smoothies (and even banana bread!) for an added boost of nutrients and natural sweetness.
Frozen Fruits
Mixed berry medleys and cherries make for quick, nutritious smoothies. Tropical fruits and blends of acai or pitaya can also help add an exotic when travel is limited.
Just look carefully at pre-made smoothies and kits, as they can contain higher levels of added sugars or saturated fats (try to avoid).
Dried or Canned Fruit
Choosing fresh tends to be the most nutritious option when it comes to fruit. However, dried or canned varieties can easily go from shelf to backpacks or handbags without losing their nutritional value.
For healthy and useful alternatives to fresh fruit, avoid heavy syrup and added sugars.
Likewise check that the fruit has been canned with water, 100 percent juice, or its own juices.
Also, opt for unsweetened dried fruits rather than sweetened varieties. Keep an eye on dried fruit labels for sugar content, which can be twice as much or higher.
Nutritious dried and canned fruits include applesauce, peaches, and raisins.
Vegetables
Vegetables are naturally low in calories and timeless in a number of essential nutrients. Keep a variety of veggies on hand, including easy-to-prepare, pre-cut, canned, and frozen types.
Easy-to-Prepare & Pre-Cut Vegetables
Baby carrots, diced tomatoes, and pease are all easy to add to a snack or meal. With something prepared on hand, it is much easier (and mindless) to make a healthy choice.
Oh, and do not forget dips! Hummus and guacamole, especially homemade, can help to quickly spice up a snack or meal. Instead of chips, opt for sliced cucumbers or baby carrots.
Canned Vegetables
Green beans as well as yellow or split peas are shelf stable. So are canned tomatoes (including sauces and pastes), green beans, and corn.
Be sure to check the label for no added sugars or salts, and keep an eye out for low or reduced sodium options. Like beans, rinsing and draining canned vegetables can help to reduce sodium content.
Frozen Vegetables
Cauliflower, broccoli, cut up carrots, diced squash, or edamame make good options. Avoid added salts and look for vegetables high in fiber, vitamins, and minerals.
Oils
Oils are helpful for adding flavor and healthy fat to meals. They are dense in calories, so be sure to keep portions and serving sizes in these oils in check.
Vegetable Oils
Veggie oils, such as avocado or olive, add healthy fats to many meals. Keep these oils on hand for cooking, dressings, and more.
Coconut Oil
Coconut oil is good to have as an addition for baking, especially if cooking for those sensitive to ingredients like butter.
The oil can be used to grease pans and tins to make muffins and bread as well.
Spices & Sauces
Spices and sauces, especially if free of added sugar and oils, help offer flavor without adding lots of calories.
Some healthy favorites include low-sodium soy sauce, savory herbs, and warm vanilla and cinnamon.
Low-Sodium Soy Sauce/Coconut Aminos
Soy sauce or coconut aminos (for those allergic or sensitive to soy) can quickly add flavor to an otherwise bland dish.
They make for quick sauces and marinades, and can easily turn a tasteless meal into a sensational one.
Dried Herbs & Spices
Keep dried alternatives of favorite spices on hand, including basil, cilantro, and rosemary. Onion and garlic powders can also give those flavors when limited in their original form.
(Keep salt and pepper on standby, too, as they are basics when it comes to adding flavor!)
Vanilla & Cinnamon
Vanilla can give food a sweet sensation and help make healthier choices. This especially serves true if combined with warm cinnamon and nutmeg!