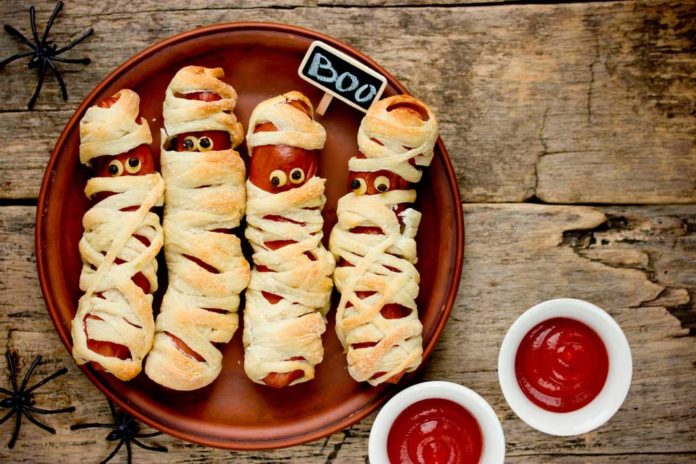 Halloween Recipes and Food Ideas
1. Mummy Dogs
Have a yummy mummy in your tummy! Okay, let's stop the rhyme time and start gettin' in the kitchen… Mummy dogs are not only a childhood favorite, but simple to create with just a couple ingredients: hot dogs and refrigerated breadstick dough! Start by preheating the oven to 375°F and separating the dough into individual strips. Wrap a strip of dough around the hot dog, leaving around ½ inch exposed for a face. Place on a lightly greased baking and bake for approximately 14 minutes, or until the dough is cooked through and golden in color. Dab on mustard eyes with a toothpick and serve on a platter.
2. Spooky Spider Deviled Eggs
It's all in the name with this Halloween food idea! After preparing your favorite deviled egg recipe, cut whole black olives in half. Place one of the halves in the center for the spider's body. Thinly slices the other half to produce eight "spider legs" and strategically place around the body.
3. Bloody Brains
Innocent cauliflower transforms into a pasta-inspired, spooky Halloween recipe. Start with the "brains" by preheating the oven to 425°F. Cut a head of cauliflower into florets, place on a baking sheet, drizzle with olive oil, sprinkle with salt and pepper to taste, and roast for approximately 35 minutes or until golden and tender. For the "blood," blender a jar of tomato sauce until smooth, warm in a saucepan over medium heat, and pour into a shallow pan. Transfer roasted cauliflower into the pan, sprinkle with freshly grated parmesan cheese, and serve up!
4. Graveyard Taco Dip
But do not let the name throw you off too much… This Graveyard Taco Dip is sure to awaken all the senses! In a Pyrex dish or pie plate (pick a translucent dish to view the layers), coat the bottom with a can of refried beans. In a small bowl, mix two cups plain Greek yogurt with a taco seasoning packet then add atop beans. Top yogurt with guacamole or mashed avocado and salsa. Cut graveyard tombstones, trees, and creatures out of tortilla shells and bake in a 350°F oven until brown, or approximately seven minutes. Place shapes in the dip and garnish with shredded lettuce.
5. Avocado Ghost Toast
The trend of avocado toast continues on Halloween… With a ghost-shaped cookie cutter, cut slices of whole grain toast and broil in the over for approximately 2 minutes. Top with mashed avocado and other favorite toppings, including a soft-boiled egg, tomatoes, salt and pepper.
6. Pretzel Pumpkins
*Disclaimer: No pumpkin required!* Start by whisking together 2 cups of preferred yogurt (no Greek) and a cup of powdered sugar until completely dissolved. Preheat the oven to 250°F then place a wire rack on top of a cookie sheet. Get a bag of mini pretzels, dunk individually into the yogurt mixture with a fork or tongs, and place onto the wire cooling rack. Once pretzels are covered and on rack, sprinkle with orange colored sugar or sprinkles, turn off the oven, then place cookie sheet with pretzels in the oven, cracking the door slightly open. Allow to set in the oven for at least four hours or overnight. Store pretzels in the pumpkin patch (or sealed canister…) for up to three days.
7. Strawberry Ghosts
This strawberry ghost recipe is the Casper of Halloween treats… Friendly on your waistline! Start by cutting the tops of fresh strawberries and dip into Greek vanilla yogurt. Place on a cookie sheet covered in wax paper and freeze. Repeat the dipping process to get the strawberries fully covered in white, adding mini chocolate chips for eyes, freezing again, then storing in an airtight container in the freezer.
8. Scream Cheese Brownies
Start by preparing the batter of your favorite brownie recipe or from a boxed mix. And now the fun begins… For the scream cheese filling, beat a package (or 8-ounces) of softened cream cheese, one egg, ½ teaspoon, and equal parts of red and yellow food dye until you have reached an orange color to your liking. Preheat oven to 350°F and spray a 9X13" pan with cooking spray. Pour ¾ of the brownie batter into the pan, spread cream cheese mixture on top, then add the remaining brownie batter. Gently swirl batter and filling together with a knife, bake for 30 minutes, then allow to cool. Now that is a Halloween treat to scream over!
9. Monster Mouths
Monster Mouths are certainly a Halloween treat you will want to chomp on! Start by cutting an apple into thin slices. Spread a layer of peanut butter onto two slices of apples then line mini marshmallows across an apple slice to resemble teeth. Simply sandwich the other peanut butter apple slice until they stick together and form a mouth. Be extra creative by adding a fruit roll-up as a tongue, different colored marshmallows for discolored teeth, and whatever else that spookily comes to mind!
10. Boo-Nana Yogurt Pops
For a nutritious Halloween snack offering both fiber and protein, enjoy on healthier-for-you "Boo"-Nana Yogurt Pops! Start by halving a banana into two sections. Insert popsicle sticks into bananas and freeze on a wax-lined cookie sheet. Once frozen, dip banana halves into vanilla Greek yogurt, add two mini chocolate chips for ghost eyes, then freeze until the yogurt has set.