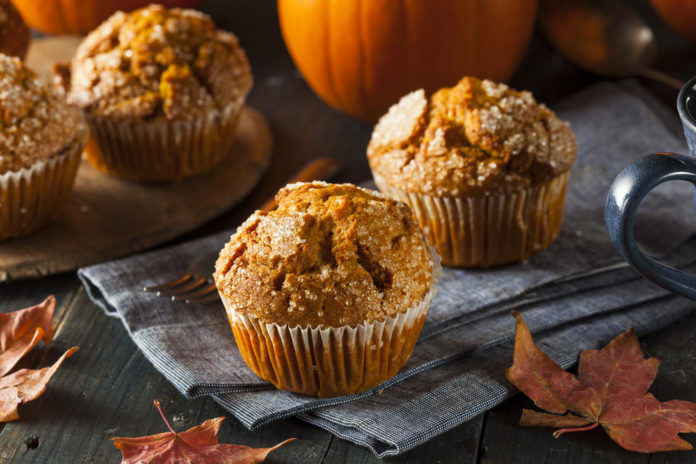 Healthier Halloween Treats and Snacks
1. Mummy Energy Balls
These energy balls will have you feeling far from a mummy! Each ball provides a mere 93 calories and approximately 3 grams of protein, representing them as a healthier Halloween treat.
2. Spooky Energy Balls
Using the natural sweetness of nutrient-dense medjool dates, carrots, cinnamon, and ginger, this Halloween treat recipe marries favorite fall flavors into one cohesive bite!
3. Spider Bites
Featuring eight legs but just three ingredients, these spider bites are a fun and healthier Halloween treat!
4. Chocolate Spider Web Cupcakes
Speaking of spiders… Get stuck in these chocolate spider web cupcakes! Not only are they grain and dairy-free, but use more natural ingredients of cocoa powder, peanut butter, coconut oil, and honey.
5. Pumpkin Muffins
If you love baked goods but not the volumes of sugar, oil, and flour that often comprise them, this healthy pumpkin muffin recipe is for you!
6. Halloween Sugar Cookies
Unlike most sugar cookie recipes that contain scary ingredients, these healthier Halloween sugar cookies with cream cheese frosting are touted to be whole grain, soft, chewy, and taste just as good as its traditional relative.
7. Soft and Chewy Chocolate Halloween Cookies
This chocolate Halloween cookie recipe features an unordinary ingredient… But do not let the use of black beans scare you off, as they are healthier Halloween treat and supply just 95 calories per cookie!
8. Caramel Popcorn
Rather than purchasing caramel popcorn filled with refined sugars, prepare one of these six naturally-sweetened recipes, including the fall-inspired flavors of caramel apple, salty pretzel, and spicy caramel!
9. Peanut Butter Popcorn Balls
Or perhaps you enjoy peanut butter over caramel? Don't skip over this easy peanut butter popcorn ball recipe!
10. Peanut Butter Cups
The highly anticipated and commercialized flavor duo of peanut butter and chocolate introduces unwanted third, fourth, and fifth parties. Strip away from undesirable ingredients and enjoy the raw flavors of chocolate and peanut butter in this homemade Reese's peanut butter cup recipe!
11. Pumpkin Snickers
BistroMD harmonizes the desirability of a classic candy bar and fall flavors of pumpkin in this healthy pumpkin Snickers recipe!
12. York Peppermint Patties
Featuring a thick chocolate coating filled with sweet peppermint… These homemade York peppermint patties are a healthier alternative to its store-bought relative while still being rich, chocolaty, and refreshing!
13. Chocolate Candies
With the use of an ice cube tray and under five minutes of prep work, these healthy homemade chocolate candies are highly versatile to satisfy everyone's personal palette.
14. Banana Mummies
Featuring cocoa butter and coconut sugar, these banana mummies are naturally-sweetened and sure to please at your Halloween party!
15. Boo-Nana Yogurt Pops
For a nutritious Halloween snack offering both fiber and protein, enjoy on healthier-for-you "boo"-nana yogurt pops! Start by halving a banana into two sections. Insert popsicle sticks into bananas and freeze on a wax-lined cookie sheet. Once frozen, dip banana halves into vanilla Greek yogurt, add two mini chocolate chips for ghost eyes, then freeze until the yogurt has set.
16. Candy Corn Fruit Cocktail
Offering nutrients and natural sweetness from fresh pineapple and oranges, these fun candy corn fruit cocktails are sure to please! Though the recipe calls for whipped cream, feel free to top with Greek yogurt for a protein-rich Halloween snack.