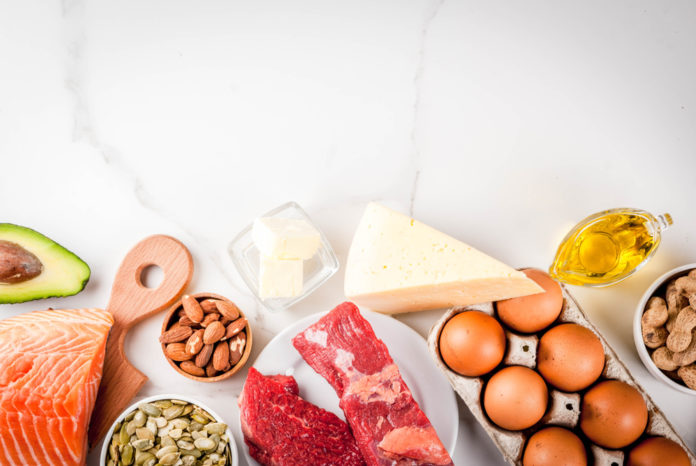 From weight loss to brain health, emerging benefits of following the ketogenic diet has nonetheless enticed the health world. If intrigued with the high-fat diet, and after consulting with a primary care provider for safe guidance, take a bite out of these 20 ketogenic recipes!
20 Satisfying KetoGenic Diet Recipes
1. Breakfast Frittata
bistroMD's chefs and dietitians put together this savory breakfast frittata recipe to kick start your day! And not to mention, this is an easy keto diet recipe you can make beforehand to save you precious time in the morning. Although it calls for reduced fat cheese, use full-fat to increase overall fat content.
2. Avocado Egg
Start your morning with a healthy dose of healthy fats! Slice one avocado in half and remove the large pit. Crack an egg into the created dip and bake in a 375°F oven until the whites are cooked and the yolk is at a desired firmness, or approximately five to seven minutes. Sprinkle atop with green onions, diced tomatoes, a dollop of Greek yogurt, and a drizzle with hot sauce if craving a little spice!
3. Greek Yogurt Parfaits
For a simple and delicious breakfast recipe or snack idea, layer 2% or full-fat Greek yogurt, top with a handful of berries and sliced almonds for an easy low-carb breakfast. Complement with a dab of almond or peanut butter for extra fat and nutty flavor.
4. Tuna Salad
Tuna salad is an easy keto recipe and can serve as a quick snack or lunch idea. Simply mix a 5-ounce can of wild albacore tuna with a small avocado, diced carrots and celery, a tablespoon of lemon juice, and salt and pepper to taste. Consume as is or dip with sliced bell peppers, cucumbers slices, or carrot sticks.
5. Taco Salad Wraps
Think going keto means missing out on #TacoTuesday? Think again! Prepare taco meat by sautéing chopped onion, bell pepper, ground beef and taco seasoning. Fill into butter lettuce leaves and sprinkle with cheese, sour cream, and other favorite low-carb taco toppings!
6. Mexican-Style Stuffed Peppers
Continue the fiesta with Mexican-stuffed peppers! Cut the tops off bell peppers, take out the ribs and seeds, and rinse. Fill the hollow pepper with taco mixture, including ground beef, onion, diced tomatoes, and taco seasoning. Wrap peppers tightly in foil and stand them in a baking dish. Bake in 350°F oven for 10 minutes then uncover and bake for an additional 15 to 20 minutes, or until the peppers are tender.
7. Blackened Salmon
This blackened salmon is topped with sweet and savory champagne sauce and complemented with cauliflower florets and stew okra for a completely authentic Cajun experience, all while bursting with healthy fats, supplying ample protein, and being low in carb.
8. Baked Tilapia with Tomato Caper Sauce
The mild taste of tilapia in this delicious dish is harmonized by the tangy hints of garlic, olives, capers and onions in the zesty tomato caper sauce. It is also packed full of essential omega-3 fatty acids to give you that extra energy boost!
9. Spaghetti Squash
Giving up your beloved pasta on a keto diet is a thing of the past(a) thanks to spaghetti squash! Try these 10 delicious, guilt-free ways to eat spaghetti squash, including spaghetti and meatballs, pesto pasta, and a healthified chicken parmesan.
10. Keto-Friendly Pizza
Keto followers, rejoice! This low-carb pizza is not only delicious, but an approved ketogenic recipe! Although it is prepared with pepperoni, feel free to swap and add other favorite pizza toppings, including chicken alfredo, BBQ chicken, meat lovers supreme, and spinach Florentine.
11. Meatloaf
Despite the general ambivalence of meatloaf, it is a low-carb, high-protein dish. Prepare this low-carb meatloaf recipe and pair with a low-carb spin on traditional mashed potatoes. Instead of white potatoes, cook cauliflower until tender and "mash" using a blender. From there, the mashed cauliflower can be utilized into your favorite mashed potato recipes, including with garlic and butter.
12. Portobello Burgers
Ditch a white hamburger bun and say hello to mushroom caps for a keto-friendly burger recipe. Clean and scrape out the gills and stems of the mushroom and drizzle with olive oil and a little salt and pepper. Place on grill with beef or bison hamburger patty and assemble once cooked. Go for a classic hamburger or be creative with an Asian turkey burger featuring crushed red pepper, shredded cabbage, and a light drizzle of soy sauce. Using grassfed beef also ups the omega-3 fatty acid ante!
13. BBQ Pot Roast
Whereas most BBQ sauces are rich in sugar and not-so-keto-friendly, this BBQ pot roast recipe saves the day!
14. Beef Stir-Fry
Prepare sirloin steak until desired doneness then top onto roasted broccoli, onions, bell peppers, and other Asian-inspired flavors. Feel free to swap out beef with a pan-seared salmon fillet.
15. Shrimp Gumbo
Take a flavor trip to New Orleans with bistroMD's shrimp gumbo recipe! The rich flavors of onion, garlic, pepper, fire-roasted tomatoes, shrimp, and sausage are sure to please your taste buds!
16. Shrimp Scampi Zoodles
Pasta lovers likely dabble into the flavors of shrimp scampi, as the dish is rich, smooth, and nothing short of desirable! But for those cutting carbs, healthify the traditional carb-loaded pasta with this shrimp scampi zoodle recipe.
17. Chocolate Mousse
Got a hankering sweet tooth? Add healthy fats to your low carb diet while enjoying a rich and creamy keto chocolate mousse!
18. No Bake Cookies
Not only are these cookies no bake, but take a mere five minutes! Oh, and they are bursting with the nuttiness from peanut butter and coconut… Find the easy keto recipe here.
19. Low-Carb Pina Colada Fat Bombs
Fat bombs are notorious in the keto world, offering keto-goers a way to increase their daily dietary fat content. But these low-carb Pina colada fat bombs not only grant extra fat into your day, but take your tastebuds to a mini trip in the tropics.
20. Keto Chocolate Cake in a Mug
Have your cake and eat it, too! And being prepared in a mug, this easy keto recipe is the perfect way to satisfy that sweet tooth in under five minutes.