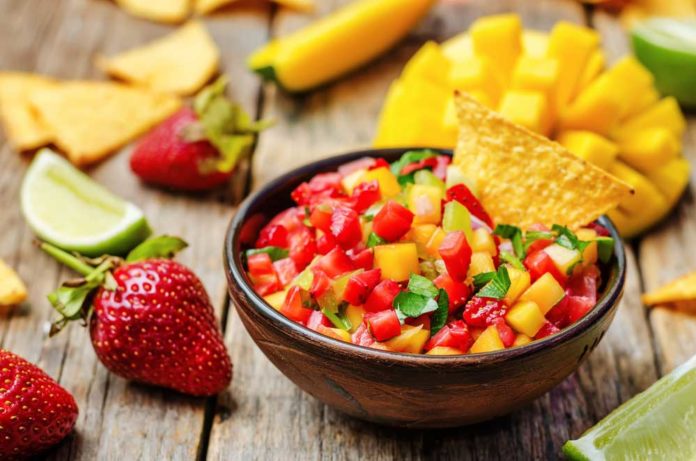 Simple and sweet, this easy strawberry salsa recipe is a berry refreshing dip option on those warm summer days!
Balsamic Strawberry Salsa Recipe
Ingredients:
3 tablespoons olive oil
1 tablespoon balsamic vinegar
1 tablespoon honey
1 lime, juiced (approximately 2 tablespoons)
2 pints of fresh strawberries, hulled and diced
½ small onion, finely chopped
1 jalapeno, ribbed and finely diced
1 tablespoon finely chopped basil
1 tablespoon finely chopped cilantro
Salt and pepper to taste
Directions:
In a large bowl, whisk together olive oil, balsamic vinegar, honey, and lime.
Add berries, onion, jalapeno, basil and cilantro into balsamic mixture and lightly stir until well incorporated.
Cover and refrigerate, at least for an hour.
Serve with desired chips or one of these homemade pita or corn chip
Notes:
The strawberry salad recipe can be manipulated to accommodate flavor preferences, such as eliminating or adding jalapenos based on spice tolerance. Additionally, dismiss the "savory" ingredients – onion, jalapeno, herbs and seasonings – for a sweeter treat topped on ice cream or yogurt or paired with these healthy cinnamon tortilla chips.
Like most salads, the longer the salad sets together in the fridge, the more amplified the flavor. If time permits, allow the ingredients to get to know each other a little better at least overnight.
Speaking of getting to know each other… The strawberry salsa recipe is a foolproof food element to bring to a new neighbor or desk mate. It also makes a refreshing spring or summer appetizer at your next luncheon, office or holiday party, or a picnic.
If fresh strawberries are not available, frozen, unsweetened strawberries will suffice. Although it may not offer the same "chunkiness," it will provide the same desirable flavor!