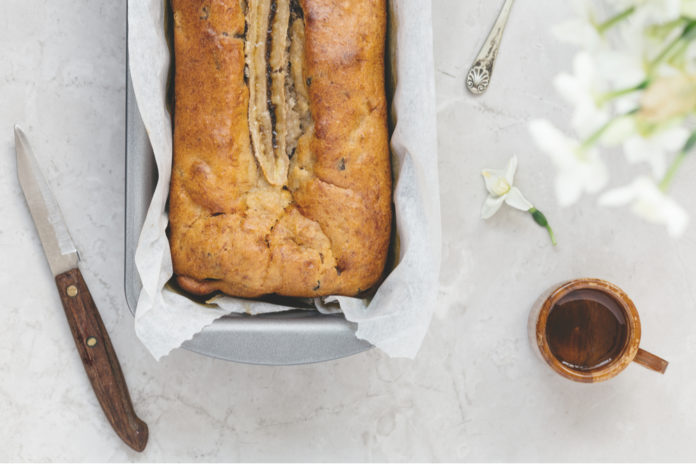 Why love this recipe? The banana bread is delicious, nutritious, super moist, spiced to perfection, among the many reasons…
So what are you waiting for? Whip up this recipe for banana bread you are sure to find appealing and love a bunch!
Healthy Banana Bread Recipe
Yield: 1 loaf, cut into 10 slices
Nutrition per 1 slice: 208 calories, 8 g fat, 4 g protein, 27 g net carb
Ingredients:
• 2 eggs
• 1/3 cup melted coconut oil
• 1/4 cup honey
• 2 large ripe and mashed bananas
• ¼ cup milk
• 1 teaspoon vanilla extract
• 2 cups white whole wheat flour
• 1 teaspoon baking soda
• ½ teaspoon salt
• ½ teaspoon ground cinnamon
Instructions:
1. Preheat oven to 350°F and grease a 9 X 5-inch loaf pan.
2. In a large bowl, beat the eggs until yolks and whites are scrambled together. Add the coconut oil, honey, ripe bananas, milk, and vanilla extract and mix until combined. Set the wet ingredients aside.
3. In another bowl, mix the flour, baking soda, salt, and ground cinnamon.
4. Add the dry ingredients with the wet ingredients. Gently mix until flour just disappears (some clumps are just fine).
5. Pour the batter in the loaf pan and sprinkle with more cinnamon as desired.
6. Bake in the oven for 50 to 55 minutes. To test for doneness, insert a toothpick in the center. If it comes out clean, the bread is cooked through.
7. Let the bread cool in the loaf pan for 10 minutes. Then, transfer it to a wire rack to cool for 20 minutes before slicing. (As the spiced banana bread wafts the house, your patience will really be tested!)
Bonus Tips for Healthy Banana Bread
While this recipe is hard to beat, use these bonus tips to accommodate dietary needs and personal preferences.
1. To cut down on overall fat content, swap coconut oil with applesauce. Not only does it also add natural sweetness, but provides a super moisture texture without adding calories from fat.
2. Need ripened bananas and cannot wait to make this recipe? Simple ways to ripen bananas include placing them in a brown bag and warming in an oven.
3. Offer crunch and healthy fats by mixing or topping with nuts, including chopped walnuts or pecans.
4. Want a dessert for breakfast to take on the go? Swap the loaf pan with a muffin tin for preportioned banana muffins. Baking time varies based on tin size, though bake for 15 to 20 minutes while gauging doneness with the toothpick method.
5. For a vegan option, create a flax egg. For one egg, ground 1 tablespoon of flaxseed into a fine powder then stir with 3 tablespoons water. Let rest for 5 minutes to thicken before adding to a recipe. Swap out the honey with maple syrup per preference.
6. To make the bread dairy-free, switch to plant-based milk such as unsweetened almond, cashew, and coconut milk.
7. Swap the wheat flour with almond flour for a gluten-free option. Other flours deemed gluten-free include oat and rice flour. To verify safety, though, always look for a certified gluten-free label.
8. Love the combo of chocolate and banana? Add chocolate chips to the mix. Monkey around even more by smearing peanut butter atop!