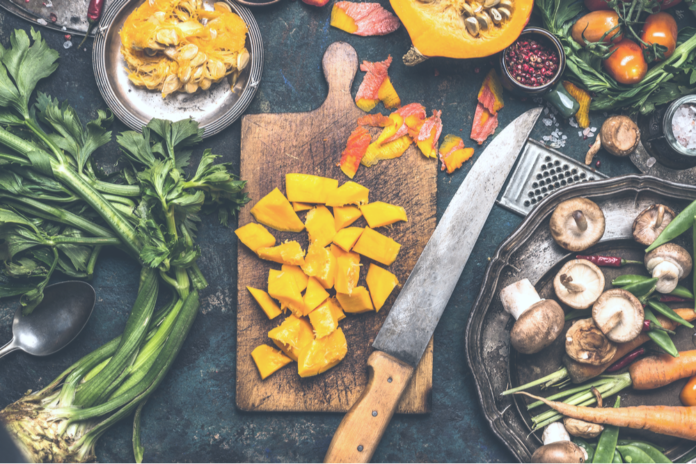 For many people, summer is a beloved time of year with hot weather, an abundance of in-season produce, vacations, and spending time outside. The transition to fall can be a jolt back to school routines, cooler temperatures, turning leaves, and a shift in what is locally in season.
Sad to see summer go? Help ease the transition to cooler temps and loss of daylight fall brings with these delicious, healthy end-of-summer recipes and fall comfort foods.
9 End of Summer Recipes
While spring through fall can offer an abundance and variety of locally grown produce, the end of summer may offer the widest variety and abundance of freshly sourced ingredients. Using in-season produce means these ingredients are locally grown and most affordable compared to other times of the year.
These delicious recipes highlight ingredients that are perfect for celebrating the last days of summer. What is in season may vary slightly depending on climate, but in general end of season produce can include: corn, tomatoes, peppers, grapes, blackberries, figs, and zucchini.
Red and Yellow Bell Pepper Coulis
This versatile red and yellow bell pepper coulis sauce is a delicious way to enjoy bell peppers at the end of summer. The coulis can be paired with salmon, grilled steaks, roasted vegetables, or even used as a sauce for pasta dishes.
Balsamic Roasted Vegetables
End of summer vegetables including peppers, cauliflower, and zucchini are the main components of this delicious balsamic roasted vegetables recipe. These balsamic roasted vegetables can be enjoyed on their own, paired with grilled chicken breasts or baked fish of choice, or topped on salads or whole-grain noodles.
Corn and Tomato Salad
What screams the end of summer produce more than corn and tomatoes? Enjoy both of these features in the corn and tomato salad, along with onions, basil, and a simple vinegar olive oil dressing. Pairing both tomatoes and corn provides good sources of a variety of antioxidants and vitamins.
Ground Turkey, Bell Pepper, Zucchini, and Eggplant Casserole
Eggplant is another vegetable that can be at peak harvest in late summer into fall. This ground turkey, bell pepper, zucchini, and eggplant casserole is a delicious late summer lasagna alternative dish that is naturally gluten-free.
Fajita Chicken Kabobs with Grilled Corn
Grilling and the end of summer can go hand in hand, and making these fajita chicken kebabs is a great excuse to enjoy a perfect end-of-summer recipe. Since the grill is already going, grilled corn on the cob can be a perfect side to these kebabs.
Basil, Blackberry and Grilled Chicken Salad
The availability of blueberries or raspberries may or may not be in season late summer depending on the region of the country, but blackberries are considered in season until September making them the ideal star for end of summer recipes. Basil, blackberry, and grilled chicken salad is a satisfying and light end-of-summer recipe to combine summer sweet and savory flavors.
Blackberry Crumble with Figs & Pistachio
Pair the end-of-summer fruits together in a unique way with this blackberry crumble with figs and pistachios. It is not only delicious but also happens to be vegan and gluten-free! The pistachios and chopped, fresh rosemary add a delicious savory element to the crumble.
Fig and Blackberry Smash Cocktail
Besides eating them fresh or in a dessert, figs and blackberries can be made into a sweet and refreshing end-of-summer cocktail with this fig and blackberry smash cocktail. All that is needed besides these fruits are simple syrup and bourbon.
Roasted Berries and Grapes
Roasted berries and grapes can be made in about 15 minutes and serve as a delicious, antioxidant-rich topping for yogurt, oatmeal, ice cream, or toast. It can be made ahead of time and stored in the freezer as a way to taste the end of summer all year round.
4 Fall Comfort Foods and Recipes
Once summer is over, delicious flavors and enjoying in-season produce can continue well into the fall season. These fall foods can be enjoyed in endless ways: sweet, savory, morning, lunch, evening, or even in hot or cold drinks. Experiment with new ways to enjoy these fall flavors!
Pumpkin
Pumpkin can be found in abundance in the fall either canned or picked fresh locally. These 10 pumpkin fall recipes cover breakfast options in overnight oats, protein shake, breakfast popsicles to delicious main dishes of pumpkin chili, pumpkin shrimp curry, and dessert options of pumpkin pie tartlets, pumpkin pie ice cream, or pumpkin spice protein balls. Lastly, enjoy pumpkin by making your own pumpkin spice latte!
Another easy way to enjoy pumpkin in the fall is making pumpkin butter to be added to oatmeal, yogurt, or as a topping for toast or French toast.
Maple Syrup
Maple syrup is harvested in the fall from maple trees. According to Vermont Maple Sugar Makers, it takes about 40 gallons of sap to make a gallon of maple syrup! The freezing and thawing temperatures the fall brings makes it ideal for sap production in the trees.
Maple syrup is considered a source of added sugar, but it also provides a source of antioxidants. To get the maximal health benefit from maple syrup, choose 100% pure maple syrup. Some commercially made maple syrups are really just gloried corn syrup. Read the ingredient label to check maple syrup is the only ingredient.
Maple syrup has been growing in popularity as a beloved fall flavor, and these 20 maple recipes provide ways to enjoy maple syrup in unique and delicious ways.
Squash
Besides pumpkin, there are many other fall squashes to enjoy including acorn, butternut, delicata, kabocha, hubbard, and spaghetti. While butternut or acorn squash are more commonly enjoyed, consider venturing out to try other squashes this fall.
Squashes can be cooked and used in either grain or green-based salads like in this butternut squash and cranberry quinoa salad. Want other squash-inspired recipes? This roundup of 17 squash recipes offers recipes including cardamom-spiced butternut squash soup with sauteed capers, curried squash and white bean tacos, and kabocha empanadas.
Apples (and Apple Cider)
What screams fall more than an apple orchard and drinking fresh apple cider? Besides enjoying fresh, apples are another comforting fall flavor that can be used in a variety of delicious ways. To start, apples can be used in a variety of fresh-pressed juices or smoothies. Another way to enjoy apples in the morning can be diced or grated into oatmeal.
Apples are highlighted in a side dish as purple cabbage and apple slaw with two of our most popular Balance meals, Hickory Smoked BBQ Pork with Peach Crisp and the same BBQ Pork with Broccoli. Cabbage is another fall favorite and perfect to try as a side for many other dishes!
Lastly, of course, apples and apple cider can shine in many desserts from healthy apple crisp, low-fat apple cake, apple "donuts", baked apples, and healthier apple pie. Using apples in desserts usually means you can cut back on the refined sugar added to recipes which helps lighten them up.
In Summary on Autumn Recipes
What better way to enjoy the transition from the end of summer to fall by enjoying the delicious flavors they bring. The end of summer can mean a peak in-season produce for many parts of the country. End of summer produce can include corn, tomatoes, peppers, grapes, blackberries, figs, and zucchini. These ingredients can be used in many recipes including on the grill.
Fall brings cooler temps and with it an abundance of fall favorites including squash, maple syrup, and apples. These flavors bring comfort from being incorporated into hot drinks, breakfasts, or savory dishes.
Reference:
The 8 best Produce picks for late summer. U.S. News & World Report. Published August 12, 2015. https://health.usnews.com/health-news/blogs/eat-run/2015/08/12/the-8-best-produce-picks-for-late-summer.