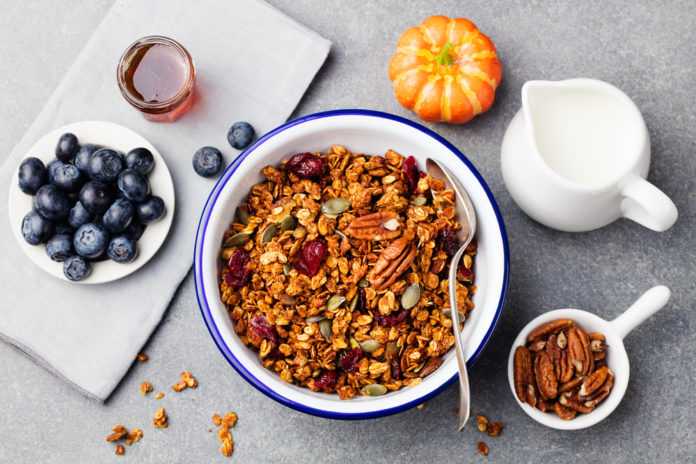 The Chicago Tribune reports, "Mentions of maple as a flavor in nonalcoholic beverages on menus are up 86 percent this year over last." The data was collected by Technomic's MenuMonitor, which tracks trends across chains and independent restaurants. The report further details, "pumpkin mentions, on the other hand, are down 20 percent." Ready to hop on the maple bandwagon this fall season? Take a bite out of and try these 20 delicious maple recipes!
20 Delicious Maple Recipes
1. Maple Oats
That traditional bowl of oats is receiving a fall-inspired makeover! Walk with more pep in your step with maple oats for breakfast. Feel free to add banana slices, berries, walnuts, pecans, and other favorite oatmeal toppings and fall flavors.
2. Maple Pecan Granola
Most packaged granolas purchased from grocery aisles are laden with refined sugars and unwanted ingredients. But by creating this maple pecan granola in the comfort of your kitchen, you are granted tighter ingredient control and a more nutritious product. Oh, and that warm aroma that fills the house…
3. Maple Bacon
Maple and bacon… Enough said. Simply preheat the oven to a 400°F oven and line 10 slices of thick cut bacon on a parchment-lined baking sheet. Bake for approximately 15 to 20 minutes, remove from oven, lightly brush on maple syrup, then bake for an additional 5 minutes, or until the bacon turns a golden brown. Enjoy the bacon warm on its own, pair with eggs, or build as a sandwich.
4. Maple Cranberry Orange Yogurt Parfait
This maple cranberry orange yogurt parfait combines tart cranberries, nutty pecans, the natural sweetness of maple syrup. Easily whip up for breakfast or dessert, making individual portions or more for all to enjoy. And not to mention, it's beautiful to look at!
5. Maple Cinnamon Applesauce
Relish on the fall flavor of apples by transforming them into a delicious maple cinnamon applesauce! Simply bring six tart apples (peeled and chopped) and ¼ cup of water to a boil in a large saucepan. Reduce heat to maintain a simmer, cover with a lid, allow to cook for approximately 30 minutes, or until the apples are soft. Mash or blend apples to desired consistency then add two tablespoons of pure maple syrup and ½ teaspoon of ground cinnamon. Enjoy warm or store in an airtight container for up to two weeks in the fridge.
6. Maple and Cardamom Spiced Pears
While apples are highlighted as a fall staple, juicy pears must not be discounted. These maple and cardamom spiced pears with pecans are luscious on its own, but pear well with Greek yogurt or vanilla bean ice cream!
7. Vanilla Maple Almond Sunbutter
Rather than the conflicting question of "creamy or crunchy," ask yourself, "Why have I not tried this vanilla maple almond sunbutter until now?" Not only does preparing the sunbutter allow tighter control over the quality of ingredients used, but is easy, delicious, and budget-friendly. Pair with fruit, pancakes, toast, smoothies, and other inspirations you may have for its use.
8. Butternut Squash and Cranberry Quinoa Salad
Let the flavors of fall shine by swapping out leafy greens with butternut squash, pepitas, pecans, and cranberries! But that's not it… The boastful salad features quinoa prepared with apple juice for additional subtle fall hints, all married together with a maple balsamic vinaigrette!
9. Brussels Sprouts with Maple Syrup
Simple to prepare but intricate in flavor, these brussels sprouts with maple syrup are the perfect side dish for your next dinner!
10. Slow-Cooker Apple Maple Pork Tenderloin
The beauty of a slow-cooker relates to its simplicity and easiness. And the beauty of this apple maple pork tenderloin relates to its simplicity, easiness, and rich flavor!
11. Maple-Roasted Chicken Thighs
Continuing the ride on the easy dinner train… This maple-roasted chicken thigh recipe is a simple sheet-pan recipe, bringing together many fall favorites into one hearty dinner.
12. Maple Chipotle Flank Steak Tacos
Your #tacotuesday just got sweeter! These maple chipotle flank steak tacos are the complete match of sweet and spicy sure to excite your taste buds.   
13. Maple Oatmeal Cookies
You will not be able to keep your hands out of the cookie jar with this maple recipe. And since they are produced with oatmeal you really do not have to, right…?
14. Maple Mug Cake
Craving cake? This maple mug cake is a perfect single-serving dessert to relish on this fall, all while being ready in a mere few minutes! Oh, and did we mention the chocolate shavings?
15. Maple Peanut Butter Fudge
Calling all fudge lovers… Not only is the maple peanut butter fudge recipe simple to create, but features natural ingredients such as maple syrup.
16. Maple-Peach Milkshake
While chocolate and vanilla may be hard to bargain with, shake up your milkshake repertoire with a maple-peach variation! For a single serving, simply blend ¼ cup each of milk and vanilla frozen yogurt, ½ cup of frozen peaches, and 1 tablespoon of maple syrup. Pour into a glass and garnish with freshly chopped peaches, a light drizzle of maple syrup, and sprinkle of ground cinnamon.
17. Cinnamon Maple Whiskey Sour
Happy hour just got happier this fall! This whiskey sour recipe flavors features fresh lemon juice and ground cinnamon, along with the star itself.
Rather than the duel match of pumpkin vs. maple during the fall months, why not combine them? So if you are still not over pumpkin spice, try out these maple recipes also featuring the other fall favorite!
18. Pumpkin Pie Smoothie
This simple, one-step recipe blends all of your favorite fall flavors into a delicious pumpkin-inspired protein shake! With hints of banana, cinnamon, pumpkin, and maple (and don't forget the benefits these provide!), what is not to love?
19. Pumpkin Spice Chocolate Chip Protein Balls
Not only are these pumpkin spice chocolate chip protein balls delicious, but also just 116 calories and packed with seven grams of protein!
20. Pumpkin Maple Pie
Envision this: Cozying up on the couch to a warm, luscious slice of naturally sweetened and spiced pie with a hot cup of coffee… Make that vision into your fall reality with this pumpkin maple pie, lower in calories and fat, but still boasting with all the same desirable flavors!