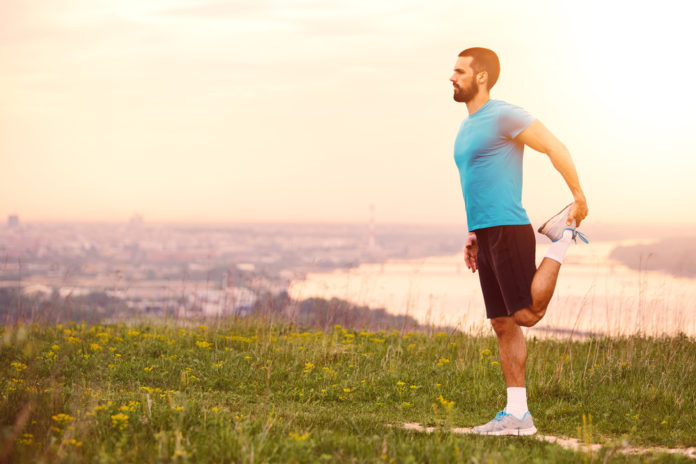 Top 12 Health Tips for Men
Balance the Diet
Limit Processed Foods
Take A Daily Multivitamin
Drink More Water
Elevate Heart Rate
Lift Weights
Sleep
Drink Alcohol in Moderation
Manage Daily Stress
Maintain an Optimal Weight
Protect Your Prostate
Sustain Close Relationships
Healthy Living Tips for Men Explained
1. Balance the Diet
Consuming a balanced diet is key for overall health, as doing so lowers the risk of obesity, heart disease, depression, and other chronic diseases. Incorporate nutrient-rich foods in the diet, including whole grains, fruits and veggies, lean and plant-based proteins, and healthy fat sources.
And not to mention, this health tips for men takes the guesswork out of healthy eating… Utilizing Balance by bistroMD! Balance is an a la cart meal delivery service, offering nutritionally-adequate meals straight to your doorstep. (No grocery shopping, meal prepping, or kitchen cleaning required!)
2. Limit Processed Foods
Although chips and cookies can still be enjoyed every now and then, it is important to limit the consumption of processed foods, as they tend to be rich in sugar, sodium, and fat and places great risk of weight gain and the development of chronic diseases, including diabetes, hypertension, and even certain types of cancer.
But if filling the diet with wholesome foods, there is less wiggle room to squeeze in innutritious products.
3. Take A Daily Multivitamin
One of the simplest daily health tips for men is taking a multivitamin. And while nutrients should predominately come from food sources, a multivitamin can help fill in any nutritional gaps and lower the risk of deficiencies.
A healthcare professional can help identify a multivitamin that is not only safe, but verify it supplies appropriate needs for men.
4. Drink More Water
Along with the general 64-ounce daily water recommendation, the adequate intake (AI) for men is 15.5 cups (3.7 liters) of fluid each day.
Ultimately, make water your drink of choice than other routine options, including soda, energy and sports drinks.
5. Elevate Heart Rate
The American Heart Association (AHA) encourages a minimum of 150 minutes of aerobic activity weekly, or at least 30 minutes a day most days of the week. Cardio exercises that elevate heart rate include running, brisk walking, swimming, dancing, and cycling.
Along with AHA's recommendation, simply make it an effort to increase daily movement by taking the steps, biking to work, and parking further away from store entryways. Even just 10 minutes at a time makes a significant difference!  
6. Lift Weights
In addition to cardio exercises, make weight training a part of your workout regimen to maintain and/or grow muscle mass. Doing so not only builds strength, but supports a healthy metabolism and bone health.
Include weight and strength training at least twice a week and focus on the major muscle groups, including the back, chest, arms, and legs. These seven tips for men to gain muscle can also take your goals to a whole new level!
7. Sleep
The importance of catching those nightly Zzz's should not slept on, as going without it increases the risk of depression, anxiety, obesity, and numerous chronic diseases.
The National Sleep Foundation encourages adult men (and women) to sleep between seven to nine hours on a nightly basis. If struggling to fall asleep and counting those sheep is not putting you into a slumber, building a healthy bedtime routine can be the passageway to a better night's rest.
8. Drink Alcohol in Moderation
Though there is some evidence supporting drinking moderated amounts of alcohol grants health benefits, the key word moderation cannot be emphasized enough.
Partaking in regular benders and going beyond the recommendation can be detrimental to health and increase the risk of weight gain, liver failure, and other health consequences.
Men are encouraged to consume no more than two drinks per day (one drink equals one 12-ounce beer, one four-ounce glass of wine, or 1 ½ ounces of 80-proof distilled spirits).
9. Manage Daily Stress
While some stress can drive motivation to its peak in work and other facets of life, too much of it can deter overall health and increase the risk of weight gain, depression, anxiety, and heart disease.
That being said, a momentous healthy living tips for men stresses the importance of managing it. Valuable stress-relieving techniques include exercising, hiking, listening to music, and other stress-relieving techniques.
10. Maintain an Optimal Weight
Weight maintenance is one of the most important health tips for men, as being overweight places a greater risk of chronic diseases and premature death. A healthcare provider can help determine an optimal weight range.
Whereas the identified health tips above can promote weight maintenance, consult with a doctor or Registered Dietitian to create an individualize plan to meet personal needs and goals. 
11. Protect Your Prostate
Aside from skin cancer (wear that sunscreen!), prostate cancer is the most common cancer in American men. In fact, the American Cancer Society estimates about 164,690 new cases and 29,430 deaths of prostate cancer for the year 2018.
Though often recommended at age 50, men should talk to their doctor regarding prostate cancer and screening tests, especially if displaying these risk factors.
12. Sustain Close Relationships
Though men and women often diverge in the way they connect with others, the need for close relationships is nonetheless there. While not so surprisingly, a 75-year old study revealed good relationships strengthens health and well-being.
Sustain close relationships with family, friends, and other loved ones. Becoming more active in the community through volunteer work and other organizations can also boost mental health and overall quality of life.