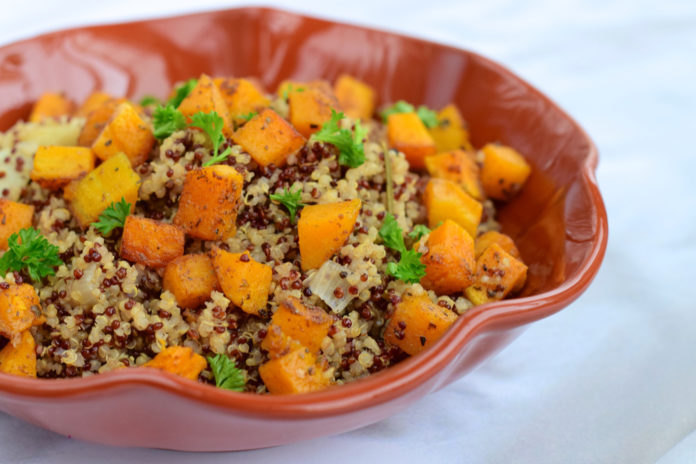 Nutrition Per Serving
Yield: 8 servings
Calories: 270
Protein: 5 grams
NET Carbohydrate: 15 grams
Ingredients
Butternut Squash Salad:
3 cups butternut squash, peeled and cubed into bite-sized cubes
1 tablespoon olive oil
1 cup uncooked quinoa
1 cup 100% apple juice
1 cup water
1 small onion, finely chopped
¼ cup toasted pepitas (pumpkin seeds)
¼ cup chopped pecans
¼ cup cranberries
Maple Balsamic Vinaigrette:
½ cup olive oil
¼ cup balsamic vinegar
1 tablespoon Dijon mustard
2 teaspoons pure maple syrup
1 small shallot, minced
1 garlic clove, minced
Salt and pepper to taste
Instructions
Preheat oven to 400°F.
Arrange butternut squash in a single layer on a baking sheet. Drizzle with olive oil and season with salt and pepper to taste as desired. Roast for 10 minutes, flip squash, and roast for an additional 5 to 10 minutes, or until just tender.
Rinse quinoa as needed and put in a saucepan. Add apple juice and water, bring to a boil, then reduce heat to low. Cover and simmer until water and juice are absorbed, or approximately 20 minutes. Fluff quinoa with fork.
Whisk together maple balsamic ingredients.
Combine the additional salad ingredients in a large bowl, slowly add balsamic vinaigrette until lightly coated, and mix until well-incorporated.
Serve warm or allow to chill in the fridge for a couple of hours.