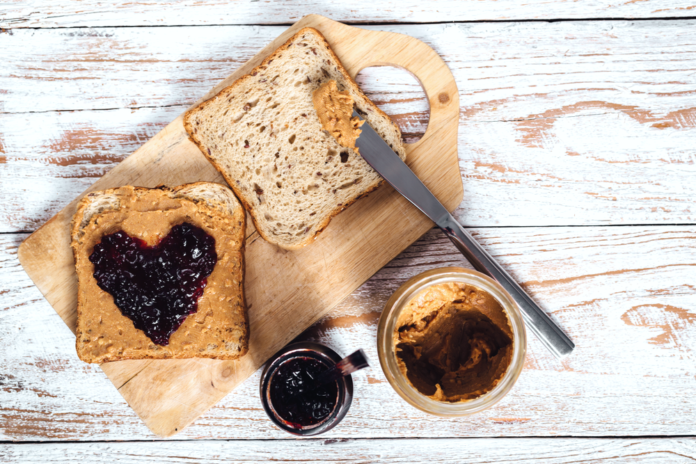 The humble peanut butter and jelly sandwich can bring up feelings of nostalgia from childhood. On the other hand, the idea of a PB and J for lunch as an adult may seem lackluster and void of nutritional value.
But know the beloved combination of peanut butter and jelly goes well beyond the traditional PB and J. Read on to discover unique PB and J creations and if peanut butter and jelly sandwiches are in fact healthy.
Are Peanut Butter and Jelly Sandwiches Healthy?
The answer to if a peanut butter and jelly sandwich is healthy, by itself, is not a simple yes or no. The clear answer is peanut butter and jelly sandwiches CAN be part of a healthy diet.
For the utmost healthiness, consider the individual elements of the beloved PB&J sandwich.
Peanut Butter
Peanut butter is a good source of heart-healthy fats, protein, and minerals. Even though it is higher in calories, research suggests consumption of nuts or nut butters is not associated with higher risk of gaining weight.
For the healthiest peanut butter option, stick with a natural peanut butter made with nuts and without added oils, especially hydrogenated. Also considering the caloric density of nuts and nut butters, try sticking to a serving of peanut butter.
Jelly
Store-bought jelly is often mainly made with added sugars which may not be so "healthy". However, using 1-2 tablespoons of jam or jelly for a sandwich can still fit into a healthy diet.
Another option to make a PB and J healthier is to use jam or jelly that is primarily fruit with little (or no) added sugars.
Bread
The last component of a PB & J sandwich is the bread, which can also impact the health score. A sandwich made with whole grain or wheat bread will offer more health benefits than a sandwich made with white bread.
The whole grain bread will be high in fiber and provide natural antioxidants, vitamins, and minerals found from the bran and germ layers of the grain. Choosing whole grains over refined grains, such as white bread, might improve heart health and lower the risk of type 2 diabetes.
Sandwiching Together
While a PB and J can be healthiest with peanut butter, low sugar jelly/jam, and slices of whole-grain bread, keep in mind one food eaten throughout the day does not determine if the overall diet is healthy or not. A healthy diet is one that provides a variety of healthy foods!
11 Unique Spins on a Traditional PB and J
A traditional PB and J may be considered simple perfection on its own. However, these innovative PB & J creations may leave a traditional sandwich behind while still enjoying the delicious combination.
PB & J Overnight Oats
Swap oats in place of sliced whole wheat bread with this healthy PB and J overnight oats recipe. All that is needed is rolled oats, dairy or non-dairy milk, chia seeds, maple syrup, and of course PB and J. This can be
Make the night before for a flavorful, high-fiber, high-protein PB & J breakfast or lunch.
PB & J Yogurt
This unique PB & J creation can be made with three simple ingredients and without bread.
Simply swirl in a tablespoon or two of peanut butter and jelly into plain Greek yogurt. The taste of peanut butter and jelly shines through, and this PB & J spin is a higher protein option.
PB & J Smoothie
Instead of eating peanut butter and jelly for flavor, drink them as a smoothie. This peanut butter & jelly smoothie also sneaks in leafy greens as an added bonus and uses real strawberries in place of jelly.
Grilled PB & J
Grilling the bread on a PB and J may seem like a slight innovation, but it could be a PB & J game-changer for kids and adults alike. Grilled peanut butter and jelly will add an extra layer of flavor and texture to the sandwich, and it means no soggy bread with this sandwich twist!
PB & J Chex Mix
Take PB and J in a crunchy snack direction by making PB&J chex mix. Peanut butter chips are used in place of real peanut butter along with strawberry jelly, optional freeze-dried strawberries, and rice Chex cereal for this fun snack option.
PB & J Muffins
Vegan and gluten-free peanut butter and jelly muffins can be made ahead of time and kept in the freezer for a quick PB and J-inspired breakfast or lunch. Anyone, whether gluten free and vegan or not, will love this fun way to enjoy the flavors of PB and J.
Fresh Fruit Swap
Swapping real fruit for jelly will make PB and J healthier by adding fiber and cutting down on added sugar. This swap can also add texture and even more flavor.
Almost any fruit (or a combination) can be used in a PB and J, but the following can make tasty swaps for jelly:
Thinly sliced apples, pears or peaches
Blueberries or raspberries
Sliced grapes
Sliced bananas
Homemade Nut Butter
As mentioned, choosing a peanut butter with nothing more than ground-up peanuts (and perhaps a bit of added salt) is a healthier option compared to peanut butter with added oils or sugar. However, a way to add flavor to a PB and J is to make nut butter at home. This is surprisingly easy, cheaper in the long run, and can be done easily with a food processor.
Different nuts and flavorings can be used to add an extra layer of flavor to a PB and J. Shaking up nuts and seeds also lends more healthy fats such as monounsaturated fats.
Examples of fun and delicious nut butters that can be used for much more than peanut butter and jelly sandwiches include:
Seed Sprinkle
A sprinkle of seeds in between the peanut butter and jelly can add a slight crunch in texture and a boost of fiber, protein, antioxidants, and minerals. Experiment with different seeds or use a combination to see which ones are most liked.
Unique examples could include:
Chia seeds
Ground flaxseeds
Sesame seeds
Hemp seeds
Crunchy Elevation
Feeling like pushing a PB and J to the next level? Add something crunchy to the sandwich mix such as:
Potato chips
Toasted coconut flakes
Cereal
Crumbled gingersnap or oatmeal cookies
Savory Slant
Push your taste buds and mind by adding in a savory ingredient with peanut butter and jelly. Unusual, but delicious, savory additions include bacon, brie or gouda cheese or, if daring, sriracha hot sauce!
In Summary
Peanut butter and jelly can be healthy, but of course, as with anything, should be eaten in moderation and part of a balanced, varied diet. Using whole grain bread, lower sugar (or real fruit) jam, and nut butter that does not have added hydrogenated oils and sugar added are the healthiest options.
Many fun, unique ways to use the traditional flavors of PB & J include adding savory ingredients, mixing in fun/non-traditional ingredients, grilling the sandwich, or making flavored nut butters. Beyond the bread, overnight oats, muffins, and chex mix take on the flavors of a PB and J so effortlessly, naturally, and deliciously!
References:
Eucalano L. 20 genius ways to upgrade YOUR PB&J. Taste of Home. Published July 23, 2020. https://www.tasteofhome.com/collection/genius-ingredients-to-add-to-your-pbj/.
Whole grains. The Nutrition Source. Published November 4, 2019. https://www.hsph.harvard.edu/nutritionsource/what-should-you-eat/whole-grains/.