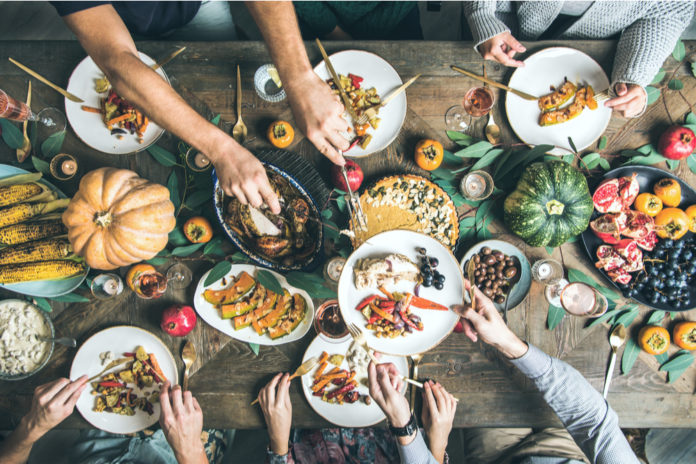 According to Merriam Webster, Friendsgiving is a "blend of friends and Thanksgiving, and it refers to a large meal eaten with friends either on or near Thanksgiving."
The term is arguably coined from the sitcom Friends from the 90s. However, the unofficial holiday has become more mainstream and popular in the past few years.
If deciding to heroically host the Friendsgiving party this year, make it the best yet with these 10 tips!
10 Tips for Hosting a Healthy Friendsgiving
From forming your guest list to allocating menu items, host like a Thanksgiving champ with these 10 tips and ideas.
1. Schedule & Invite
What's a Friendsgiving without your friends? That's right, the first step is scheduling and planning!
Friendsgiving has no finite date and might be before, after, or during Thanksgiving if not getting together with the family. So really, mark a spot on the calendar that works best for you and your friends.
Pro tip: Keep the Friendsgiving guest list relatively short and intimate. Because as much as you may want that funny coworker for laughs, the fewer the more intimate and smoothly the dinner is likely to run.
2. Be Dietary Inclusive
People love when you consider their needs, including those involved with dietary restrictions and preferences.
So before deep-diving into the Friendsgiving menu, check to see if anyone needs dairy, gluten-free, vegetarian, or other specific dietary options.
3. Tackle the Turkey
As the host, expect to be in charge of cooking the namely star of "Turkey Day." This, in turn, also makes you the gravy guy or gal.
Never prepared a turkey? Do not fret just yet! Getting the turkey ready does not have to ruffle your feathers.
How Much Turkey?
As a general rule, plan for about 1 pound of turkey per person and no less. (And maybe a little more for these leftover turkey recipes!)
If some guests have not RSVPd or committed, always assume more will show. Besides, having too much than not enough is always the best choice!
How Long to Cook?
One pound of turkey, unstuffed and thawed, also takes about 20 minutes to cook in a 325°F oven. So for an 8-pound bird, cook for 2 hours and 40 minutes.
Ultimately, a fully-cooked bird registers 165°F when a thermometer is inserted in the thickest part of the meat.
4. Allocate the Friendsgiving Menu
Since doing the heavy lifting for the turkey, allocate the rest of the harvest to attendees. But to lower the risks of having two slow cookers full of mashed potatoes, make a sign-up list to deter duplicates.
Also be flexible if two want to bring their infamous stuffing recipe, though. Because, again, more is always better than running out! And delicious family recipes are something to be proud of and show off.
For the ultimate delicious, yet nutritious Friendsgiving dinner, consider these healthier side dishes:
• Roasted brussels sprouts and/or sweet potatoes
• Purple cabbage and apple slaw
• Healthy green bean casserole
• Butternut squash and cranberry quinoa salad over cranberry sauce
5. Remember the Plates & Silverware
Plates and silverware are essential for enjoying the feast, so remember to add them to the list. And while the food that goes on the plate is the ultimate health decision, there are hacks for portion control.
• Hack #1: Stick all the Thanksgiving dinner options on a smaller plate. This is because research shows people who eat from smaller plates eat less.
• Hack #2: Balance a plate with lean protein (turkey) and fiber (veggies and grains). Complement with any other comfort foods using proper portion sizes. (We are looking at you mac and cheese and pumpkin pie!)
Pro tip: Let others bring plates and silverware. This allows friends who do not like or want to cook a chance to contribute without added pressure.
6. Offer Light Drinks
Beverages are a must to wash down all of that delicious food. But they can also be a laden source of empty calories.
To keep the drink menu light and refreshing, use these tips and ideas below. Each makes a single serving, so gauge the volume needed once a headcount has been verified.
• Light wine spritzer: Top ¼ cup wine with ¾ cup sparkling water. Garnish with an orange slice.
• Vodka and soda water: Top 1.5 ounces of vodka with soda water. Add freshly squeezed lime, lemon, grapefruit or orange for more flavor without adding any calories.
• Light mojito: Mix 2 ounces white rum, juice of half a lime, mint leaves, stevia and soda water for a low-cal mojito.
• Apple cider mimosa: Line a glass rim with cinnamon. Pour ½ cup of apple cider and ¼ cup of champagne into the rimmed glass.
Offer nonalcoholic drinks as well. This may include black coffee to wash down the sweets, iced tea, and, of course, water.
Serve water at the table but place other drinks on a separate table. This will help reduce dinner table clutter and allows guests to enjoy a drink as they please.
7. Set the Ambience
Because the ambiance of a dinner party is debatably just as important as the food, do not forget to decorate! An ideal dining atmosphere may feature:
• Soft lighting: If the lighting is harsh and cannot be dimmed, turn off overhead lights and add a lamp to the area. As an added bonus, research shows eating in softer lighting may also lead to consuming less food.
• Candles: Nothing quite sets the mood like candles! Add them to the dinner table, just be sure they are not overwhelmingly wafting the room.
• Flowers or greenery: For added eye appeal, set out flowers or some sort of greenery to the table. Specific Friendsgiving decor ideas may include fall leaves or pumpkin centerpiece.
• Music: Since you know your friends the best, play the music they love the most. But do so without blaring out voices. Keep it low enough to where you can still converse with guests.
8. Play a Game
The turkey may have rallied friends together but playing games can keep them at the party for after hours.
Fun games and activities include a (friendly) competition of flag football or kickball. Want to relax? Some sort of card game or puzzle may be more your speed.
Pro tip: To minimize clutter in the dapper dining area, designate the living room for these activities. Well, besides the flag football and kickball games…
9. Enjoy the Moment
After taking the time and energy to host a successful Friendsgiving, allow yourself to fully enjoy every moment. Besides, being stressed can be picked up on by your closest friends.
Also when eating, relish on each bite and really savor the flavors. Eating more mindfully likewise helps you enjoy those holiday favorites without going overboard on calories.
10. Send Out Leftovers
To end the night… Since everyone loves a goodie bag, those Friendsgiving leftovers may be the best to send home!
Purchase some leftover containers or boxes. Wow your guests even more by creating a simple "thank you" tag.
Can you say, "Host of the year?"