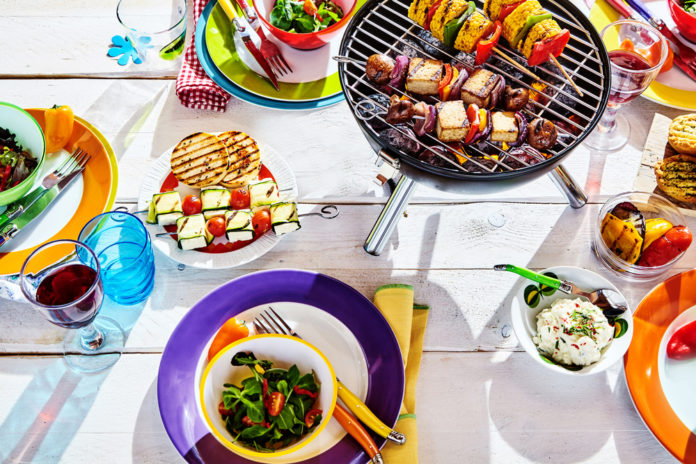 According to the official Memorial Day webpage, the federal holiday is a day of remembrance for those have died in service in the United States of America. Falling annually on the last Monday of May, even unofficially marking the beginning of the summer season, hold a gathering and interest loved ones with these delicious Memorial Day foods and recipes.
Your Memorial Day Menu
1. Dips
Almost no Memorial Day menu is complete without serving up some dips for guests to nibble on! These dips are loaded with flavor and can be enjoyed without the guilt. And rather than offering bags upon bags of chips and crackers, offer vibrant veggie slices to lighten up the menu.
2. Deviled Eggs
Most traditional deviled egg recipes are loaded with fat and calories. To improve their nutritional content, exchange the sour cream with Greek yogurt as described in this skinny deviled eggs recipe.
3. Jalapeno Chicken Bites
Jalapeno poppers with a twist! These jalapeno chicken bites are the perfect appetizer to share with your guests. Serve with blue cheese or this healthier version of ranch dressing to balance the heat!
4. Bean Salad
Not all salad bowls are filled with greens… With the use of three beans, both protein and fiber is ample in this bean salad. And dressed with celery, onion, parsley, and rosemary, flavors are fresh and exploding!
5. BLT Pasta Salad
While most pasta salads are doused in fats and oils, this BLT pasta salad is a lighter alternative. The pasta salad may be served warm or chilled based on preference.
6. Herbed Red Potato Salad
Like pasta salad, potato salad tends to feel heavy and be unpleasant on a warm day. And unlike popular belief, potatoes are a nutritious starchy vegetable loaded with fiber and potassium, deserving a moderated place in the diet. This Memorial Day recipe gives that beloved potato salad a nutritious makeover, being mayo free but full of flavor!
7. Salad Skewers
Ditch the salad bowls and forks for salad skewers! Simply thread 2-inch pieces of romaine lettuce, cherry tomatoes, and onions onto skewers, brush with olive oil, and grill until charred. Offer various dressings for guests to dip the individual salad skewers in.
8. Corn on the Cob
Heat up the grill for a classic Memorial Day recipe! Preheat grill to medium-high heat, brush desired about of husked corn with olive oil, and place on grill. Turn corn occasionally until kernels start to char and become light brown in color, or approximately 8 to 10 minutes. Add salt and pepper to taste and other favorite seasonings if preferred.
9. Cheesy Potato Casserole
While the temptation of scooping out a spoonful of cheesy potato casserole may seem conflicting and worrisome to your health goals, this lightened up version breaks down such concern. In fact, unlike most cheesy potato casseroles that tend to only supply carb and fat, the addition of Greek yogurt offers protein to the dish.
10. Traditional Burgers
Especially on a warm summer holiday, it is hard to beat the aroma of a burger getting charbroiled on the grill! This bistroMD recipe not only offers the conventional flavor of a traditional burger, but transforms it into a guilt-free Memorial Day menu item.
11. Pickle Sliders
But if desiring the flavors of burgers while still offering small finger foods, prepare pickle sliders! Dismissing the bun is also a simple way to reduce carbohydrate content if watching its intake.
12. Steak Kabobs
This Memorial Day recipe features marinated cubes of steak along with grilled vegetables. Recommended to enjoy straight off the skewer or stuffed into a soft tortilla for a flavorful steak taco.
13. Grilled Peaches and Pecans
Simple yet delectable, grill up some fresh peaches for your Memorial Day menu. Simply half and pit peaches, lightly brush halves with maple syrup, and place on a grill pan over low heat. Rotate after a couple of minutes, monitoring the syrup so it does not burn. Remove peaches when slightly softened, top with pecans, and serve with ice cream as desired. (Make extra to top on your morning or snack yogurt!)
14. Strawberry Shortcake
Enjoy the flavors of traditional strawberry shortcake with this healthier version. Strawberries can be swapped or mixed with others as preferred, including raspberries and blueberries, for added red, white, and blue color.