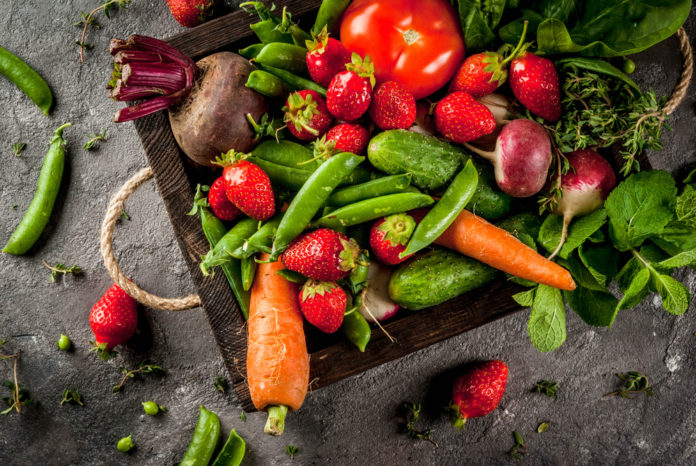 Spring Vegetable List
Artichokes
Fun facts: The artichoke is technically a flower bud that has not yet bloomed and California produces 100 percent of the United States artichoke crop. In fact, Castroville, California calls itself the "Artichoke Center of the World."
And thank goodness for Cali, as artichokes supply some of the most of the most protein among the veggies and packs a significant amount of fiber. (Just one medium artichoke supplies a little over 10 grams of fiber, which is about 26 and 40 percent of the recommended daily fiber for males and females, respectively!) Artichokes also rank at the top when it comes to their potent antioxidant activity.
When to Get:
According to the California Artichoke Advisory Board, artichokes are available are available throughout the year, though peak season is March through May and again to a smaller degree in October.
Recipe Idea: Flatbread
Top onto a flatbread with fresh spinach leaves, goat cheese, and tomatoes. 
Arugula
Arugula is a cruciferous vegetables and widely-cultivated similar to its relatives, cauliflower, cabbage, broccoli, and bok choy. As a whole, cruciferous veggies are a power team, loaded with extensive fiber and nutrients.
Oh, and a serving (or two cups) of arugula provides the following daily needs: over 50 percent of vitamin K, 20 percent of vitamin A, and about 8 percent of vitamin C, folate, and calcium! The compilation of nutrients may help manage weight, prevent against cancer, and support cardiovascular, eye, and bone health.
When to Get:
Peak season for the leafy green is early spring and fall.
Recipe Idea: Avocado, Fig, and Arugula Pita
Simply toast a piece of pita bread, smear with ripe avocado, layer with fig, dress with arugula and drizzle with balsamic vinegar. Add chopped walnuts or pecans for extra crunch!
Asparagus
France's King Louis XIV dubbed asparagus the "king of vegetables" and we must attest…
Asparagus is rich in folic acid and one of the richest veggie sources of riboflavin. It also contains the amino acid asparagine, which acts as a natural diuretic and helps rid the body of excess salts.
When to Get:
The spring seasonal vegetable is in season from February to June, with the month of April being the peak.
Recipe Idea: Garlic Parmesan Roasted Asparagus
Roasted asparagus is great and all, but have you tried it with garlic and parmesan? Game changer! Find the recipe here.
Carrots
Packed with antioxidants, carrots deliver an energizing boost of vitamins A and C and plenty of fiber. That being said the benefits of carrots are pretty amazing, including preserving vision, preventing against a number of diseases, and controlling blood sugars.
When to Get:
There are late spring crop and fall crops, while some of the fall harvest goes into cold storage for winter. (Which means you can enjoy carrots mostly all year-round!)
Recipe Idea: Creamy Carrot and Sweet Potato Soup
This bright, creamy soup will soothe your soul and nourish the body thanks to the coupling of carrots and sweet potatoes!
Morel Mushrooms
While vitamin D is not found in many foods, especially absent in plant-based foods, it is supplied from mushrooms. In fact, one cup of morel mushrooms provides 22 percent of the recommended daily intake!
Morels are also a rich source of iron and B vitamins, all while remaining low in calories!
When to Get:
The hunt for morels in the United States typically runs from early-to-mid April on through mid-June.
Recipe Idea: Sautéed Morel Mushrooms
Mixed with shallot, garlic, and fresh herbs, this sautéed moral mushroom recipe is nothing short of decadent! 
Peas
Peas are packed with protein, as a cup of green peas provides 7 grams of protein per cup for a mere 100 calories! And not to mention, they are loaded with fiber (6 grams per one cup to be exact!) and are a rich source of numerous vitamins and minerals, including folate, thiamin iron, calcium, zinc, copper, and vitamins A and K.
The budget-friendly spring produce contender is also touted to regulate blood sugars and lipids, including triglycerides and LDL cholesterol, and thought to protect against heart disease, stomach cancer, and aging.
When to Get:
While canned or frozen peas are virtually available throughout the entire year, enjoy a fresh and crisp pod beginning in April!
Recipe Idea: Perfectly Simple Fresh Buttered Peas
Peas are much more than those stragglers on your childhood dinner plate… Give those fresh pods a little extra credit with this easy peasy, perfectly simple, fresh buttered peas recipe.
Radishes
While bananas tend to take the center stage of high-potassium foods, radishes may actually supply greatest amount. In fact, just one cup of radishes contains over 4,000 mg, just 700 mg shy of the general recommendation! 
When to Get:
The veggie is in season from late winter through spring.
Recipe Idea: Pickled Radishes
Radishes add a nice crunch and spice to salads, tacos, and sandwiches or can be elevated with the process of pickling, which adds a zing and bright aesthetic to anything you wish to pair them with!
Spinach
Popeye sure was onto something… Spinach is chockfull of nutrients, including fiber, iron, folic acid, calcium, and vitamins A, C, and K.
Spinach also contains plant compounds shown to improve overall health, including lutein, quercetin, and zeaxanthin.
When to Get:
Spinach is available year-round, but the freshest spinach on the block is most easily accessible in the springtime.
Recipe Idea: Simple Sautéed Spinach
Keep it simple (and fresh) with this sautéed spinach recipe. Pairs well with a wide variety of protein sources, including pot roast, chicken, and fish. 
Spring Fruit List
Apricots
One cup of fresh apricots packs 2,200 mg of potassium, along with being valuable sources of fiber and vitamins A and C shown to benefit eye, heart, skin, and digestive health.
When to Get:
Apricots are likely to pop up in your grocery store in late April to early May.
Recipe Idea: Healthier Fresh Apricot Crisp
Featuring a naturally-sweetened filling and 100 whole grain crust, this fresh apricot crisp may not taste "healthy" but oh, how it is!
Grapefruit
The vibrant pink and red grapefruit packs some pretty remarkable nutrients, including fiber, vitamin C and lycopene.
And not to mention, its powerful antioxidant content can help prevent cellular damage and strengthen the immune system to fight the common cold, along with protecting against cancer and chronic stress.
When to Get:
According to the Food Network, grapefruits from Arizona and California are in markets from January through August, while ones from Florida and Texas grapefruits are available from October through June.
Recipe Idea: Honey Drizzled Broiled Grapefruit
Kick sweet tooth and turn your healthy dessert collection up a notch! Simply broiling a juicy grapefruit with a bit of honey and ginger creates the perfect caramelized crust to this healthier-for-you, guilt-free indulgence.
Mango
Sourced by mango.org, mangos were first grown in India over 5,000 years ago and are one of the most popular fruits in the world.
Their popular existence today continues to nourish its consumers, particularly providing fiber, potassium, folate, and vitamins A, B6, C, E, and K. The fruit may also help manage blood sugars and pressures, along with protecting against premature aging.
When to Get:
Touted to be one of the first signs of spring, the season of mangoes runs from March to June and peaks in April.
Recipe Idea: Spicy Mango Smoothie
The subtle hint of cayenne is the perfect balance to the sweet mango in this healthy mango smoothie recipe.
On your mark, get set, manGO!
Pineapple
Did you know it takes almost three years for pineapples to mature!? But the time and patience is well worth it, as pineapples are rich in nutrients, including vitamins A and C.
Pineapples are also rich source bromelain, an enzyme often used as a natural meat tenderizer and baring some health benefits, including reducing swelling and preventing muscle soreness.
When to Get:
While known for its tropical summer vibes, pineapple's peak season is actually in March and runs through July!
Recipe Idea: Kale and Pineapple Green Smoothie
Need a morning or afternoon pick-me-up? Look no further than this energy-boosting kale and pineapple green smoothie, filled with a mere five ingredients but jam-packed with vitamins and minerals! 
Rhubarb
Okay, okay, okay… Rhubarb is technically a veggie, but is often considered a fruit because of its tart, yet fruity taste and common use in desserts.
But whatever you want to call it, the spring vegetable fruit produce boasts with nutrients, including supplying 45 percent of daily vitamin K needs, along with providing vitamins C and A.
According to WebMD, rhubarb is primarily used for digestive complaints, including constipation and diarrhea, along with being possibly effective for stomach bleeding, cold sores, and kidney failure.
When to Get:
Although you can find rhubarb from as early as mid-spring and throughout the summer, prime season begins in April.
Recipe Idea: Strawberry Crumble Rhubarb Bars
Described as, "Simple strawberry rhubarb crumble bars with a crumbly oat topping! Naturally sweetened, vegan and gluten-free, 10 ingredients, and so delicious!"
We're in! Find the recipe here.
Strawberries
Speaking of strawberries…
With strawberries being packed with vitamin C, folic acid, potassium, fiber, and antioxidants, they sure a berry nutritious fruit to add to your spring repertoire! 
When to Get:
Interestingly, strawberries are the first fruit to ripen each spring! 
Recipe Idea: Sweet Strawberry Salsa (and A Refreshing Strawberry Sangria!)
Strawberries are extremely versatile and naturally sweeten a number of recipes, including this simple and sweet strawberry salsa that serves as a great appetizer for next get together. Really kick the party up a notch and impress your guests with a batch of refreshing strawberry sangria!