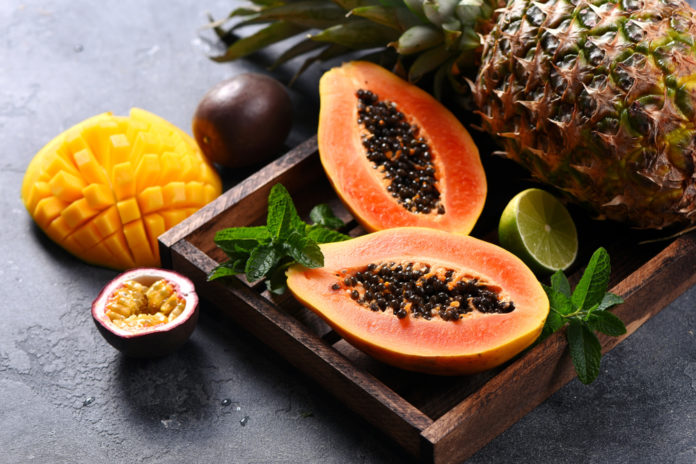 Fresh Papaya Recipes
1. Papaya Smoothie
Kick off the day with a reinvigorating papaya smoothie! In a blender, mix a half cup each of frozen papaya and banana chunks, a half cup of Greek yogurt, one cup of almond milk, and a drizzle of honey. Pour into a large glass and enjoy!
2. Papaya Jam
Most jams and jellies are loaded with preservatives and additives, though can be transformed into a more natural product with a few simple modifications. Using ripe papaya, blend into two cups of puree and mix in ¼ cup of sugar if desired. In a saucepan, heat mixture on high until the consistency is thick and turn off heat. Add one teaspoon lemon juice, mix well, allow to cool, and store in an airtight container in the fridge. Top onto sprouted grain toast, oats, and any other way you prefer to use jam.
3. Papaya Yogurt Bowl
Skip the dishes by making an on-the-go yogurt bowl! Made in a self-container, deseed and hollow out the center of a papaya half. In the cove, dollop with yogurt, strawberry chunks, a sprinkle of chopped nuts, and other favorite toppings!
4. Papaya Coconut Muffins
Wake up in the tropics with these papaya coconut muffins! Feel free to reduce added sugar content as desired, including preferential use of artificial sweeteners such as stevia.
5. Papaya Salsa
Salsa is much more than a tomato-based dip, and that is very much proven here. Dip with these homemade cinnamon pita chips or top onto yogurt for a well-balanced breakfast or snack.
6. Green Papaya Salad
Also known as Som Tam, this traditional green papaya salad recipe features green beans, tomatoes, peanuts, dried shrimp, and papaya with a chili lime dressing. Touted as sweet, sour, spicy, and savory, the flavor profile is bursting!
7. Lettuce Wraps with Shrimp and Papaya
Low-carb and high-protein, these papaya shrimp lettuce wraps can be enjoyed as a light meal option or even as a snack.
8. Chicken and Papaya Stir-Fry
Colorful and ample in nutrients, take a bite out of this chicken and papaya stir-fry. Chicken can be swapped with other meat varieties or tofu and tempeh for a vegetarian option.
9. Pork Chops and Papaya
Fire up the grill for this pork chops and papaya recipe. From papaya, to garlic, to coriander leaves, the grilled dish is sure to excite the taste buds!
10. Papaya Bars
Gluten-free and honey-sweetened, this papaya dessert recipe is resemblance of a traditional lemon bar, just with a more tropical spin. Find directions to the nutritious and delicious papaya bars here.
11. Papaya Pie Bites
Start by preparing the filling recipe described here, feeling free to reduce sugar content, as the fruits naturally sweeten the pie already. And rather than filling in a traditional pie crust, keep portions moderated with wonton cups. Fill cups with mixture, dollop with fresh whipped cream, sprinkle with cinnamon, and serve!
12. Sunrise Bellini
Whether shaking up your brunch menu or toasting to a celebration, this sunrise Bellini recipe is appealing in color and ample in natural sweetness. And unlike most cocktails, this fresh papaya recipe features natural ingredients without the additional sugars and syrups.