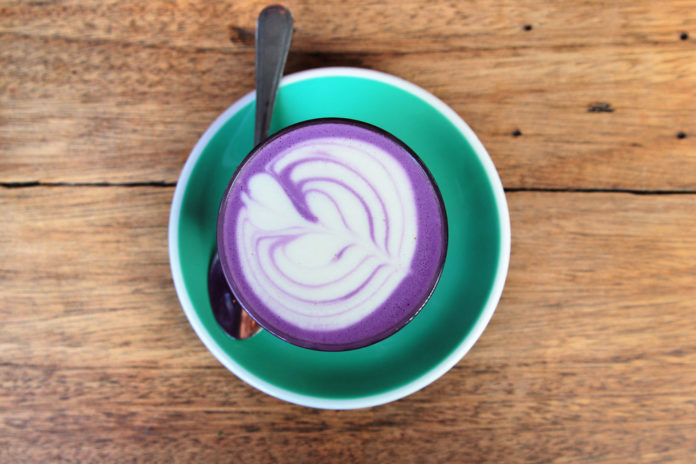 Healthy Unicorn Recipes
1. Unicorn Smoothie
Start off the day with a magical smoothie! In a blender, mix ¼ cup of mangoes, ¼ cup of Greek yogurt, and a splash of milk until creamy. Pour into a clear glass and repeat the recipe two more times, swapping out frozen blueberries and strawberries for two additional layers. Top with shredded coconut and fresh berries!
2. Unicorn Frappuccino
Resembling flavors of that notorious Starbucks limited edition find, without all the added sugar and syrup! Balance by bistroMD's rendition of the Unicorn Frappe is not only low in calories, but ample in protein! Find the recipe here, along with the truth behind Starbucks Unicorn Frappucino.
3. Unicorn Latte
But if desiring the warmth of a latte… Look no further than this healthy unicorn recipe. Also using plant-based ingredients, the drink is light and free of artificial ingredients (unless if topping with sprinkles, that is)!
4. Rainbow Unicorn Cheesecake Bars
These sweet and creamy pastel cheesecake bars require no food coloring! With nature supplying the colorful ingredients, this rainbow unicorn cheesecake bar recipe dismisses the need for any artificial food dyes while being a guilt free treat.
5. Unicorn Lemonade
Ditch the numerous pumps of syrup found in Starbucks' Unicorn Lemonade, and make a clean variation at home. In a tall glass, add fresh blueberries and strawberries along with the fresh juice of half a lemon, or approximately a tablespoon of lemon juice. Add a light drizzle of honey and muddle together. Top and stir in fresh water, along with adding frozen mango chunks and blueberries for added appeal and to keep the lemonade chilled without the worry of dilution.
6. No Bake Unicorn Cookies
With only four ingredients, the color is not the only majestic characteristic of this no-bake cookie recipe… Simple and delicious, the colorful cookies are also a gluten-free and vegan option!
7. Unicorn Nice Cream
Creamy and colorful, this unicorn nice cream is sure to fill that majestic craving. Also featuring a homemade blue food coloring recipe containing red cabbage, all colored ingredients can be natural and free of any artificial coloring or flavorings.
8. Unicorn Yogurt Bark
Not only is this snack appealing to the eye, but is highly nutritious. Filled with protein from Greek yogurt and antioxidants supplied by fresh berries, try this healthy unicorn yogurt bark.
9. Unicorn Popsicles
In a blender, gently pulsate a half cup each of fresh strawberries, blueberries, and mangoes with two cups of Greek yogurt. Blend until the fruits are slightly crushed, but not completely broken down. Pour into popsicle molds, freeze for at least one to two years, and enjoy!
10. Unicorn Blue Chia Parfaits
This unique unicorn recipe is not only visually appealing, but rich in fiber, protein, healthy fat, antioxidants, folate, vitamin C, and several other beneficial nutrients. Find the recipe to unicorn blue chia parfaits here.