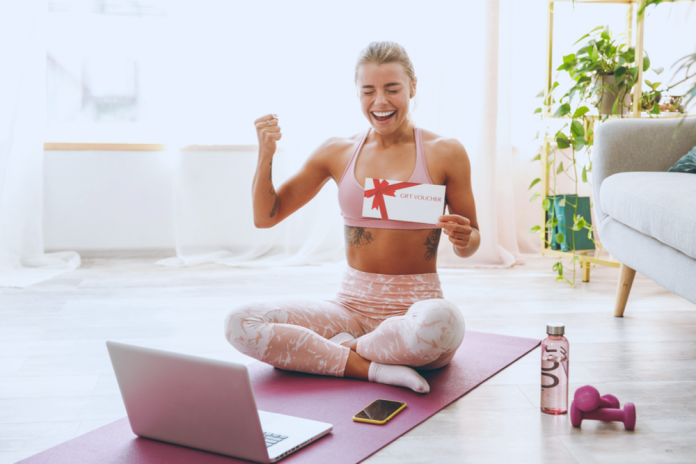 Looking for the best health and wellness gifts for your favorite health nut (or yourself)? Look no further!
From fitness trackers, to on-the-go workout equipment, all the way to food processors, use this ultimate guide for health and wellness gifts.
Fitness Trackers
Fitness trackers are an excellent reminder and motive to get people moving more. For fitness enthusiasts, it adds a way to keep track of all the things – miles, steps, sleep quality, calories, stress levels, heart rate, and more. The following fitness trackers are top-rated and sure to be a beloved wellness gift.
Note that choosing a fitness tracker varies among individuals and their health interests. While the below trackers are top-rated, the best fitness trackers of 2021 can further guide you in selecting the most fitting tracker for your loved one this holiday season!
Fitbit Charge 5
Fitbit is a popular tracking band, and its newest model Fitbit Charge 5 raises the bar! In fact, it was voted top fitness tracker for men in 2021.
The band has a visual interface that tracks heart rate, active zone minutes, and sleep quality. It also syncs to valuable features like email platforms, Whatsapp, and other app notifications.
Fitbit Luxe
Another home run Fitbit tracker is the Fitbit Luxe. This tracker was named best fitness tracker 2021 for women, as it is more fashion-forward with a jewelry design.
Samsung Galaxy Fit 2
The Samsung Galaxy Fit 2 is considered a great fitness tracker option that is more budget-friendly. It still has most of the desired data of higher-end trackers but is more economical. In fact, it has been voted as a top fitness tracker specifically for swimmers.
On-the-Go Fitness Equipment
These fitness equipment pieces can allow your health-conscious, workout-loving friends and family members to work out on the go. Whether to accommodate a busy schedule or solely to enjoy varying sceneries during exercises, these gift ideas are it!
Resistance Bands
Lugging around varying dumbbells and weights is considered highly inconvenient. However, a resistance band set is a suitable, yet effective alternative for working out on the go or adding to a home gym.
With adjustable weight resistances, handles, and ankle straps, performing common exercises can be achieved whilst being contained in a portable bag between uses. It is an ideal wellness gift for those who love to exercise and also travel.
Jump Rope
Jumping rope is much more than a childhood schoolyard activity and a great gift for kids! Incorporating jump rope into your workout routine helps strengthen the lower body while offering endurance training. It can also be easily transported for an effective workout on the go.
Gym Bags
Along with on-the-go equipment, having a gym bag to carry it all in is just as important. A sturdy gym bag also allows its user to pack gym clothes, a water bottle, and a convenient pre- or post-workout snack or supplement. And as a plus, it can further act as a unique gift bag!
Similar to fitness trackers, there are many types of gym bags with varying sizes and functions. The best gym bags for 2021 can help narrow down choices.
Wireless Headphones
Headphones sure have come a long way. In fact, these high-tech earbuds are a unique, healthy holiday gift your favorite health nut may never even know they needed!
Wireless headphones are a versatile gift that can be used even beyond working out. Your loved one can use traveling, cooking, or cleaning around the house.
Samsung Gear IconX
These cord-free earbuds may disconnect you from wires, but fully connect you to health. The earbuds dismiss the need for a phone while harnessing the concept of a fitness tracker by providing updates related to speed, distance, heart rate, and calories burnt via a voice guide.
Under Armour Sport Headphones
Also being wireless, UA's headphones allow you to run without pesky cords. And with a click on the right ear, heart rate can be heard during exercise and the UA Record App provides detailed workout summaries.
The headphones are further promoted based on a personalized workout plan, programmable goals, and connecting with friends and other athletes.
For the Runners
Whether starting a new running program or tackling a half or full marathon for the fifth time, runners can always benefit from new supplies and gear!
Running Belts and Packs
Running belts are essential pieces of running equipment. They provide compartments for keys, energy gels, and other items needing to be harnessed while running.
Additionally, hydration packs are extremely valuable for runners, either for long-distance or on trails. This guide provides insight on how to choose a hydration pack, even advising between various activities such as hiking and cycling.
Energy Gels
Especially for endurance athletes, adequate energy throughout the race or run is imperative to their sustainment. Provide your treasured runner with energy gels this holiday season. Or, go the extra mile and add the energy gels into a new running belt or pack!
Yoga Gear
With all the health benefits linked to yoga, provide yogis and yoginis with these yoga essentials. Whether a beginner or practicing for many years, these yoga gear will be a healthy gift that will be appreciated.
Yoga Mats and Carrier
Keeping traction and grip during and between yoga poses, these best yoga mats are sure to please your fellow yoga-lover! Add on to the yoga mat by gifting a yoga mat in a carrier, sling, or bag.
Yoga Socks
While some yogis and yoginis prefer using bare feet, these socks offer great security and grip while being comfortable and aerated. They can also be used for other light workouts at home or in a studio.
Muscle Recovery
Give your loved one the tools needed to recuperate from tough workouts. Besides, muscle recovery is just as valuable as the workout itself!
Foam Rollers
Foam roller use continues to be popular as an effective post-workout recovery. Give that health nut in your life a valuable piece to the workout puzzle this holiday season with one of these best foam rollers.
Muscle Massager
Muscle massagers relieve pressures and release tension following a tough workout. Though foam rollers hold value, these SKLZ Accupoint muscle massagers are small in size and are easy to carry!
Food Products
Health does not stop at exercise but resides deep down in nutrition principles. Products to help make healthy eating easier or more efficient may be the best healthy gift to love.
Magic Bullet
The Magic Bullet is a worthy food processor brand consumers commonly seek out. Whether to mix nutritious smoothies or experiment with homemade sauces and soups, this food processor is perfect for health nuts!
Lunchbox
Skip out on constant trips through drive-thrus and encourage packing lunch! And with these best lunchboxes, they are not solely for school-aged children anymore. In fact, lunch boxes help elevate the midday meal and can further encourage healthy eating.
Healthy Cookbooks
Whether giving to new health devotees or individuals just desiring new recipes, cookbooks hold great worth. Go back to basics and enjoy the flavors of various flavorful recipes, including these top cookbooks recommended by dietitians.
To be extra thoughtful, pair the cookbook with common dry ingredients and seasonings used throughout the book to create the ultimate health gift basket!
Cooking Equipment
If you really want to impress a health-conscious foodie, consider getting them something they can use to cook with. An Instant Pot®, air fryer, or a Ninja® foodi™ that combines a pressure cooker and air fryer in one are great gift ideas.
Non-toxic cookware can also be a gift that keeps on giving as a wellness gift.
Gift Cards
Gift cards are sometimes perceived as an "afterthought" or "easy-way-out" gift. However, they can be a thoughtful gift when considering what all they deliver to its receiver!
Apparel
Picking out clothes for others can be tough. From sizes to colors to brands, how do you decide? Well, you do not have to!
Give your loved one the ultimate power to go. Choose those new running shoes they have been eyeing or a pullover to layer on this cool winter season. Consider getting a gift card from a local sports store in their hometown as opposed to a larger company.
Pick-Me-Ups
Offer a gift card conducive to your receiver's favorite pick-me-ups or incentives. For example, activate a gift card to a coffee lover's favorite shop, local restaurant, or a masseuse.
Whichever gift card you choose to give, its user will think of you during its swipe, even following the holiday season!
Gym Memberships or Fitness Classes
Giving a gift card to a gym or fitness studio can be a practical and much-appreciated gift to someone either starting a fitness journey or well on their way.
Is there a new studio offering specialized classes like boxing, cross-fit, ballet-inspired, or dancing? A fitness enthusiast may love to try out these new classes, and giving them the opportunity can be much appreciated.
On the other hand, are they already members at a gym? Consider giving them a gift certificate to encourage their fitness journey.
Music
A music subscription is a unique fitness gift for health nuts! A gift card to Spotify, Apple Music, etc. can supply users with music to get pumped up for a workout, sustain it, and mellow out following its completion.
Ultimate Health and Wellness Gifts Recap
If someone close to you loves to exercise and/or eat healthy, so many gifts that they would use and love exist. Top fit gifts could be gear for working out like:
Fitness trackers
Gym bags
Running belts
Foam rollers
Wireless headphones
Exercise equipment
Yoga mats, carriers, or yoga socks.
Gift cards to local sports stores, gyms, or online music can also be a beloved health gift idea. (And a great stocking stuffer!)
Gifts for health food lovers could include various food products to use in the kitchen. Gift cards to a local coffee shop or favorite eatery also make great gifts for that special foodie in your life!