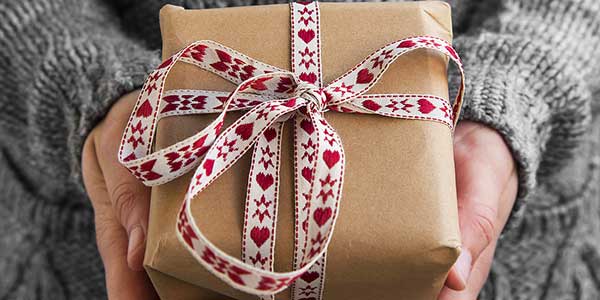 From fitness-trackers, to on-the-go equipment, all the way to food processors, we have the ultimate guide to healthy holiday gifts with branded suggestions and recommendations.
Wrap a gift your beloved health nut is sure to appreciate and relish this holiday season!
Fitness Trackers
Fitness trackers are an excellent reminder and motive to get people more active. Gaining insight into health, the following fitness trackers make excellent gifts for health nuts!
Fitbit is a popular tracking band, and its newest model raises the bar! It has a visual interface that display heart rate and VO2 max, while continuing to sync to valuable features through its exclusive Fitbit app!
Desiring a more dressed-up fitness tracker? Look no further than Bella Beat, as it offers the athletic fashionista with a decorative, leaf-shaped necklace, all while tracking activity!
It is important to note choosing a fitness tracker varies among individuals and their health interests. The best fitness trackers of 2020 can further guide you in selecting the most fitting tracker for your loved one this holiday season!
On-the-Go Equipment
These fitness equipment pieces can allow its receiver to workout on-the-go, whether it be to accommodate a busy schedule or solely to enjoy varying sceneries during exercises!
Kinzi Resistance Band Set
Though lugging around varying dumbbells and weights is considerably inconvenient, a resistance band set is a suitable, yet effective alternative. With adjustable weight resistances, handles, and ankle straps, performing common exercises can be achieved, whilst being contained in a portable bag between uses.
Jump Rope
Jumping rope is much more than a childhood schoolyard activity! Incorporating jump rope into your workout routine helps strengthen the lower body while offering endurance training.
Gym Bags
Along with on-the-go equipment, having a gym bag to carry it all in is just as important. A sturdy gym bag also allows its user to pack gym clothes and even a convenient pre- or post-workout snack or supplement. And as a plus, it can further act as a gift bag!
Headphones
Headphones have come a long way… In fact, these high-tech earbuds are a unique, healthy holiday gift your favorite health nut may never even know they needed!
These cord-free earbuds may disconnect you from wires, but fully connect you to health. The earbuds dismiss the need for a phone while harnessing the concept of a fitness tracker, also providing updates related to speed, distance, heart rate, and calories burnt via voice guide.
Also being wireless, UA's headphones allows you to run without pesky cords. And with a click on the right ear, your heart rate can be heard during exercise and the UA Record App provides detailed workout summaries. It is further promoted based on a personalized workout plan, programmable goals, and connecting with friends and other athletes.
For the Runners
Whether starting a new running program or tackling a half or full marathon for the fifth time, runners can always benefit from new supplies and gear!
Running Belts and Packs
Running belts are essential pieces of running equipment, providing compartments for keys, energy gels, and other items needing to be harnessed.
Additionally, hydration packs are extremely valuable for runners, either for long-distance or on trails. This guide provides insight on how to choose a hydration pack, even advising between various activities such as hiking and cycling.
Energy Gels
Especially for endurance athletes, adequate energy throughout the race or run is imperative to their sustainment. Provide your treasured runner with energy gels this holiday season. Or, go the extra mile and add the energy gels into a new running belt or pack!
Yoga Gear
With all the health benefits linked to yoga, provide yogis and yoginis with these yoga essentials.
Yoga Mats
Keeping traction and grip during and between yoga poses, these best yoga mats are sure to please your fellow yoga-lover!
Gaiam Socks
Although some yogis and yoginis prefer using bare feet, these socks offer great secure and grip all while being comfortable and aerated. Find more about Gaiam and its products here.
Muscle Recovery
Give your loved one the tools needed to recuperate from tough workouts, as muscle recovery is just as valuable as the workout itself!
Foam Rollers
Foam roller use continues to rise an effective post-workout recovery. Give that health nut in your life a valuable piece to the workout puzzle this holiday season, including these best foam rollers.
Muscle Massager
Muscle massagers relieve pressures and release tension following a tough workout. Though foam rollers hold value, these SKLZ Accupoint muscle massagers are small in size and are easy to carry!
Food Products
Health does not stop at exercise but resides deep down in nutrition principles.
Magic Bullet
The Magic Bullet is a worthy food processer brand consumers commonly seek out. Whether to mix nutritious smoothies or experiment with homemade sauces and soups, this food processor is a great gift for health nuts!
Lunchbox
Skip out on constant trips through drive-thrus and encourage packing lunch! And with these best lunchboxes, they are not solely for school-aged children anymore.
Cookbooks
Whether giving to new health devotees or individuals just desiring new recipes, cookbooks hold great worth. Go back to basics and enjoy the flavors of a wide variety of flavorful recipes, including these healthy cookbooks of 2016.
To be extra thoughtful, pair the cookbook with common dry ingredients and seasonings used throughout the book and create the ultimate health gift basket!
Gift Cards
Though gift cards are sometimes perceived as an "afterthought" or "easy-way-out" gift, they can provide be a thoughtful gift when considering what all they deliver to its receiver!
Apparel
Picking out clothes for others can be tough. From sizes, to colors, to brands, how do you decide? Well, you do not have to! Give your loved one the ultimate power to go and choose those new running shoes they have been eyeing or a pullover to layer on this cool winter season.
Pick-Me-Ups
Offer a gift card conducive to your receiver's favorite pick-me-ups or incentives. For example, activate a gift card to a coffee-lover's favorite shop or to a sore athlete's local masseuse. Whichever gift card you choose to give, its user will think of you during its swipe, even following the holiday season!
Music
A music subscription is a unique fitness gift for health nuts! A gift card to Spotify, Apple Music, etc. can supply users with music to get pumped up for a workout, sustain it, and mellow out following its completion.