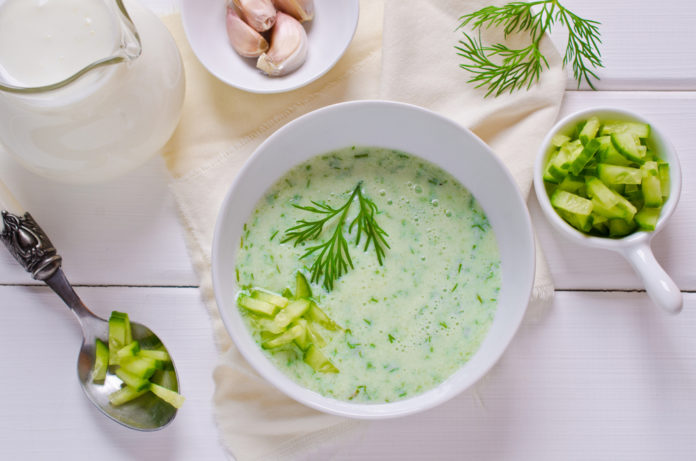 10 Easy, No-Cook Summer Meals, Recipes, and Ideas
1. Gazpacho
Rather than warming up with a bowl of soup, cool down with gazpacho! Featuring the summer's harvest of cucumbers, red bell peppers, and tomatoes, this gazpacho recipe is a fresh and delicious way to obtain valuable nutrients!
2. Cold Cucumber Soup with Yogurt and Dill
Similar to gazpacho, keep cool as a cucumber with this refreshing soup. The use of Greek yogurt offers tang, creaminess, and protein, while fresh herbs contributes desirable summer flavors!
3. Mediterranean Tuna Antipasto Salad
Dressed with lemon and olive oil, this tuna and bean salad is a light meal option to enjoy on a warm summer evening. Add more vibrant toppings as desired, including tomato, cucumber, avocado, and black or green olives.
4. Chicken Salad
Using already cooked rotisserie chicken purchased from the store, there is no need to turn on the stovetop or oven for this no-bake dinner recipe! The tangy and sweet chicken salad grants its taste with the combo of blue cheese and grapes. Along with enjoying as a light meal, pack the leftovers with carrot sticks or cucumber slices for a nutritious work time snack.
5. Southwestern Salad
This cool southwestern salad with corn and avocado is the perfect easy, no-cook meal on a warm summer day! Feel free to add extra southwestern-inspired ingredients, including black beans, tomatoes, garlic, and Chile and sweet peppers.
6. Taco Salad Wraps
Embrace the flavors of #TacoTuesday all summer long with a taco-salad wrap! Ditching standard taco meat and of black or red beans, the wrap is a vegetarian-friendly, on-the-go salad you can eat with your hands.
7. Mashed Chickpea Pitas
Chickpeas are complemented with lemon, garlic, and creamy yogurt in this no-cook meal! The recipe can also be extremely versatile by swapping out chickpeas with another bean and seasoning with various spices and herbs. And while you have the ingredients out, prepare this simple, cool cucumber salad!
8. Crab Rolls
You will be anything but crabby after indulging in this easy no-cook summer meal! Crisp apples, celery, and radishes offer a satisfying crunch to balance out the creamy crab blend.
9. BBQ Chicken Sandwiches
Enjoy the traditional summer aroma of BBQ without the need to heat up the oven or grill! As a simple no-bake dinner recipe hack, combine shredded rotisserie chicken with this healthy homemade BBQ sauce, devoid of added sugars and syrups commonly used in store-bought brands. Serve onto a whole wheat bun or lettuce leaves and top with pickles, jalapenos, and other favorites as desired.
10. Zucchini Mushroom Linguini
Swap the boiling water and pasta noodles with a spiralizer and zucchini! Not only is this zucchini mushroom linguini an easy no-cook meal, but reduces carb content without compromising the appeal of pasta. The zucchini noodles can take on multiple flavors, including this homemade pesto or healthier-for-you Greek yogurt Alfredo sauce!