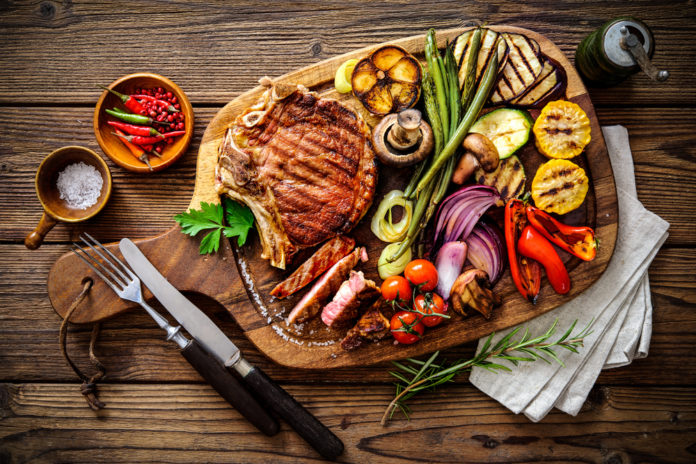 Summer Grilling Recipes
Salad
Salad today is much more than a large bowl of greens drenched in dressing!
Grilled Wedge Salad Kabobs
While the grill is heating, combine equal parts of crumbled blue cheese, plain Greek yogurt, and milk (approximately two to three tablespoons of each) in a small bowl. To the mixture, add a teaspoon of white wine vinegar along with salt and pepper to taste. Thread 2-inch pieces of romaine lettuce and cherry tomatoes onto skewers, brush with olive oil, and grill until charred, rotating once for a minute or two. Pair with the blue cheese crumble dressing!
Grilled Romaine Lettuce Leaves
Similar to the grilled wedge salad kabobs above, just in whole form! Drizzle olive oil over romaine lettuce leaves and season with preferred spices, including steak seasoning or a homemade blend of oregano, parsley, etc. Place lettuce cut side-down on grill, char for about five minutes, and drizzle with lemon juice.
Roasted Veggies
While it may not be a salad per se, roasting up veggies is an enticing and flavorful way to enjoy them. Simply rinse and slice up favorite vegetables, drizzle with olive oil, add salt and pepper to taste, and fold into an aluminum foil pouch. Grill for 10 to 15 minutes, or until the veggies are cooked through and slightly golden in color.
Pizza
Who says pizza is confined to delivery or from the frozen food section?
Customary Pizza
Start with the basics with this "how to make the best grilled pizza" guide. Smear with a fresh, homemade tomato sauce, fresh mozzarella, sliced veggies, and herbs.
Grilled Mediterranean Flatbread
Oh the flavors of this Mediterranean flatbread… The recipe described is vegan-friendly, but can be complemented with chicken for added protein as desired. 
Grilled Berry, Basil, and Brie Pizza
This grilled recipe is much more than a standard pizza, and features the fresh flavors of blackberry, strawberry, basil and brie cheese. And being divided into separate pieces, servings are moderated and sharing is simple!
Seafood
Enjoy the flavors of fresh catches this summer season.
Grilled Fish
Grilling up some salmon, tuna, halibut, or other fish varieties offers a light meal on a warm summer day, all while being ample in protein and healthy fat. Find out the right way how to grill fish here.
Grilled Oysters
For a fun dining experience, grill up some oysters! Suggested to be served warm with melted butter, lemon juice, and hot sauce.
Grilled Shrimp with Garlic and Herbs
The rich flavors of fresh garlic and herbs amplify the decadence of shrimp in this grilled recipe. Top onto salad greens or this quinoa vegetable medley.
Meat
The tradition of grilling awaits with these barbequed meats!
Burgers
This better-for-you burger provided by bistroMD is based on conventional flavors the guilt. Top with lettuce, tomato, onion slices, mustard, and other favorites! Find more healthy hamburger recipes here.
Chicken Wings
Although chicken is considered a lean protein source, deep frying the wings and dousing them with sauce makes them a little less-than-nutritious. Healthify that game day and BBQ favorite with these herbed grilled chicken wings.
Grilled Pork
BBQ pork is much more than shredded on a bun slathered with sugar-laden sauce. In fact, this Caribbean-spiced pork tenderloin recipe is complemented with fresh peach salsa for natural sweetness.
Meatloaf
Fire up the grill for this traditional comfort meal! Grilling meatloaf is a unique summer twist on that family classic. And if feeling extra adventurous, pair with this healthy cauliflower mashed potato recipe.
Citrus Marinated Shish Kabobs
A zesty marinade enriches protein-packed chicken and sirloin in this bistroMD recipe. Not only are the shish kabobs ample in flavor and protein, but are simple to assemble, leaving you more time away from the kitchen and more with loved ones!
Dessert
Not all desserts bake in the oven…
Grilled Banana Boats
This grilling recipe is fun for the whole family! Start by cutting bananas lengthwise, about a half inch deep. Open the peels to form pockets and fill with favorite toppings, including mini chocolate chips, strawberries, and coconut. Shape aluminum foil around bananas, resembling boats, and grill for approximately five to 10 minutes.
Grilled Berry Peach Pie
Grilled pie? It may seem unconventional, but also berry appealing. This grilled berry peach pie is plush in summer colors and flavors for your next special occasion (or anytime for that matter)!
Grilled Gingered-Melon Kabobs
Juicy and refreshing, these gingered-melon kabobs are the perfect, light sweet treat. While the recipe calls for cantaloupe and melon, feel free to add other favorite fruits, including strawberries, blackberries, and pineapple.