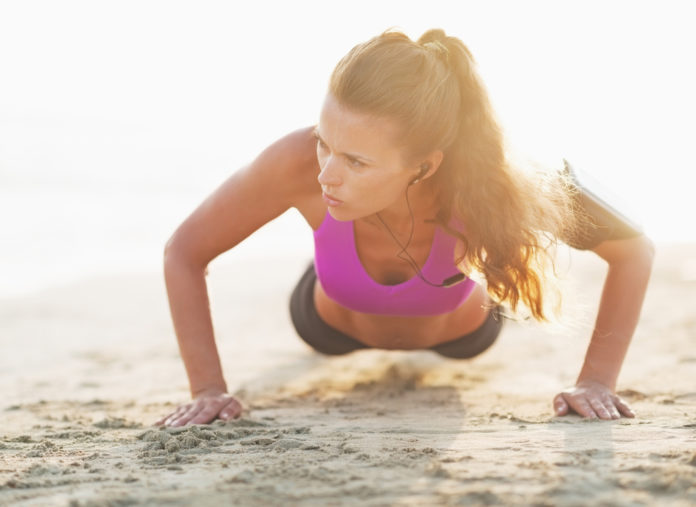 Health experts continually advocate for consistent physical activity for optimal body function. But the benefits are not solely physical, but also mental. In fact, some research implies exercise can relieve feelings of anxiety and depression, further suggesting even a 10-minute walk may be beneficially equivalent as a 45-minute workout. But with this quick, 30-minute workout, you can also work towards the recommended 150 minutes of exercise each week while promoting anxiety relief!
30-Minute Workout to Reduce Anxiety
Warm Up: 10 Minutes
As mentioned, 10 minutes of walking can relieve feelings of anxiety. Start with a brisk walk or light jog, warming up the muscles and stimulating anti-anxiety effects even before the primary workout begins!
The Workout: 10 Minutes
While anxiety may already be relieved, endorphins are more than likely heightened, energizing you to tackle a more rigorous workout. Going through the list, complete exercises 1 through 5 for 45 seconds each, resting for 15 seconds in between. Go through the 5 exercises twice, ultimately completing a 10-minute workout.
1. Squats
Whether completed with body weight or dumbbells, squats can help strengthen and tone the legs. So with or without added weight, begin the workout with well-executed squats.
2. Push-Ups
Performing a push-up is not only an excellent upper body workout, but targets the core and lower body. Complete as many push-ups as possible within the 45-second timespan, but also focusing on proper form. Modify push-ups or try these 15 variations as tolerated.
3. Lunges
Like squats, lunges target the legs while also encouraging strengthened balance. Complete the lunges in place and stationary or by walking, alternating between each leg. Feel free to hold an appropriate dumbbell weight as tolerated or preferred for added exertion.
4. Plank Jacks
Coupling planks and jumping jacks, plank jacks targets primary muscles while acting as an aerobic exercise, providing both strength and cardiovascular benefits.
5. Lying Hip Raises
Working out the hips is often missed, although strengthening them offers support to other surrounding muscles. Find how to effectively complete hip raises here.
Feel free to shake up your routine with these 10-minute workout ideas!
Cool Down: 10 Minutes
A cool down is important to lower a raised heart rate and normalize body temperature to reduce the risk of passing out or feeling sick following an intense workout. Stretching during a cool down is also important when muscles are warm to reduce lactic acid buildup, a primary culprit of muscle cramping. And an added bonus? Stretching has been advocated to release stress and relive anxiety! Find a total body stretch guide here.
Anxiety Relief Tips
Along with the 30-minute anxiety workout, find anxiety relief by…
…consuming a well-balanced diet.
A well-balanced diet can naturally offer the vitamins and minerals it requires to prevent nutritional deficiencies that may curate anxiety. More specifically, inadequate vitamins B12 and D, magnesium, and zinc have been shown to compromise good mental function, including feelings of anxiety. Find more on how to calm anxiety with these seven natural remedies.
…performing yoga.
Yoga has renowned physical and mental benefits, with the inclusion of lessening feelings of both depression and anxiety. Find anxiety relief with this 20-minute full body yoga workout!
…practicing alternative techniques.
Although the anxiety workout and yoga are considered to be stress-relieving, you may find peace in other chosen activities and techniques. Calm your mind by taking a warm bath, dancing to your favorite music, reading your favorite book, practicing aromatherapy, or scheduling a body massage.
…seeking out professional help.
It is important to realize anxiety and other mental disorders may require professional help and counseling. And even more importantly, know that doing so is not a sign of weakness, but an act of strength. Seeking out professional care can offer great mental reward and reduce unwanted feelings of anxiety.