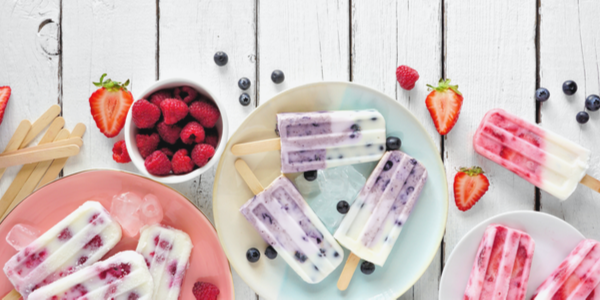 On one hand sweets and desserts are delicious, but on the other, they are high in added sugar and empty calories. Health experts advise limiting added sugar, like from sweets, because it can be harmful to health by increasing inflammation and increasing risk for cardiovascular disease, just to name a few.
Nevertheless, on average, American adults consume 77 grams of sugar per day, three times the recommended intake for women. A main part of lowering sugar intake is cutting out sweetened beverages, but what about sweets? Do all sweets and treats need to be eliminated for health?
The good news is it is possible to satisfy a sweet craving without consuming sweets that are mainly added sugar and empty calories. Healthy sweets can be a part of a balanced diet and even contribute some health benefits.
Craving something sweet but do not want to derail healthy eating? These healthier dessert options can satisfy a sweet tooth craving for any diet plan.
Healthy Sweets
What can make desserts and sweets healthy? Besides limiting added sugars, the following are commonalities for healthy sweets.
Sweetened Mainly From Fruit
Healthy sweets use fruit as a natural sweetener: not fruit juice or fruit flavors but real fruit. For example, many healthy sweets use dates as an ingredient because they are very sweet and can hold things like pie crusts or truffles together.
Using dates or other fruit can cut the need for any other added sugar needed. Plus, they provide a source of fiber, antioxidants, vitamins, and minerals.
Berry or apple crisps are another example of fruit-based healthy sweets. A trick to make any fruit-based dessert healthier is to cut back on added sugars in the recipe. There is a high chance no one will even notice!
Experiment with cutting back between 1/4 to 1/2 of added sugar for a fruit-based recipe. This will make the fruit flavor shine without being overly sweet.
Provide a Source of Protein or Healthy Fat
Healthy sweets are so much more than just a source of added sugar. They provide either protein and/or healthy fats which increase their nutritional value. These nutrients also help keep blood sugar stable after eating instead of sending blood sugar spiking then crashing down. They also help keep feeling full after eating them.
Healthy sources of protein and fats for desserts could include:
Nuts/seeds/nut butter
Greek yogurt or cottage cheese
Oats
Chickpeas
Olive or avocado oil
Quinoa
Cocoa
Minimal (or None) Overly Processed Ingredients
The main processed ingredient culprits in sweets and desserts are white sugar and white flour. These foods are high in simple carbohydrates and have little to no nutritional value. Therefore, they should be minimized when trying to eat healthy sweets and treats for any diet.
Alternatives to white sugar in healthy desserts can be other sweeteners like honey, coconut sugar, pure maple syrup, or agave nectar. Alternatives to white flour can be oat flour, chickpea flour, almond flour, or whole wheat flour.
Portion Controlled
Healthy treats, even though they have healthier ingredients, should still be enjoyed in moderation with a small portion size. Just because desserts are labeled "healthy" does not mean they can be enjoyed limitlessly.
Even if alternative sweeteners for white sugar are used in healthy desserts, they are still considered added sugars in the diet.
Low-Calorie Desserts
It is possible to satisfy a sweet tooth but not derail healthy eating. The truth is, any dessert can be enjoyed in small portions. Often after the first bite or two is when satisfaction occurs from food.
However, if looking for a dessert that offers more than just a few bites without packing on the calories, try these low-calorie desserts options.
Homemade yogurt popsicles

offer the combination of yogurt paired with fruit, or other desired mix-ins, for a sweet, low calorie, filling treat.
100 calorie chocolate cake

allows you to have your cake and eat it too without packing on the calories. This recipe uses nut butter and yogurt instead of oil.
Low-calorie chocolate chip cookies

are made with oat flour instead of refined flour. They also have less added sugar compared to traditional chocolate chip cookies.
Healthy cinnamon apples

can be made with minimal added sweeteners, as the apples provide enough sweetness. Paired with cinnamon, these baked apples will serve as a delicious, healthy treat.
Healthy slow cooker berry cobbler

gets two birds with one stone: a healthy, delicious dessert and the ease of using a slow cooker. Only two tablespoons of added sugar are used for this recipe, and whole wheat flour is used in place of white flour.
Frozen yogurt bark with berries

takes the concept of a yogurt parfait with plain yogurt and berries but in frozen form. It can be a blank canvas to add whatever fruit you have on hand as well as optional nuts, chocolate chips, or other additional ingredients as desired.
Pumpkin spice chocolate chip protein balls

are just a little over 100 calories per serving and provide 7 grams of protein. They combine healthy ingredients like pumpkin puree, pumpkin seeds, oats and peanut butter.
Banana split bites

combine the flavors of a banana split but are made from frozen strawberries and bananas dipped in dark chocolate and topped with shredded coconut and walnuts.
Vanilla chia pudding

is packed with protein and healthy fat thanks to small, yet mighty chia seeds, Greek yogurt, hemp hearts, and more. It also makes me a healthy sweet snack to cure any sweet tooth.
Oatmeal cookies

sure to crush cravings without an ounce of guilt. Fill up the cookie jar with many variations, including carrot cake with a healthy cream cheese frosting and peaches n' cream oatmeal cookie sandwiches!
Keto Desserts
Following a keto diet and craving something sweet? No problem! An easy keto dessert recipe can be made from low-carb fruits paired with chocolate or nut butter. For example, chocolate blueberry clusters can be an easy, delicious sweet keto treat.
Craving cake but following a keto diet? Keto chocolate cake can be made using almond flour as a base ingredient instead of regular flour. This cake can serve as a gluten-free healthy dessert as well.
Paleo Desserts
Paleo desserts are free of grains, dairy, or refined sweeteners. While this can cut out many traditional sweets, there are still low-calorie paleo desserts to choose from. Fruit-based desserts with minimal added sweeteners can serve as a low-calorie paleo dessert.
Paleo strawberry crumble offers the delicious flavors of a berry crumble but uses only a small amount of maple syrup for added sweetness and almond flour as the main component of the crumble topping.
Most keto desserts, like the chocolate blueberry clusters, can also be considered a paleo dessert.
Vegan Desserts
Many (but not all!) vegan desserts can be a healthy sweet low-calorie desserts. If wanting something cold and sweet, turn to making nice cream. Nice cream, unlike dairy-based ice cream, is made creamy from a base of blended, frozen bananas. Other options can be added to make different flavors like chocolate, nut butter, coffee, etc.
Vegan desserts that are mainly made from dates and nuts can offer a decadent tasting, healthy sweet treat. For example, chocolate-covered snickers stuffed dates can be made from dates, crushed nuts, peanut butter, and dark chocolate.
Similarly, vegan chocolate truffles can be made with just a few healthy ingredients like dates, nut butter, almond milk, cacao powder, and dark chocolate. As a bonus for some, these vegan desserts also happen to be gluten-free as well.
Gluten-Free Desserts
Besides some of the desserts listed above, another gluten-free low-calorie dessert option could include sweet potato brownies. As the name suggests, there are actually cooked sweet potatoes in these brownies along with other healthy ingredients like nut butter, applesauce, and oat flour. No one will be able to taste the sweet potatoes, as they help make these brownies moist and fudgy.
Many baked goods can be made either flourless. For example, flourless peanut butter cookies can be a healthy gluten-free sweet and also happen to be vegan. Some gluten-free desserts are made with a gluten-free flour blend, but be mindful some of these gluten-free flours are still considered a refined flour.
Healthy Desserts Final Thought
The good news is it can be possible to enjoy a sweet treat while simultaneously cutting back on added sugars. No matter what diet pattern is followed, there are healthy, low-calorie desserts that can fit in.
Commonalities for healthy treats include cutting back on processed ingredients, using real fruit for natural sweetness, adding in ingredients that provide protein and/or healthy fats, and keeping portion sizes in check. With these points in mind, it can be possible to find healthy treats that fit into any diet pattern.
Examples of healthy low-calorie desserts can include date-sweetened truffles, flourless cookies, fruit crumbles, nice cream, frozen yogurt bark, chocolate fruit clusters, banana split bites, or yogurt popsicles.