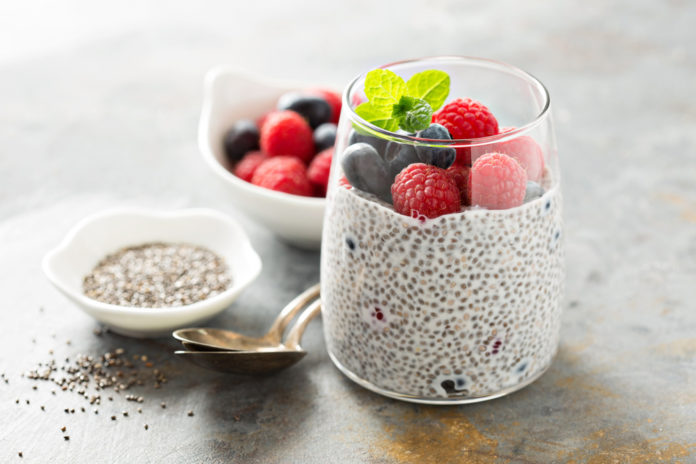 While their claim to fame may have stemmed from a plant pet, their role in health is extremely acknowledged today. From their large volume of omega-3 fatty acid content to their significant fiber content, the small (but mighty) chia seeds are shown to offer numerous benefits, including heart and digestive health. And while you may be new to their use, chia seeds not only offer texture, but supplies protein in this vanilla chia seed protein pudding!
Vanilla Chia Pudding
Yield: approximately 4, ¾ cup servings
Nutritional Breakdown (per serving)
Calories: 180 cals
Protein: 15 grams
NET Carbohydrate: 17 grams
Ingredients:
1 cup dairy milk
1 cup low-fat, plain Greek yogurt
¼ cup quinoa, rinsed and cooked
2 tablespoons hemp hearts
2 tablespoons vanilla whey protein powder
2 tablespoons honey
1 tsp vanilla extract
1 tsp cinnamon
1/3 cup chia seeds
Directions:
In an airtight container, mix together all ingredients besides the chia seeds.
Slowly add and whisk in chia seeds.
Allow to set for 30-minutes then stir to distribute chia seeds (this helps avoid undesirable clumping).
Place mixture into the refrigerator and allow to chill, at least for 2 hours.
Spoon chia seed pudding into dishes and serve as is or with favorite toppings, including fresh fruit, granola, and cinnamon.
Tips and Pointers:
Feel free to swap out milk with a non-dairy alternative if needed or desired, including almond, cashew, and soy milks. However, dairy and soy milks supply the greatest protein content.
The recipe can be mass produced and saved in the fridge for up to a week and grabbed for a quick, on-the-go breakfast, snack, or post workout fuel!
Honey may be swapped for agave, pure maple syrup, or an alternative sweetener such as Stevia.
Flavors can be adjusted to accommodate personal preferences, including swapping out vanilla extract for cocoa powder or the addition of peanut butter. Have fun experimenting with various ingredients and make the recipe "yours!"