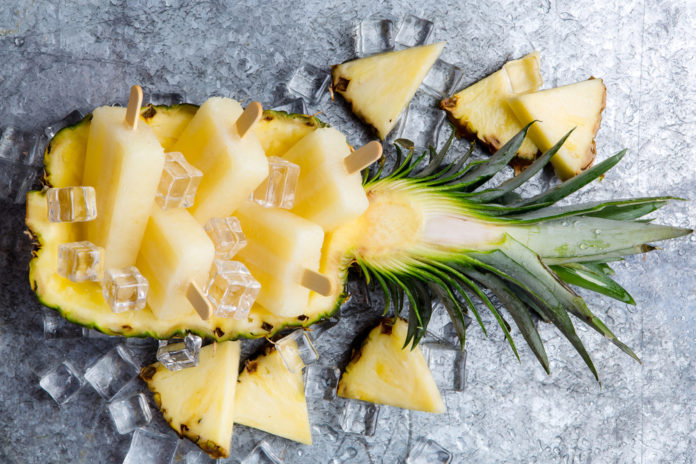 How to Make Healthy, Yogurt Popsicles
1. Select Yogurt
Yogurts come in numerous recipes, including plain, flavored, low-fat, full-fat, and even Greek. But for a more nutritious, wholesome popsicle, select a protein-rich Greek yogurt supplying minimal added sugars.
2. Mix in Toppings
Toppings can be endless and adaptive based on personal preferences. From nuts and seeds to fresh fruit, have fun experimenting with various ingredients!
3. Pour in Molds
Pour the mixture into popsicle molds or Dixie cups with a popsicle stick. Pro tip: silicone molds pop out the popsicle with much more ease.
4. Freeze
Place in the freezer for at least one to two hours for them to harden. Unlike these winesicle recipes, you really will not have to worry about the mixture not freezing.
5. Thaw
Allow the popsicle to thaw for at least two minutes before displacing.
6. Enjoy
…the best part!
8 Homemade Yogurt Popsicles
1. Banana Split
While a banana split is a cool treat on a warm summer day, its large content may be a melting ice cream disaster. Compile the flavors into one, refreshing treat by first mixing ¼ cup of fresh pineapple juice with a cup of Greek yogurt in a blender. Stir in freshly sliced strawberries and bananas, along with shaved dark chocolate or favorite chocolate chips. Pour mixture into popsicle trays and freeze until use.
2. Pina Colada
Start by mixing the pineapple juice and yogurt as described above for the banana split. Stir in a splash of coconut milk and shredded coconut, pour into molds, and place in the freezer. Add rum for a grownup, boozy treat!
3. Chunky Monkey
This healthy popsicle recipe is a treat to go nuts over! Mix together favorite chunky nut butter into Greek yogurt then complete the mixture by gently folding in banana chunks and mini chocolate chips. Add the chunky monkey blend into molds, freeze, and serve.
4. Strawberry Cheesecake
In a blender, mix equal cup ratios of strawberries and preferred yogurt. Gently fold in a drizzle of honey and graham cracker crumbs and pour mixture into popsicle molds and place into freezer until hardened.
5. PB and J
Transform that lunchbox classic into a refreshing treat! Start by blending together peanut butter and yogurt until smooth. Mash strawberries, blackberries, or blueberries and gently fold into yogurt mixture. Freeze and enjoy!
6. Apple Pie
Pie, oh my! Although the warmth of apple pie is consistently desired, this cool homemade yogurt popsicle will surely not disappoint! Mix together equal parts yogurt and unsweetened applesauce and a dash of cinnamon. Fold in oats or granola, pour into the molds, and freeze.
7. Key Lime Pie
Not quite ready for the fall flavors of apple pie? Look no further than this refreshing key lime pie popsicle. Start by zesting the green portion of a lime (making sure to not knick too deep on the white, bitter skin) into a bowl. Slice the lime in half and squeeze the juice with the zest, mix in yogurt, and fold in crushed graham crackers. Add mixture into popsicle molds, place in freezer until hardened, and share with friends!
8. Cucumber Mint
You will stay cool as a cucumber with this refreshing, healthy popsicle recipe! Start by mixing freshly squeezed lemon juice and a drizzle of honey with plain yogurt. Peel and chop cucumber into bite size pieces, add to yogurt mixture, pour into popsicle molds, and freeze.