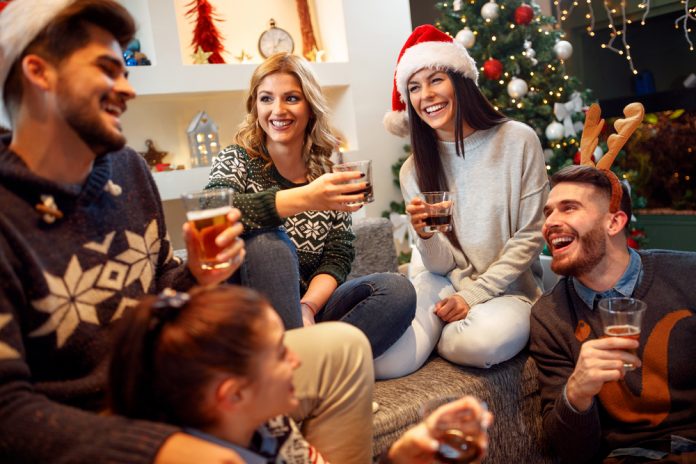 Festive holiday cocktails give a whole new meaning to seasonal spirits. Holiday drink recipes can liven holiday parties and provide a tasty companion to festive foods. Merry mocktails, Christmas cocktails, and mulled wines can make this the most wonderful time of year.
Read on for 15 festive holiday drinks sure to be Christmas crowd-pleasers this season.
Festive Holiday Drink Recipes
Fun holiday cocktails can quickly become seasonal staples. While there is a quiz you can take to find out what holiday drink you are, here are 20 festive recipes you can whip up right now.
Holiday Cocktails
Candy Cane Cocktail
Nothing makes for a better drink garnish during the holidays than candy canes. Plus, candy canes aren't the only seasonal ingredients you'll be sipping in this cocktail. With cranberry juice and creme de menthe in the cocktail, this drink is festive from its roots to its rim.
Skinny Hot Buttered Rum
Looking for a rich yet healthy hot rum drink? Dark rum will give skinny hot buttered rum a bolder flavor, while warm spices like cinnamon and cloves keep it "skinny." Spices like ginger and nutmeg may also add potential health benefits to this drink.
Coconut Rum Cocktail
A coconut rum cocktail is perfect for cuddle season! When it gets chilly, cozy up next to the fire with this almond and coconut milk-based beverage. Add a dollop of coconut whipped cream to the tip for enhanced flavor.
Orange Cranberry Mimosa
Whether you go with the boozy or non-alcoholic options for this drink, orange cranberry mimosas make for the perfect holiday cocktail. Orange juice and cranberry juice create staple holiday flavors, along with adding antioxidants. Not to mention, this mimosa has a pretty red hue sure to match your holiday decor, too.
Skinny White Russian
The white russian is a classic cocktail. Although it sounds intimidating, it is surprisingly easy to make! Pro tip? Soy creamer helps keep calories low.
Mulled Wine
Mulled wine is another traditional favorite that uses apple cider. Sweetened with honey and warm spices like clove, cardamom, cinnamon, and star anise, this brandy-based beverage will surely keep you cozy.
Apple Pie Mimosa
An apple pie mimosa might be the easiest drink you'll make this holiday season. The drink itself contains two ingredients (sparkling wine and apple cider), and the garnish contains another two (cinnamon and apple slices). This merry mimosa is perfect for bringing people together over brunch.
Red Wine Hot chocolate
Need another easy drink recipe in your arsenal? Red wine hot chocolate is as simple as it gets and contains antioxidant-rich ingredients. Over medium heat in a saucepan, fully melt ¼ cup dark chocolate cups. Add 1 cup skim milk and then whisk in 5 ounces of red wine. Enjoy your favorite holiday mug!
Hazelnut Coffee Martini
Coffee with a kick? Yes, please! Hazelnut coffee martinis are great for a midday pick-me-up or afternoon party. Just an ounce of heavy cream makes this martini creamy without adding too many saturated fats.
Christmas Punch
Christmas punch is another classic, crowd-pleasing drink. It's full of festive ingredients like cranberry juice, sparkling wine, and apple cider. It's basically the mother of all holiday beverages, containing many of your stand-alone seasonal favorites.
Holiday Mocktails
Fall Sangria
Sangria is typically enjoyed in the summertime. However, a fall sangria may make your list of new traditions this year. It's non-alcoholic, meaning you won't have to moderate your intake. Full of fruits like apples, pears, citrus, grape, and pomegranate, this drink is chock full of special seasonal flavors.
Apple Cider Hot Toddy
Another drink traditionally enjoyed this time of year is a hot toddy. While it typically contains whiskey, many recipes can be made alcohol-free. A booze-free apple cider hot toddy is made with green tea and includes warm spices like ginger, cloves, star anise, and cinnamon.
Green Tea Hot Toddy
Need another green tea hot toddy in your life? Instead of apple cider for the base, green tea is featured prominently in this recipe. Sweetened with honey and flavored with citrus, this non-alcoholic beverage packs a nutritional punch.
Sparkling Cranberry Kombucha Mocktail
A sparkling kombucha mocktail may not be a classic holiday drink. However, it comes without a hangover! Beyond adding probiotics ("good" bacteria) to your diet, this drink is naturally sparkling with the perfect balance of sweet and sour flavor.
Sparkling Christmas Cosmopolitan
You can't have enough fizzy drinks during fall and winter! A sparkling Christmas "cosmo" is perfect for a girl's night out over the holidays. It can be made healthier by using reduced-sugar cranberry juice or juice from fresh cranberries.
Holiday Moscow Mule
Another drink generally enjoyed around the holiday season is a moscow mule. Both the booze-based and non-alcoholic versions contain ginger beer. Simply substitute the alcohol in the original recipe for ½ sparkling water and ½ ginger beer to keep this drink refreshing.
Gingerbread Eggnog Mocktail
Gingerbread and eggnog together in the same drink? It doesn't get more seasonal than that. In less than 15 minutes, creating a gingerbread eggnog mocktail from espresso powder, cinnamon, ginger, and nutmeg can spice up the day. Crushed gingersnap cookies create both a festive and flavorful garnish.
More Festive Drinks
Eggnog
Is traditional eggnog more your thing? Make it healthier by using the nutty flavors of almond milk as a base. As an added perk, this recipe uses ingredients you already have in your pantry and fridge (i.e. vanilla, eggs, cornstarch).
Green-As-The-Grinch Matcha Latte
While matcha can be enjoyed year-round, its green color is great for adding traditional Christmas colors to the palette. A matcha tea or latte gives off a Grinchy green color, perfect for themed meals or parties.
Gingerbread Latte
Need another latte to help you make merry? A homemade "skinny" gingerbread latte is perfectly spiced along with being lower in calories than your favorite Starbucks special. Nothing like a seasonal strong coffee to help you get through family gatherings!
Recapping Seasonal Sipping
Whether you're avoiding alcohol or already have a designated driver for the holidays, there's a seasonal drink for everyone. Many spiced drinks can be made "skinny" by using nutrient-rich, low-calorie ingredients. Choose your new seasonal favorite from this festive list of cocktails, mocktails, and more!