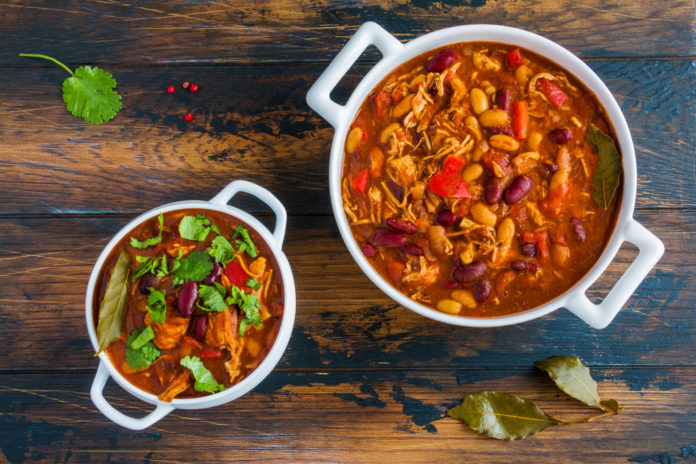 13 Turkey Leftover Recipes
1. Sweet Potato-Turkey Hash
By whipping up this healthy and hearty sweet potato-turkey hash, post-Thanksgiving brunch is served! Top with a sunny-side up egg as desired.
2. Turkey Wrap
Use the protein to prepare a nutritious and convenient lunch option! Fill a whole grain tortilla with favorite wrap ingredients, including hummus, salsa, and a beaucoup of veggies and wrap it up. And for a lower carb option, swap out the tortilla with lettuce leaves.
3. Southwestern Turkey Soup
Cozy up to a bowl of southwestern turkey soup! Top with a dollop of plain Greek yogurt, shredded cheese, salsa, hot sauce, and green onion as desired.
4. Turkey Salad
Step aside chicken and tuna, turkey deserves its inclusion! And rather than being strictly mayo-based, this skinny leftover turkey salad also features Greek yogurt to up the protein ante. Enjoy right away or store in an air-tight container until use.
5. Turkey and Blue Cheese Salad
With just a few simple ingredients and steps, relish on a light, yet nutritionally-balanced turkey and blue cheese salad. Feel free to add extra veggies and other favorite salad toppings as desired.
6. Turkey Tacos
Not all tacos are designated to ground beef (or ground turkey for that matter)… This leftover turkey recipe transforms the Thanksgiving staple into a flavor-packed taco featuring a crunchy, citrus slaw.
7. Turkey and Poblano Chili
Similar to tacos, chili does not always have to call for ground beef or turkey, either… This turkey and poblano chili recipe is chunky, hearty, and sure to excite your taste buds!
8. Turkey Tamales
The Southwestern and Mexican flavors continue with this leftover turkey tamale recipe! And while the tamales may need more time and attention on your end, they are hyped as well worth the effort!
9. Turkey Pesto Club
Join the club with this nutritious and delicious turkey leftover recipe! Stacking up pesto, turkey, apple, and tomato, this sandwich club brings exciting flavors to your lunchbox.
10. Turkey Pot Pie
Using leftover turkey and frozen veggies and dismissing the heavy cream and butter, this pot pie recipe is healthy to enjoy and simple to prepare!
11. Turkey Tetrazzini
Classic turkey tetrazzini lightens up in this recipe makeover. You can further lower carb and calorie content by adding more veggies to displace some of the spaghetti noodles.
12. Turkey Divan Casserole
If requiring or desiring a gluten and dairy-free recipe, look no further than this turkey divan casserole. And with a few tricks, you can relish on the creaminess of a tasty dish without even realizing cheese is absent!
13. Goat Cheese Pizza
This goat cheese pizza may be semi-homemade but it is nothing short of flavorful. The nutrient-dense pizza features the leftover star itself, tomato, onion, spinach, fresh basil, and well, goat cheese!