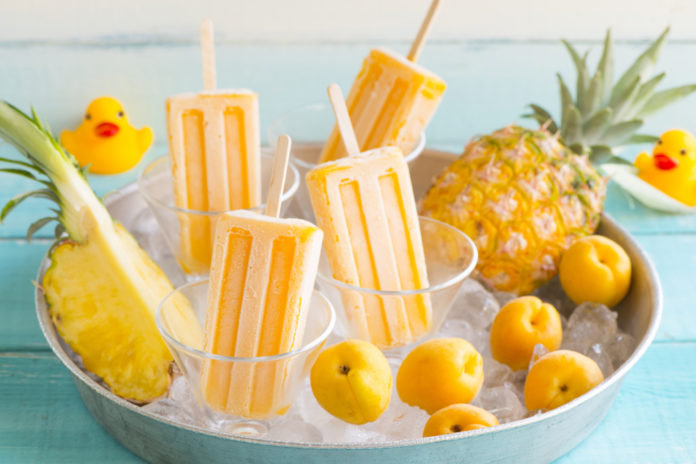 March is National Frozen Food Month, an initiative proposed for the National Frozen Food and Refrigerated Foods Association (NFRA). The hope and aim is to empower consumers to dismiss misconceptions regarding frozen products and embellish excitement and engagement around frozen food aisles. Individuals can further #rethinkfrozen this #frozenfoodmonth with these at-home, frozen food ideas!
7 Frozen Food Ideas
1. Yogurt
This frozen food idea is a small act that translates into desirable cool treat. Simply transfer yogurt from the fridge to the freezer. Not only can doing so prolong its shelf life, but transforms that creamy afternoon snack into a frozen yogurt. Add fresh berries, chopped nuts, shaved dark chocolate, and other favorite toppings.
2. Popsicles
This #frozenfoodmonth, get creative and make an all-natural fruit pop! Skip out on all the added sugars found in most store-bought popsicles by blending together frozen fruit, yogurt, and other desired mix ins. Pour mixture into popsicle mold or Dixie cups, freeze, and enjoy! Flavor combos can be endless, including strawberry cheesecakes, chunky monkey, and banana split, further detailed here.
3. Winesicles
For all those adults out there… Try one of these winesicle recipes! From peach fuzz to Riesling pear pops, there is a flavor for everyone to enjoy. Find the complete recipes to the boozy popsicle treats here.
4. Avocado Ice Cream
An unlikely pairing of avocado and ice cream synchronizes into one decadent, yet nutritious cool treat. The basic ingredients include avocados, bananas, milk, and vanilla extract. But the flavor varieties are more than basic, and include chocolate mint, Hawaiian, citrus, and pumpkin spice that are further outlined here.
5. Grapes
Frozen grapes are a refreshing, nutritious treat during those warm summer days. Start by washing, drying, and de-stemming seedless grapes. Allow the grapes to dry on a baking sheet then freeze. Once frozen, store in an airtight container or Ziploc bag until ready to enjoy. The frozen grapes also make a fun ice cube to keep wine chilled!
6. Chocolate Bananas
Get kids in the kitchen to make personalized chocolate bananas! Start with a whole banana, sticking into a skewer and removing the peel. Have various toppings to choose from, including melted chocolate, chopped nuts, shredded coconut, and chopped or mashed berries. Place bananas onto a lined baking sheet, pop into the freezer, and let chill for at least an hour before enjoying.
7. Homemade Pizzas
The trifecta of healthy, homemade, and pizza can coexist by preparing those infamous pies in the comfort of your home. If preparing homemade pizzas one night, make double or triple or create solely for meal preparation purposes. One busy weekday night or one weekend in, pop out the pizzas for a quick, convenient meal without calling for the pizza delivery man!