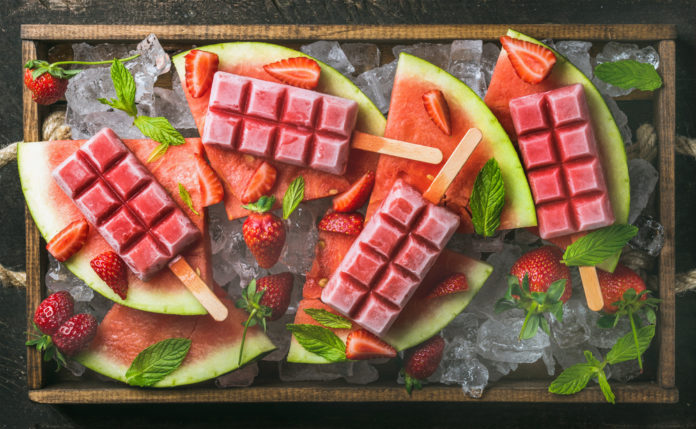 7 Ice Cube Recipes
1. Sushi
Rather than intricately crafting sushi, mimic the presentation by preparing it in ice cube trays. Lightly dampen the ice cube tray with water and firmly press sushi rice into the individual squares, using fingers to form a hole, leaving enough room for toppings. Turn the tray upside down onto a waxed paper until the squares fall out and spoon in favorite sushi ingredients, including tuna, salmon, crab, shrimp, cucumber, and sliced avocado.
2. Energy Bites
Instead of resorting to energy and granola bites that are oftentimes loaded with unnecessary added sugars and other ingredients, grab a couple of energy bites for an on-the-go breakfast or a quick pick-me-up during midmorning or afternoon hours! Start by mixing the ingredients of this no-bake energy bite recipe and rather than chilling and forming into balls, pour the mixture into ice cube trays and chill. The ingredients can also be modifiable, so feel free to adjust or add mix-ins based on preference, including chopped nuts and dried fruits.
3. Peanut Butter Cups
The flavor combination of chocolate and peanut butter is nothing short of desirable! However, the packaged peanut butter cups tend to be much more than simply chocolate and peanut butter, and loaded with sugars and unhealthful oils. For a more natural product, prepare the peanut butter in this homemade recipe. Place about a tablespoon of the peanut butter mixture into the ice cube squares, coat with melted chocolate, and freeze. The ice cube squares are also an excellent way to keep portion sizes in check!
4. Chocolate Covered Strawberries
This simple ice cube recipe is much like the peanut butter cups, but with the use of refreshingly sweet strawberries! Whether it be Valentine's Day or a for a simple nightcap treat, start by cutting off the tops of fresh strawberries. Place one strawberry into a cube and cover with favorite melted chocolate or this vegan option described here. Freeze until the chocolate has hardened and enjoy!
5. Hot Chocolate
Whether it be for your own convenience or given as a thoughtful gift, this hot chocolate ice cube recipe is sure to please! Feel free to adjust recipe, using favorite chocolate and mix-ins. When ready to enjoy, heat water or milk, stir in the hot chocolate spoon until melted, and sip!
6. Smoothie Squares
Making and using smoothie squares is an excellent way to not only obtain nutrients, but offers produce a second chance of life and reduces food waste. In a blender, mix together fruits and greens that may be starting to wilt or their use is unanticipated. Whether it be spinach and berries, kale and bananas, or even the combination of them all, blend together with a light splash of water until pureed. Pour smoothie mixture into ice cube and freeze. When ready for use, pop out the frozen squares, add preferred liquid, Greek yogurt, cottage cheese, cinnamon, etc. and blend for a creamy, on-the-go smoothie!
7. Baby Food
Ice cube recipes are quite versatile, and even expand for the youngest generation! Baby food is similar to the smoothie squares described above, taking nutrient-rich fruits and veggies and blending them for cohesion. Learn more on how to prepare baby food and storage guidelines here.