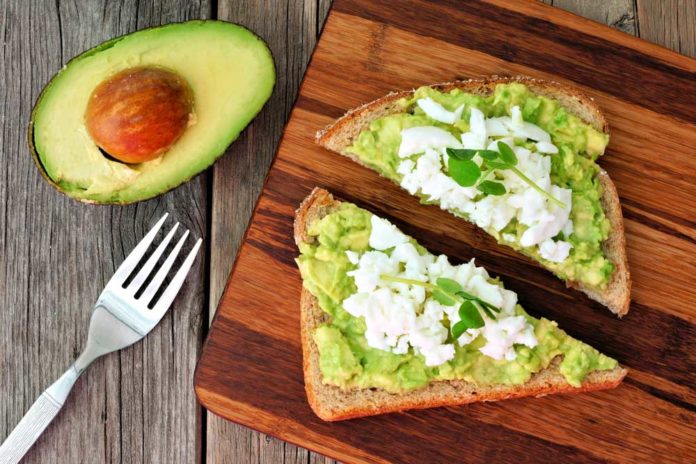 Whether posted on Instagram or enjoyed without media exposure, there is no denying avocado toast has soared in popularity, though you may just not realize how much… Data gathered from Square, a tech company helping businesses process credit card payments, discovered Americans are spending almost $900,000 per month on avocado toast!
Avocado Toast Breakfast Ideas and Recipes
1. Simple
For a simple recipe spread for toast, mash the flesh of an avocado in a medium bowl until desired consistency. Toast the bread until browned and add avocado, seasoning with salt and pepper to taste and hot pepper flakes and hot sauce as desired.
2. Fried Egg
Breakfast is served! To the simple avocado toast recipe, top with a fried egg and crumbles of bacon or sausage.
3. Guac
(Minus the chips…) In a medium bowl, gently mix the avocado flesh with small chunks of tomato and jalapeno, finely diced onion and garlic, and a squeeze of lime. Top onto toast and garnish with freshly chopped cilantro and a squeeze of lime.
4. Mexican Grilled Corn
Continue relishing on the robust flavors of Mexico with this Mexican grilled corn avocado toast recipe!
5. Mediterranean
Toast preferred bread then spread with mashed avocado. Top with tomato slices and crumbled feta, lightly drizzle with olive oil, and add salt and pepper to taste.
6. BL(A)T
On a slice of toast, lay down a large leaf of Romaine lettuce and tomato slice. Layer with neatly sliced avocado and garnish with bacon crumbles.
7. Garlic Bread
Garlic bread is desirable within itself… The addition of avocado just makes it better! This garlic bread avocado toast recipe is sure to please your taste buds. 
8. Tuna Melt
Transform your average tuna salad into this avocado toast recipe. Not only is it hearty to keep you satisfied between meals, but waist-friendly!
9. Cranberry Feta
Top toast with smashed avocado and a light spread of cranberry sauce or dried cranberries. Garnish with feta cheese and enjoy!
10. Smoked Salmon
Lox on a bagel with cream cheese is so last year… Upgrade your avocado toast and life by topping avo toast with smoked salmon. Garnish with capers and pickled onions.
11. Pistachio
Go nuts by adding a dynamic of crunch! Start by toasting multigrain bread then spreading ripe avocado on top. Drizzle with olive oil and garnish with chopped pistachios and crushed red pepper.
12. Strawberries and Balsamic Vinegar
After smashing avocado over your toast, top with sliced strawberries and a light drizzle of balsamic vinegar.
13. Cilantro Lime Cashew Cream
Tangy, nutty, and creamy cohabit in this avocado toast with cilantro lime cashew recipe!
14. Chocolate Lovers
For those lovers of chocolate… This avocado toast is about to take you to the next level! Garnish with fresh berries, banana chunks, cinnamon, pecans, and other favorite chocolate pairings.
15. Nutty Monkey
Mix equal parts of a ripe avocado and banana and mash. Smear a thin layer of peanut butter on toast of choice and add the banana-avocado mixture on top. Garnish with crushed peanuts for added crunch.