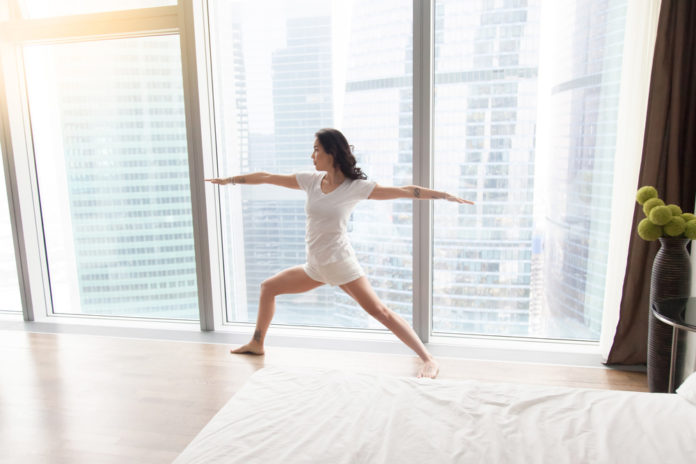 Shaking up and traveling away from workout routines and morning gym sessions may hinder or discourage your motivation. And even if workout rooms are available at the hotel, they are generally small in size and lack the equipment you may be accustomed to. So rather than dismissing a workout altogether, give these hotel room exercises a try on your next stay away from home. And not only is the workout effective, but only 20 minutes to offer you more deserved vacation time!
The 20-Minute Hotel Room Workout
The hotel room workout is essentially high-intensity interval training (HIIT), utilizing both aerobic and aerobic energy systems to maximize efficiency while still producing desired results. The exercises listed below are fairly confined to a small area, perfect for the standard size of a hotel room. Complete exercises 1 through 10 for 40 seconds, resting for 20 seconds in between. For instance, do 40 seconds of exercise 1, rest for 20 seconds, then move onto exercise 2. After completing the 10 exercises, rest for one minute then repeat, totaling each exercise twice for a total of 20 minutes. (Well, 21 if including the one-minute rest…)
1. Jumping Jacks
Start the workout by elevating your heart with jumping jacks. Complete as many as possible within 40 seconds.
2. Lunges
Either in place or within stride, alternate lunges between each leg for balanced movements.
3. Plank Jacks
The combination of jumping jacks and planks harmonize into the core-strengthening, heart rate-elevating plank jacks.
4. Butt Kicks
This stationary exercise will kick your butt… Literally. Similar to running in place, but kicking the feet towards the glutes.
5. Jump Squats
Jump squats help strengthen the lower body while encouraging calorie burn related to the powerful, explosive movements.
6. Donkey Kick
Donkey kicks are touted to work the glutes. Click here to learn proper technique along with five variations.
7. Calf Raises
Calf raises targets exactly what the name suggests – the calves. To complicate the exercise, stand only on one foot and raise while staying balanced.
8. Supermen
This exercise is a super way to strengthen both the core and lower back. Find out how to correctly and safely complete the superman here.
9. Left-Side Plank
Although traditional planks are effective, side planks help target the obliques. Hold a left-side plank for 40 seconds.
10. Right-Side Plank
Shift over to the right side and hold plank for 40 seconds.
Despite the undeniable value of tackling a workout on vacation, you can keep health goals in line with this guide to survive the hotel breakfast buffet and these tips to stay in shape while on vacation!