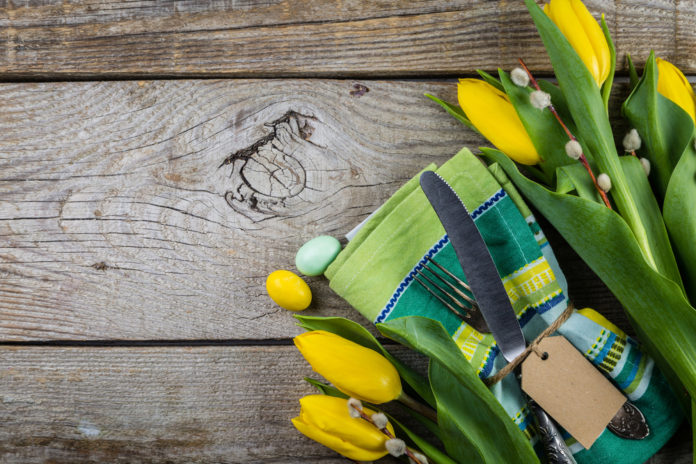 20 Easter Brunch Recipes and Ideas
1. Creamy Carrot and Sweet Potato Soup
Bunnies are not the only ones who like carrots… This creamy carrot and sweet potato soup is not only rich in nutrients, but a flavorful way to warm up Easter brunch!
2. Hot Spinach and Artichoke Dip
With most spinach and artichoke dips are packed with calories, enjoy this lightened up version without the guilt. Serve with warm pita bread or sliced veggies, including bell pepper, cucumber, carrots, and celery.
3. Cool Cucumber Dip
Cool down from the hot spinach and artichoke dip with this refreshing cucumber dip. Also serves well with pita wedges, sliced cucumbers, carrots, and celery.
4. Grilled Vegetable Salad with Herb Dressing
This vegetable salad with herb dressing is full of flavor and ample in nutrients! Pair and enjoy with numerous recipes below.
5. Asparagus Turkey Roll-Ups
Traditional asparagus spears transform into protein-packed veggies in this asparagus turkey roll-ups recipe. Turkey can be swapped with bacon or ham slices as desired.
6. Deviled Chicks
These deviled chicks are a festive spin from customary deviled eggs. For a fun Easter presentation, present chicks on a platter with dill!
7. Caramelized Onion and Goat Cheese Bruschetta
Bruschetta is a simple, yet satisfying appetizer for all occasions, Easter brunch included! This mushroom, caramelized onion, and goat cheese bruschetta is sure to please!
8. Chicken Feta Meatballs
BistroMD's chicken feta meatballs with Pomodoro sauce recipe is a simple, quick appetizer to satisfy all guests!
9. Creamy Cauliflower Grits
Traditional grits are elevated with flavor and richness in this creamy cauliflower grits recipe. Although suggested to serve with spicy shrimp, the cauliflower can be served on its own and to compliment with other dishes.
10. Grilled Potatoes
Skip out on traditional hash browns, generally doused in oil and butter, and heat up the grill! Pairing the unconventional flavors of garlic and honey, this glorious grilled potato recipe is slightly sweet and savory.
11. Fruit Salad
Fruit salad is a simple way to obtain fruit's nutritious bounty and flavors. Consisting of strawberries, pineapple and mango chunks, blueberries and blackberries, spring into Easter with this vibrant spring fruit salad with honey vinaigrette.
12. Cinnamon Apple Pancakes
Sometimes pancakes are just too hard to bargain with. And with the compliments of cinnamon and apple, this bistroMD pancake recipe is nothing short of desirable!
13. French Toast
Ditch the toaster for a griddled slice of French toast! This bistroMD French toast recipe is quick to prepare and berry flavorful!
14. Lemon Blueberry Muffins
Sweet blueberries and tart lemons synergize into one refreshing muffin! This lemon blueberry muffin recipe is prepared with Greek yogurt, supplying valuable protein often lacking in traditional muffin recipes or store-bought products.
15. Overnight Oats
Although oatmeal is misperceived as a drab breakfast item, oats are extremely versatile and can even be quite rich in flavor. Making overnight oats and keeping warm in a Crockpot dismisses a recipe needing prepared the morning of, allowing more time with loved ones and less time in the kitchen. Find how to make overnight oats and a large bowlful of inspiration here.
16. Egg Baskets
Eggs in the basket is an entertaining way to celebrate Easter. Along with being quick and easy to prepare, the product is suggested to be quite versatile, including the additions of grape jelly, a drizzle of syrup, or grated and cream cheese. Have said toppings surrounding the eggs in the basket for guests to customize their egg in the basket!
17. Frittatas
Frittatas offer protein with the opportunity to add diverse nutrients and flavor, like in these tomato and zucchini and kale and a red pepper and goat cheese frittata variations. For those dismissing animal meats or gluten, try this vegan-friendly frittata with spinach and peppers and gluten-free option, respectively.
18. Breakfast Tacos
For less preparation on the host's end and to offer flavors for all guests, have fun with a breakfast taco bar! Lay out diverse ingredients, including flour and corn tortilla shells, scrambled eggs, black beans, roasted veggies, plain Greek yogurt, fresh salsa, avocado slices, and fresh herbs, and allow guests to build their own breakfast taco.
19. Breakfast Wonton Cups
The use of wontons acts a sustainable, convenient food bowl, also maintaining portion sizes. These breakfast wonton cups are filled with eggs, hash brown potatoes, bacon, and cheddar cheese but feel free to modify and swap various ingredients, including spinach, peppers, tomatoes, sausage, and fresh herbs.
20. Strawberry Gelato
No brunch is complete without a sweet treat! And while most gelatos are packed with sugar, this guilt-free strawberry gelato offers natural sweetness! Fruits can be swapped out based on preference, including peaches or bananas.