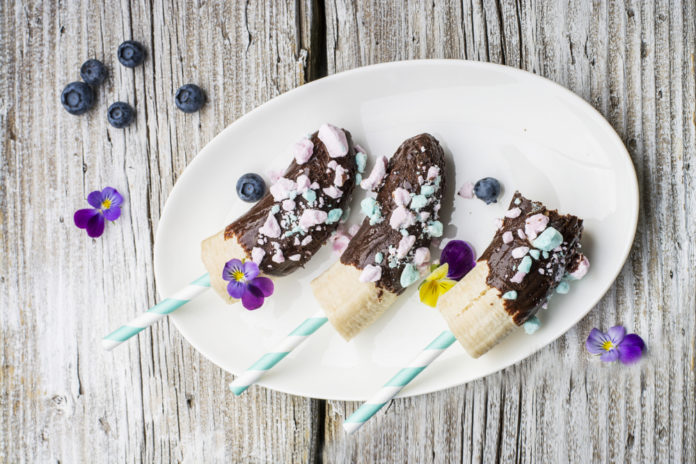 16 Freezer-Friendly Recipes
1. Breakfast Burritos
Breakfast burritos are a grab n' go breakfast but may be tarnished with gobs of cheese and greasy slices of bacon. For a nutritious and convenient breakfast option, prepare this healthier alternative, also feeling free to tweak ingredients based on personal preference. Make a batch before the week, wrap individually in a paper towel, and freeze in a large Ziploc bag. When ready to use, take one out, and heat in the microwave for approximately 60 to 90 seconds.
2. Whole Wheat Banana Nut Muffins
Instead of relying on a store-bought muffin loaded with sugar, prepare these whole banana nut muffins! Doing so not only grants you time in the morning hours, but nutrients most packaged muffins lack.
3. Veggie and Egg Muffins
Muffins are not always designated to flour and a fruit, and can instead burst with veggies and protein! These 100-calorie cheese, vegetable, and egg muffins are the perfect freezer-friendly breakfast option for rushed mornings.
4. Sweet Potato Egg Bake
Whether portioning out throughout the week or serving for weekend brunch, this sweet potato egg bake with taco seasoning is sure to satisfy taste buds! You can also manipulate spice level based on personal preference and tolerance.
5. Green Smoothie Packets
Rid up aging produce and offer considerable convenience by preparing these green smoothie packs. The ingredients can also be swapped to craft your favorite smoothie flavors and to offer satiety-inducing and muscle-building protein for a convenient meal replacement or post-workout option, blend with protein powder, Greek yogurt, or cottage cheese.
6. Jambalaya
Take a flavor trip to the bayou whenever needed or desired with this jambalaya recipe. Not only is it bursting with flavor, but packed with protein, healthy fat, and other beneficial nutrients.
7. Taco Kit
Make #TacoTuesday occur more effortlessly and frequently by preparing these freezer-friendly taco kits! And while the instructions are suggestive of ground beef, feel free to prepare other proteins ahead of time, including ground turkey, chicken, or pork.
8. Chicken Enchiladas
Carry on the fiesta flavors with this chicken enchilada recipe! You can also prepare vegetarian-friendly enchiladas by dismissing the chicken and using black and pinto beans and a veggie blend, including bell pepper, zucchini, onion, and spinach.
9. Stir-Fry
Rather than calling out for takeout, stay in for a stir-fry freezer meal! Prepare in bulk for the most out of your time, along with granting nutritious meals during a foreseen busy workweek. Feel free to swap and add other favorite stir-fry veggies, including zucchini, carrots, broccoli, mushrooms, bok choy, and asparagus.
10. Eggplant Parmesan
Lighten up both your workload throughout the week and dense pasta with this eggplant parmesan! The recipe can hold for up to three months in the freezer, then simply thaw completely and bake as directed.
11. Lasagna
Or perhaps you are desiring a more traditional pasta dish but without the guilt… This lasagna recipe is lightened up but heavy with flavor and nutrients!
12. Pizza
Instead of resorting to a ready-prepared frozen pizza or calling the pizza delivery guy, prepare your own frozen pizzas to keep on hand. Not only is it easier on the wallet, but allows tighter ingredient control for a healthier meal option.
13. Frozen Banana Bites
Use up ripened bananas by preparing frozen banana bites! Simply cut bananas into coined-sized pieces and sandwich peanut butter in between or dip into dark chocolate. We love adding cocoa powder, nuts, cinnamon, etc. – get creative with the mix-in's and toppings! Not only are the simple and resourceful, but convenient for a quick and nutritious snack!
14. Applesauce
Store-bought applesauce today often contains added sugar, high fructose corn syrup, and preservatives that diminish the nutritive value of wholesome, fresh apples and derail your diet plan. But by preparing these homemade applesauce recipes, unwanted ingredients are absent, just wholesome nutrients that can be enjoyed on the spot or frozen when ready to enjoy.
15. Yogurt Popsicles
Especially if purchased from a convenience store, popsicles are oftentimes loaded with sugars in various forms, artificial color dyes, and other unnecessary ingredients. For a quick snack or refreshing dessert option, prepare these naturally-sweetened, homemade yogurt popsicles.
16. Avocado Ice Cream
And to top the list… The avocado recipe you've been waiting for! Although you can enjoy following immediate preparation, the recipe can also be frozen and stored for whenever that temptation for ice cream is thriving.