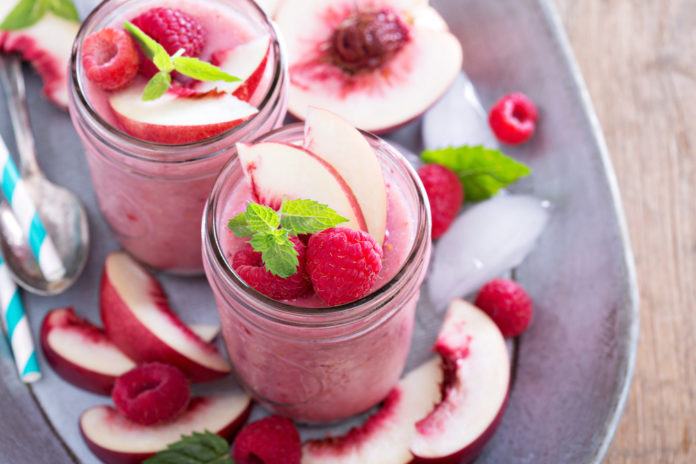 How Fruits Build Muscles
First thing's first, fruit contains minimal protein and should not stand as a primary source. However, the following components of fruit can be highly beneficial in muscle growth and recovery:
Carbs
Carbs help deliver a steady dose of glucose to the working muscles while exercising and help stabilize blood sugars, as the muscles uptake available energy during and following exercise. It also spares glycogen (stored glucose) in the muscle cells, helping to prevent muscle fatigue that tends to follow as muscle glycogen begins to fall. And as an added bonus, fruit supplies valuable fiber that is noteworthy for its contribution in weight loss and maintenance.
Potassium
Potassium is found in a wide variety of fruits, including bananas, cantaloupe, oranges, strawberries, kiwi, avocados, apricots. While it does not build muscle itself, potassium protects muscles against weakness, cramps, and aches to ensure proper recovery, along with replenishing electrolytes lost in sweat.
Antioxidants
Rigorous and strenuous exercise can cause harmful chemical reactions that may damage cells, provoking the use for antioxidants to protect the muscles and body against cellular damage. Fruits are naturally rich in antioxidants, particularly in the forms of vitamins C and E, carotenoids and flavonoids. Protect your growing muscles by filling the diet with citrus fruits, berries, apples, and other favorite fruits!
Adding Fruit and Gaining Muscle
Thirty to 60 minutes before a workout, or if you have been lacking carbs for the past few hours, fruit is a valuable and convenient carb source to supply sufficient energy. But in addition to noshing on it alone, add fruit and gain muscle by preparing these balanced, protein-packed post-workout snacks:
Greek Yogurt and Blueberries
Pair the high-protein content of Greek yogurt (15 grams per 5.3-ounce container) with antioxidant-packed blueberries for a berry beneficial muscle repairing and stimulating post-workout option.
Chocolate Banana Protein Smoothie
This bistroMD high-protein smoothie is a great way to recover after a workout! Not only does it supply the essentials – protein, potassium, and fiber – but is chocolately, creamy, and delicious!
Peach, Raspberry, Basil Protein Smoothie
Satisfy any sweet-tooth with this refreshing and healthy smoothie made with peaches and raspberries. And being packed with 33 grams of protein, it is great for recovery after a tough workout!
Tropical Cottage Cheese
Cottage cheese supplies a whopping 14 grams of protein per ½ cup and pairs well with the tropical flavors of apricots, oranges, peaches, pears, and pineapple!
Trail Mix
From the outside, trail mix appears as convenient and nutritious snack. And while it offers a stronger nutritional profile than most candy bars, trail mixes are often loaded with added sugar and salt. For a protein-packed, on-the-go snack, prepare a healthy and raw trail mix with almonds, cashes, pumpkin seeds, dried cranberries, goji berries, and other favorite mix-ins.
Apple Slices with Peanut Butter
Similar to nuts and seeds, peanut butter is a convenient and plant-based protein source, supplying eight grams of protein per two tablespoons. Smear onto apple slices to make the most of your muscle gainz!