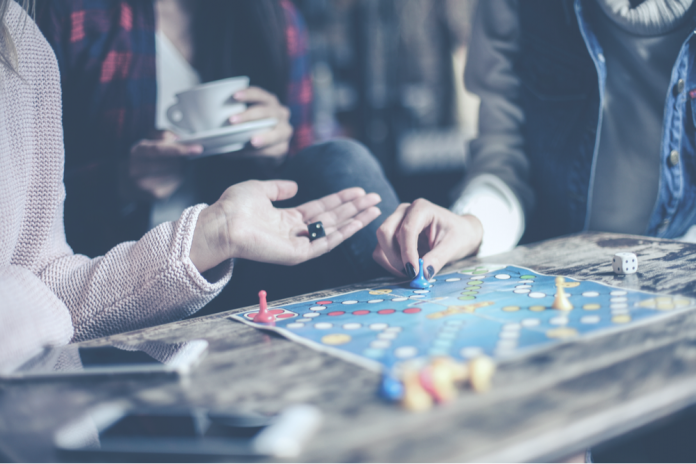 Looking for rainy day activities? Instead of wondering what to do on a rainy day, brighten any gloomy day with these indoor ideas.
That's right, fun and games are not limited to the kids! Read on for the best things to do on a rainy day.
What Activities Can You Do On a Gloomy Day?
Almost any indoor activity can be made fun on rainy days. Engaging and exciting crafts or games make great options.
Instead of feeling trapped and stuck indoors, look at it as a unique adventure. Do not let the rain be a limitation but rather an inspiration to do something different that is not part of a usual routine.
Rainy Day Activities for Adults
Many activities for rainy days are made with kids in mind. However, these same ideas can be a great time for adults, too! The following activities are lots of fun at any age.
1. Make a Fluffy Fortress
Pillow and blanket forts make a great rainy day activity for adults who are young at heart.
Turn the living room into a cozy place using extra blankets and pillows. Chairs and tables can help to prop up fort-building supplies.
2. Explore Indoors
Indoors on a rainy day does not have to mean inside one's own house.
Get out on a spontaneous "staycation" by exploring local museums. Art galleries, aquariums, and other indoor attractions make avoiding the rain an adventure.
3. Battle It Out with Board Games
Dust off the board games in the closet and get ready for some fun and games (literally)!
Take turns playing everyone's favorite game to foster a friendly, competitive spirit.
4. Puzzle The Bigger PIcture
Canceled plans and gloomy weather can make the world seem a little bit dim. However, a pretty puzzle picture of a faraway place can bring exotic beauties indoors.
Feel the accomplishment of solving a puzzle while also getting a glimpse of faraway places that can inspire a future vacation destination.
5. Toast with Some Tea
Host a tea time by pulling out the good china (or even a plastic cup or a few)!
Herbal, oolong, or chamomile tea are great picks. Juice, cocoa, or milk make great kid-friendly alternatives.
6. Host a "Nice" Cream Party
A tea party not your cup of tea? Host a "nice cream" party as a family-friendly indoor activity for kids and adults alike.
Not only is nice cream delicious but requires just two simple ingredients when stuck at home. Set out toppings so everyone can customize their ice cream sundae to liking.
7. Soothe with an Indoor Spa
An indoor spa might be exactly the soothing experience to ease into a rainy day.
Deep condition hair or pamper with a skin-softening salve. Really, reset before the rain clears!
8. Attack Some Arts & Crafts
DIY (do-it-yourself) decor or other fun art ideas with supplies lying around the house. Often, a simple paper bag or some popsicle stick can be turned into inexpensive decor and more!
Find ideas online or get inspired by the season by making crafts like hand-cut snowflakes to arrange around the house while waiting for the rain to subside.
9. Read an Appealing Book
Arguably the best rainy day idea, for any age, is to curl up with a blanket and a good book.
Elevate reading time by lighting a candle, taking a warm bath, and cooking something delicious to eat. This can help to create a truly inviting indoor environment.
10. Compile a Cookbook
Finally, go through those family recipes! There is no better time than a rainy day to look through and cook old recipes.
Also, consider digitizing favorite dishes to have quicker access in the future.
11. Try a Science Experiment
Science experiments are not just limited to kids – try something cool indoors by doing a science experiment!
Simply Google "at-home science experiments" for an activity that helps to broaden the mind.
12. Prep a Home Gym
Cabin fever? Prep and set up that home gym you have been putting off. Make the gym truly yours by adding some good old-fashioned dumbbells or a higher-end workout mirror. 
No home gym but want to get active? Set up a fun obstacle course or turn up the music for a dance party!
A Final Word On Rainy Day Activities For Adults
Most rainy day activities do not have an age. Encourage the inner kid with fun indoor ideas that keep rainy day blues away.
Keep this article saved for a rainy day soon!
References:
15 Fun Things to Do on a Rainy Day at Home. Real Simple. Published June 23, 2021. https://www.realsimple.com/health/mind-mood/fun-things-to-do-rainy-day. 
Top 20 Rainy Day Activities. Sunshine House Early Learning Academy. Published 2021. https://sunshinehouse.com/blog/top-20-rainy-day-activities/.